Here is the latest edition of ARF's Newsletter
Animal Rescue Fund E-Newsletter
Spring 2023 Edition
2023 ARF Basket Raffle Fundraiser
Drawing to be held April 16 at 7 p.m. at ARF Bingo Hall
Doors open at 4 P.M.
You do not need to be present to win.
To See all the baskets click the link below…
Tickets are $5.00
ARF needs this to be a huge success to continue to do our important work!
Ticket sales will begin March 18. Tickets can be purchased 3 ways:
In person at:
ARF Shelter
85 Lucy Run Road
Amelia, 45102
ARF Bingo Hall (ATM Machine Available)
1785 East Ohio Pike
Amelia, 45102
By phone (with credit or debit card):
Call the ARF Shelter (513-753-9252) and the staff will take care of your tickets.
By mail:
Print the attached raffle ticket page.
Fill out the tickets. (Be sure to put the basket # on your ticket.)
Mail tickets with your check to:
The ARF Shelter at:
ARF Shelter
85 Lucy Run Road
Amelia, 45102
ATTN: Raffle
All proceeds go to support the shelter and the animals!
This is a great way to support ARF so we can continue saving neglected, stray, abused, and unwanted dogs and cats! If you don't want to buy raffle tickets you can help with a donation!
Most Baskets are valued at $100 or more up to over $400 so take a look and take a chance on your favorites!
***Please share this information on your social media and with your friends and relatives!***
More ARF News
Over the past year ARF has taken in over 70 dogs that were from hoarder situations, neglected breeding situations, and retired breeding dogs (that would be euthanized, sometimes humanely, if ARF did not take them). These animals take a lot of work, grooming, socialization work, and medical care to get them ready to be placed in loving homes. The average cost to get one of these dogs ready to place is $500-$600. ARF loses money on each dog that is adopted!
We took in 26 dogs last month from this type of situation and are working hard to get them ready to go.
The commercials you see on TV from national rescue organizations asking for monthly donations don't have anything on ARF. ARF deals with cases like those all of the time. PLEASE KEEP YOUR DONATIONS LOCAL TO HELP ANIMALS IN OUR AREA!
ARF Rescue Stories
ARF rescued a number of very sad cases this past year . Here are 2 of them.
Buddy's Story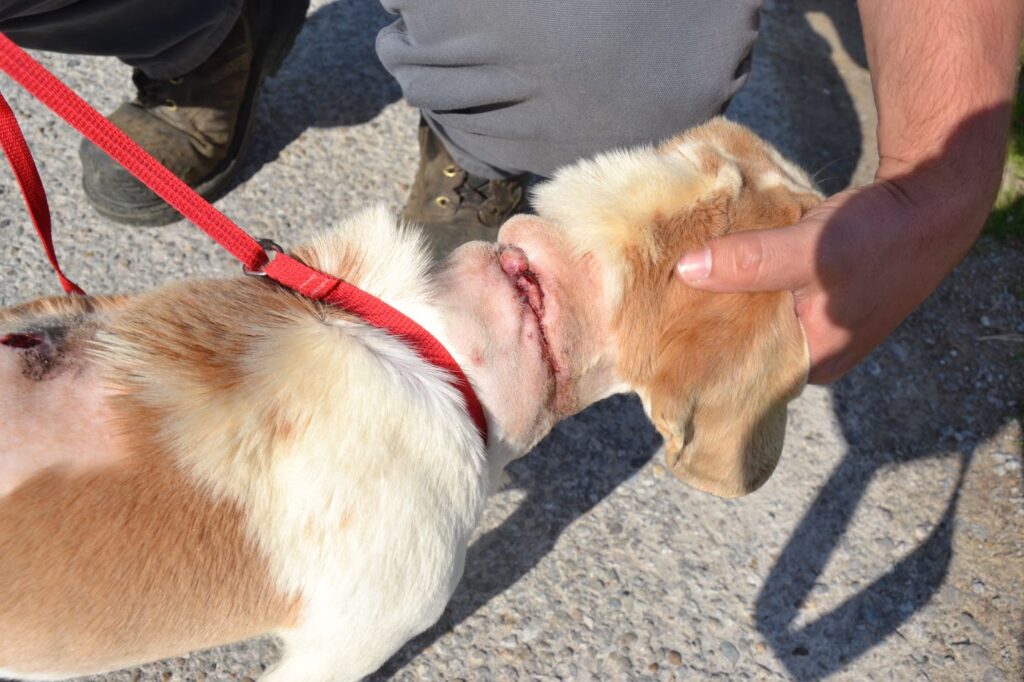 Buddy's owner abandoned him chained in the back of a lot near a woods line with no food or water. One evening a neighbor, who had no idea he was back there, heard him screaming. The neighbor ran back to see what was happening to find Buddy being attacked by coyotes . The coyotes were trying to drag Buddy into the woods. The neighbor called the police and ran the coyotes off. Buddy had major wounds to his neck and back. A wire rope was embeded in his neck and had to be surgically removed. The police called ARF to see if Peggy could come and rescue him. She picked him up and took him straight to the vet for emergency medical treatment. We are glad to say Buddy recovered from his wounds and was placed in a loving home!
Emma's Story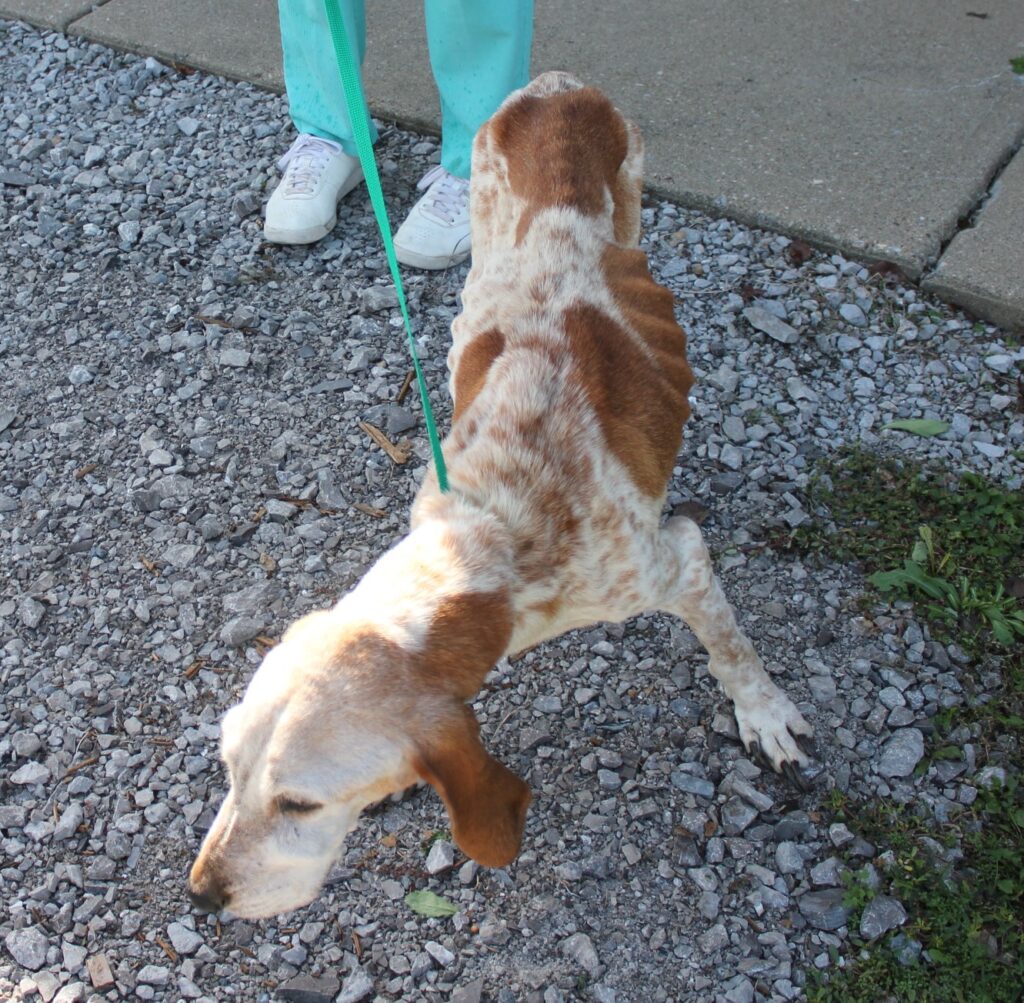 Emma was abandoned in a cabin. She was not found for weeks. Again, the police called Peggy and she was there for Emma. Emma could not walk and had to be carried to her car and she took her to the vet for emergency care. It was evident that Emma was severely malnourished, having been without food or water for weeks, and it was determined that she also had bone cancer. Peggy and the staff at ARF loved on Emma, keeping her comfortable, sitting with her, and helping her to walk. After several weeks Emma passed away in spite of ARF's best efforts breaking all of our hearts.
PLEASE KEEP YOUR DONATIONS LOCAL TO HELP ANIMALS IN OUR AREA!
You can sign up to make monthly donations on our website. Just click the "Donate" button on the home page. Any amount you can help us with is greatly appreciated.
Come visit the Shelter
ARF has lots of cats, kittens, dogs, and puppies that would love to meet you. If you know of anyone that would give one of our animals a good home please refer them to our shelter. Our animals can be seen on Petfinder and on our website. We make every effort to keep these up-to-date so everyone can see our great animals.
ARF had between 800 – 1,000 animals passed through the shelter last year!
That is a lot of work! Please thank the shelter workers next time you see them for all they do to get our animals ready to place! The best way to show your appreciation is to drop a note with a donation.
Next time you are at Bingo, thank those workers for their efforts to help our animals!
Shelter Wish List
ARF is always in need of the following items. If you know of a group looking for ways to help local charities please recommend ARF…
Plain Cat Litter
Bleach
Copy Paper
Dish Soap
Dryer Sheets
Garden Hoses
Pens
Dog & Cat Treats
Squeaky Latex Dog Toys
Cat Toys
Old Bath Towels
Windex
Postage Stamps
Bathroom Supplies
Paper Towels
Liquid Laundry
Detergent Pens
Steno Pads
13 & 39 Gal. Trash Bags
Gift Cards (Any Kind)
Small Litter Pans
Happy Homes for our Buddies!
Volunteers
It takes many volunteers to make ARF the wonderful place it is. We are always looking for volunteers to help with the animals (brush, walk, pet , and play), clean the runs and play areas, help get ARF's information out to the public…local papers, radio stations, & TV. Call the kennel if you can help…513-753-9252!
ARF would like to give a special shout out to
Poochies Place
For their continued support for our shelter and the animals. ARF has a TV that scrolls the available animals anytime the restaurant is open! ARF places more animals from that TV and the recommendations of her staff than any other way we advertise our animals.
So if you are in the area around Amelia stop in and have breakfast or lunch! They have a great menu and great food! It is only 5 minutes from ARF!
**********
Please let us know that you are out there and that you are standing with us. Sometimes it feels like we are all alone in this mission of rescuing, saving, and caring for all of the unwanted cats and dogs that come into our shelter! Until next time…
Thank You from all of us at ARF!