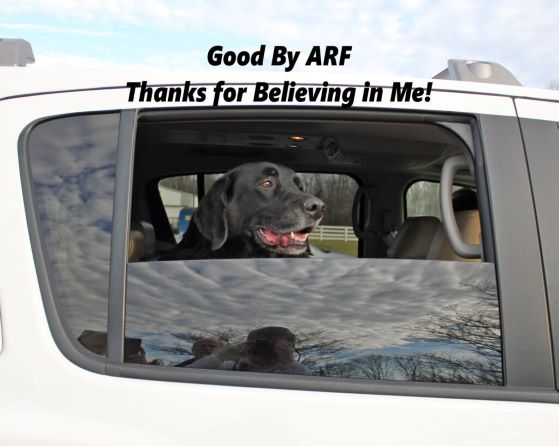 Update on Rocky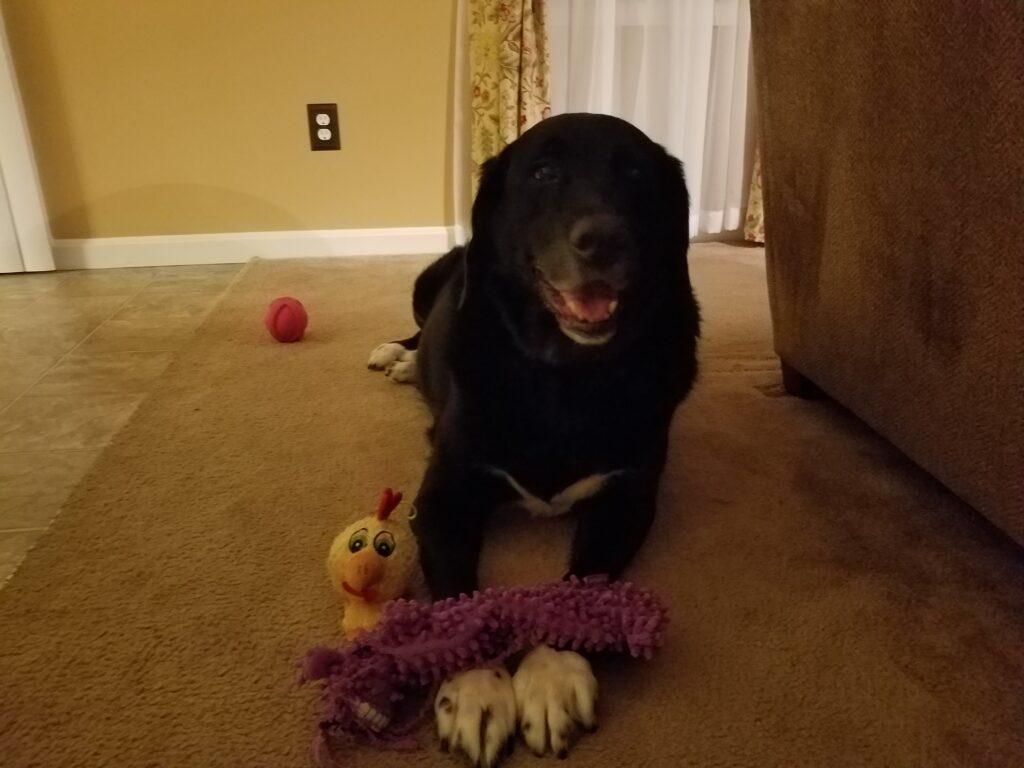 Rocky's doing Great!!!!. We go for walks and he has even dropped a few pounds. When he gets a new toy he really gets excited. He has made himself at home here. He gets to run around outside and enjoy the fresh air. He has been blessing to us. Thanks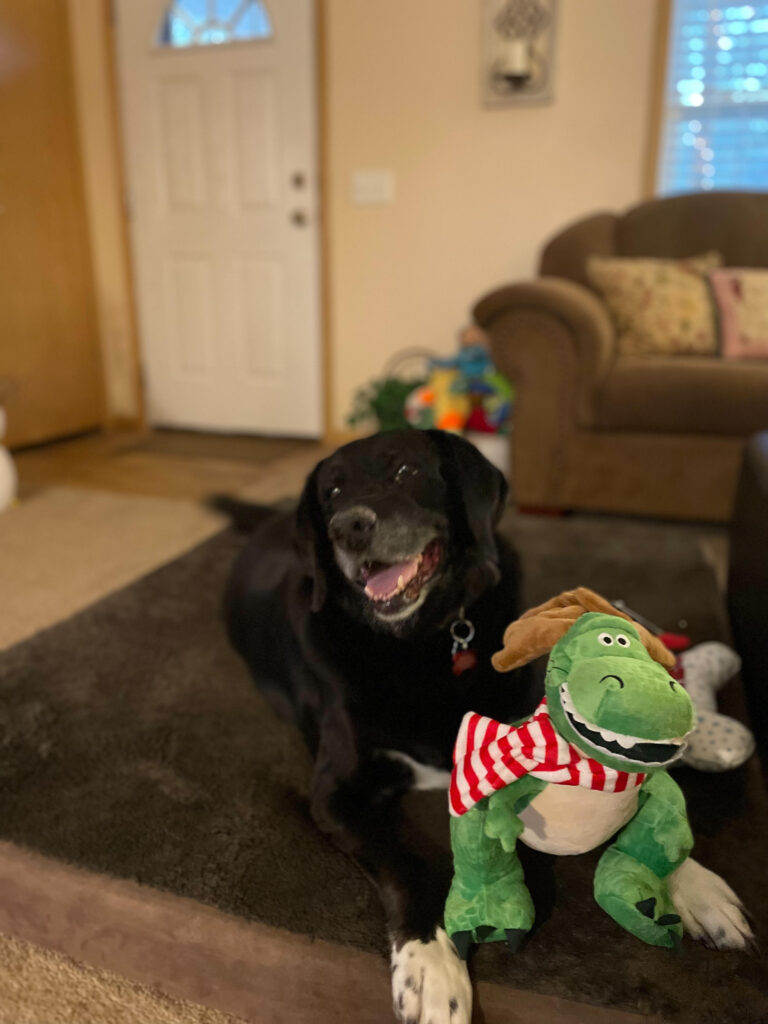 Marge Living Large!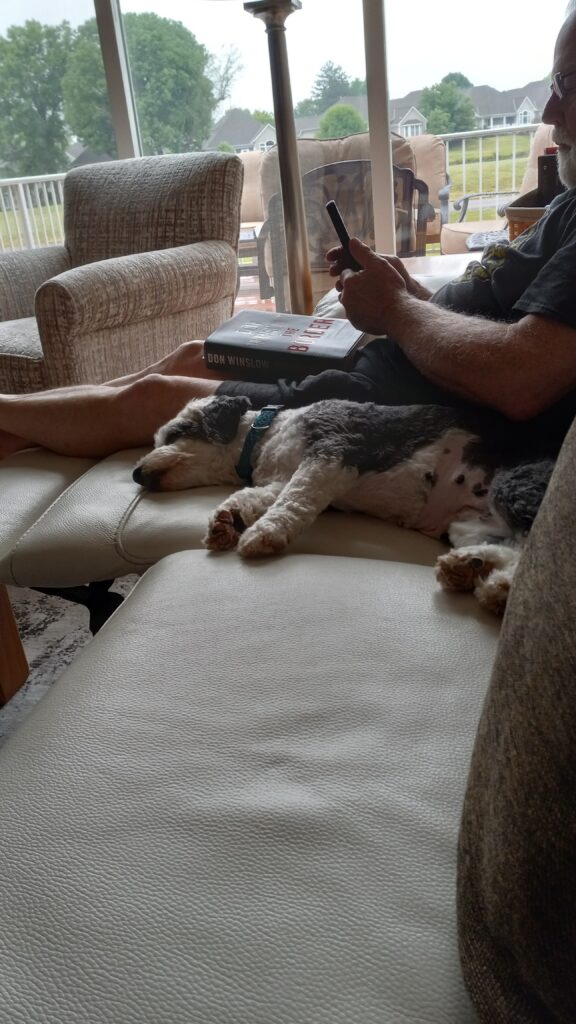 Izzy's Story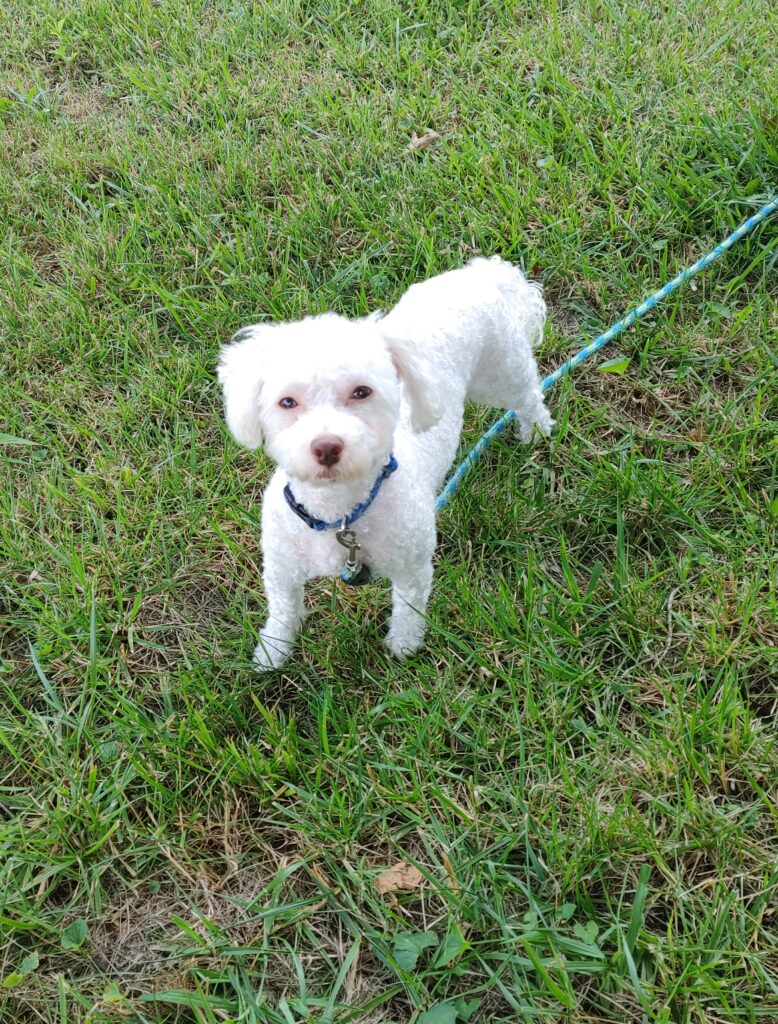 This is Izzy (formerly Titus). We adopted Izzy on April 5th. He was very shy and just about everything frightened him. I was told that he had never been in grass, never played and hadn't had any good human interaction. I am happy to say that he loves to be out in the yard with when I'm working in my gardens. He follows me everywhere, inside or out. He still doesn't "play" with his toys, but he likes to carry them around the house. He is still having problems with being petted( he backs away when approached), but it's improving, and he still barks and chases anyone who comes in the house, especially our 13 year old grandson. He doesn't bark at my husband much anymore. So that's an improvement. He is definitely a momma's boy. Still has an occasional accident in the house (usually because we didn't take him out in time). Over all it's been quite a journey, but we're making progress and love him to pieces. Thank you ARF for letting him come into our life. By the way, he has one quirk that we cannot figure out. He always runs around our dining table in circles. We sometimes think he's playing other times it seems he just wants us to stay away. Any ideas why he would do that?
Belle's Story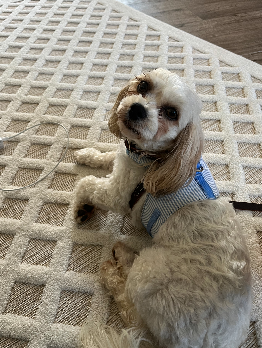 It's been a month since Belle came home, and I wanted to let you know how she's doing!
She has been such a blessing. Belle's loving presence has brought so much joy into my life.
Belle is sweet and energetic. She loves going on walks, and I notice that she hops a bit like a kangaroo when she runs 🙂
We have recently started taking puppy classes to help her socialize with other people and dogs, as I notice she is a bit timid. Progress is slow, but steady!
Thank you for giving me the opportunity to adopt Belle. I am so happy to have her, and I think she is happy too!
Phoebe's (aka Faith) Story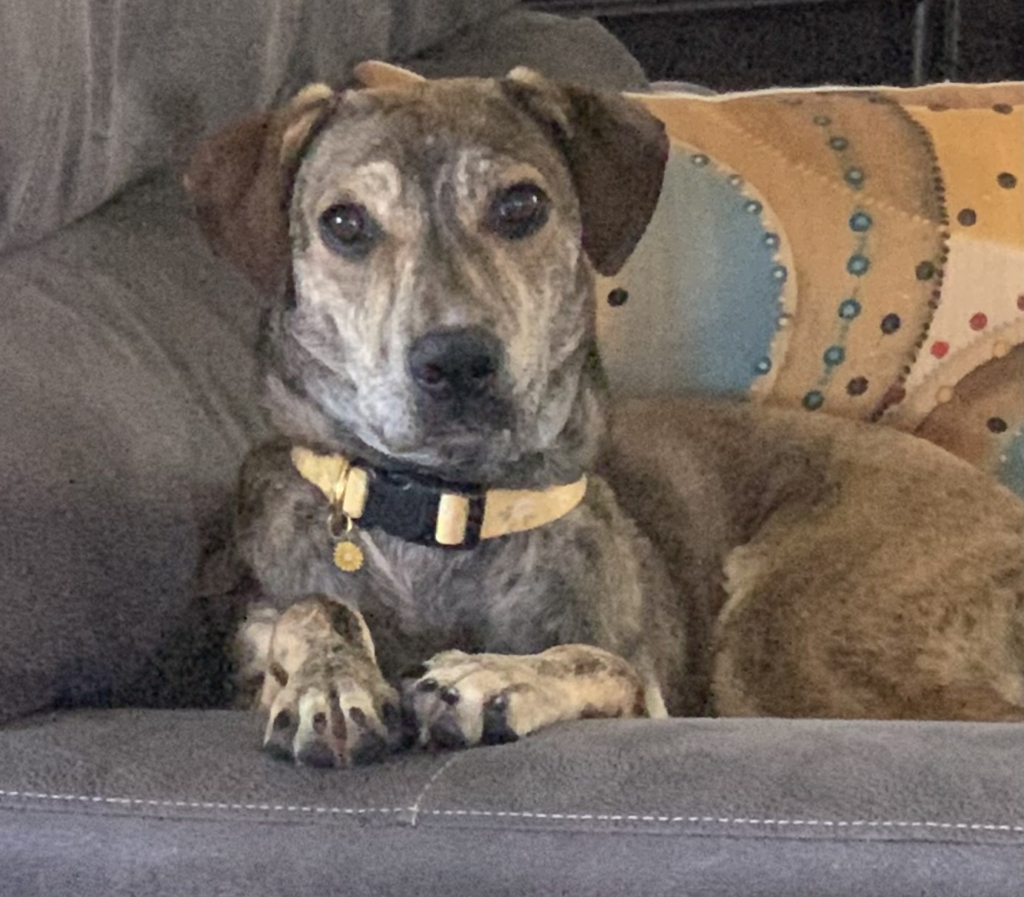 Baby AKA Madonna's Story
Arwen's Story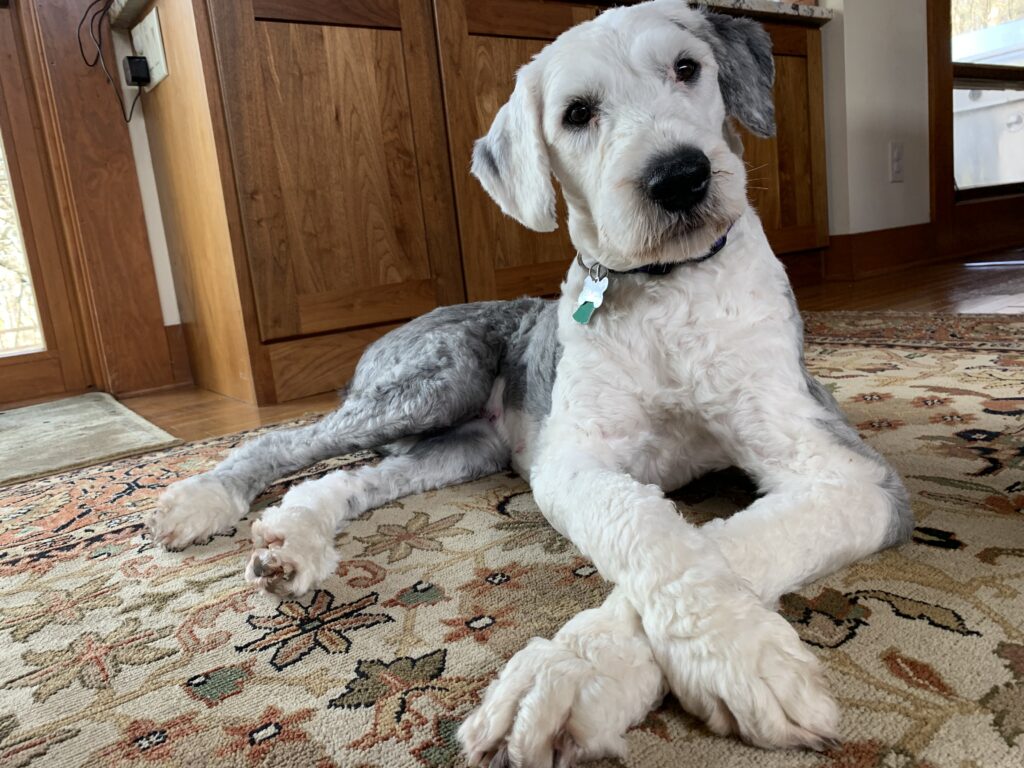 Scotty's Story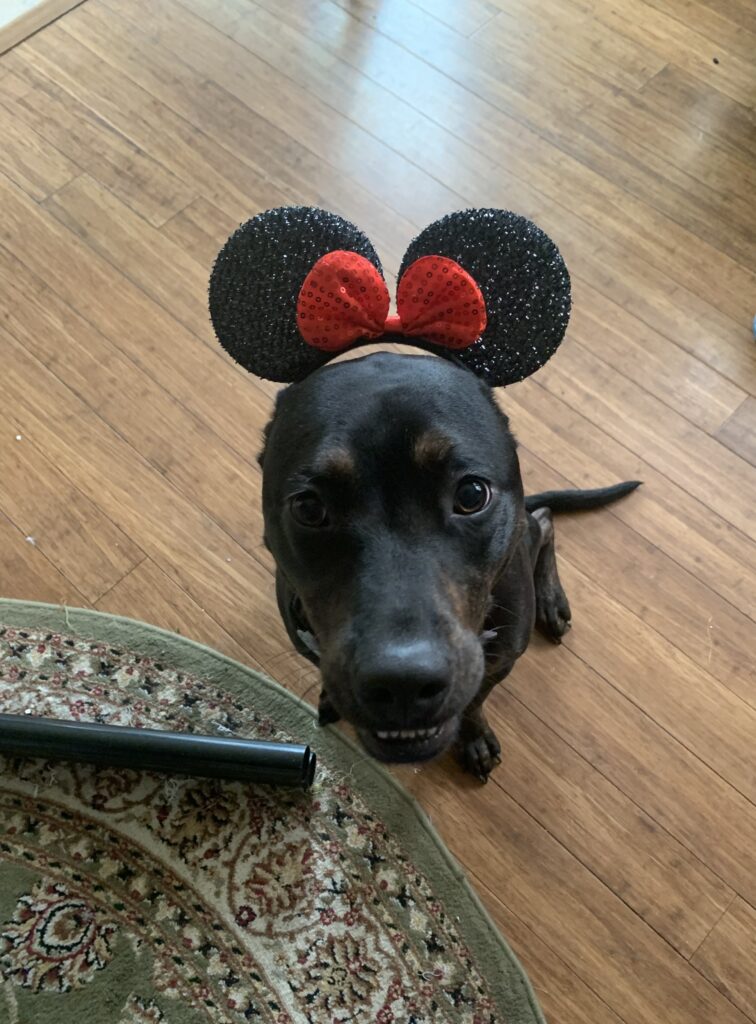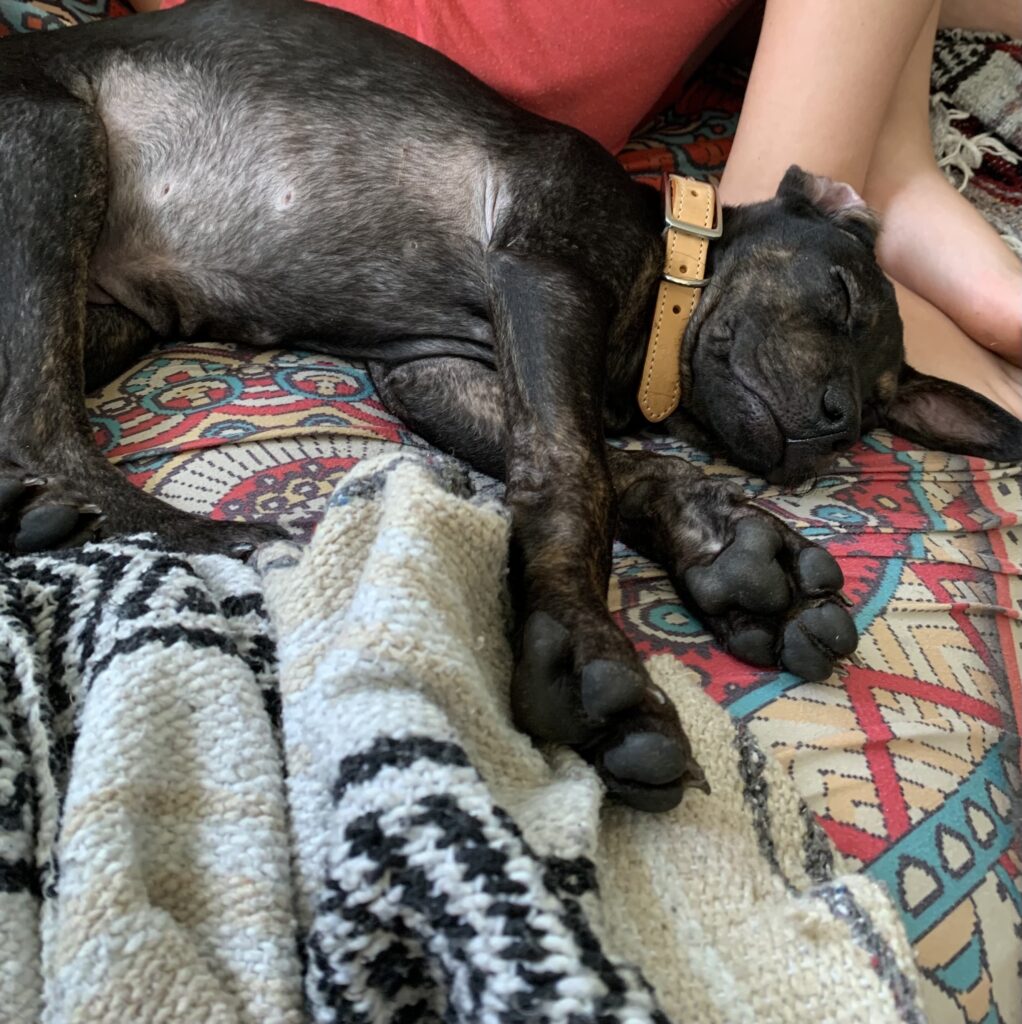 Ruger's Story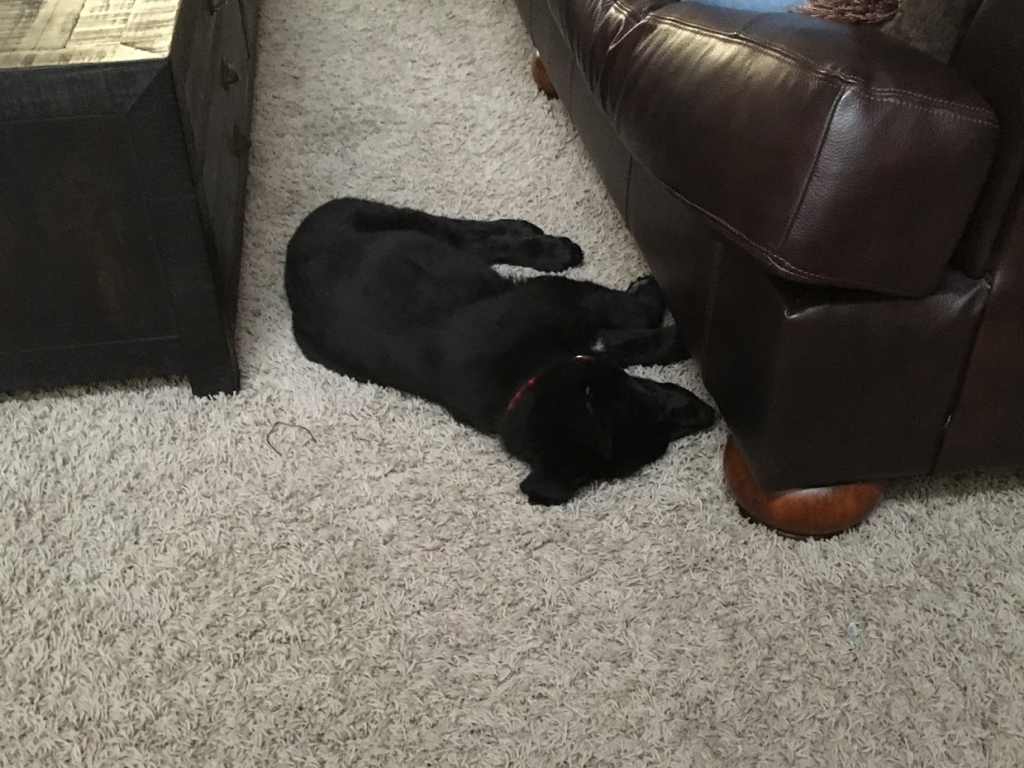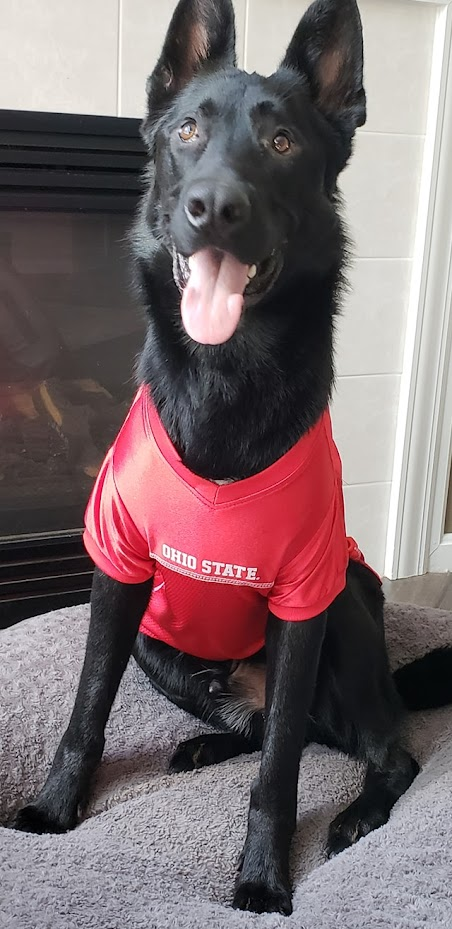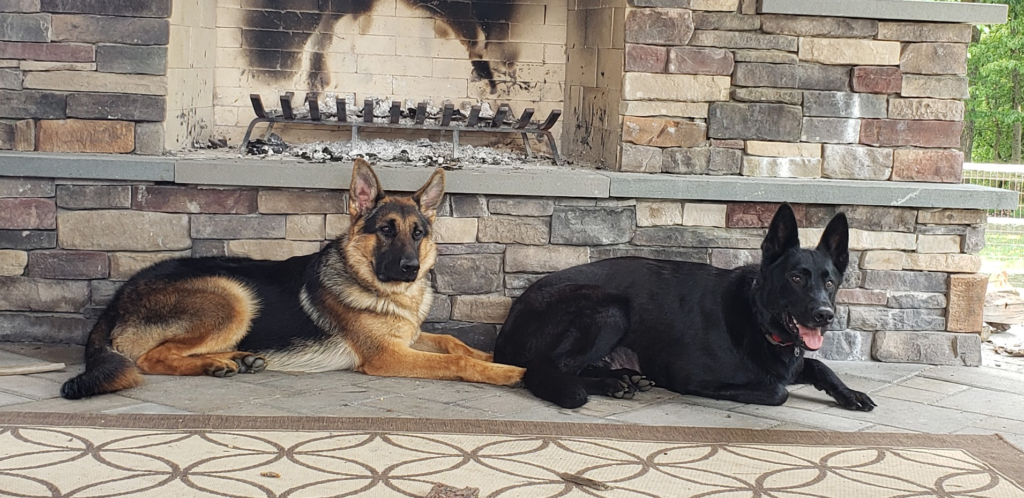 Cuddles is Living the Dream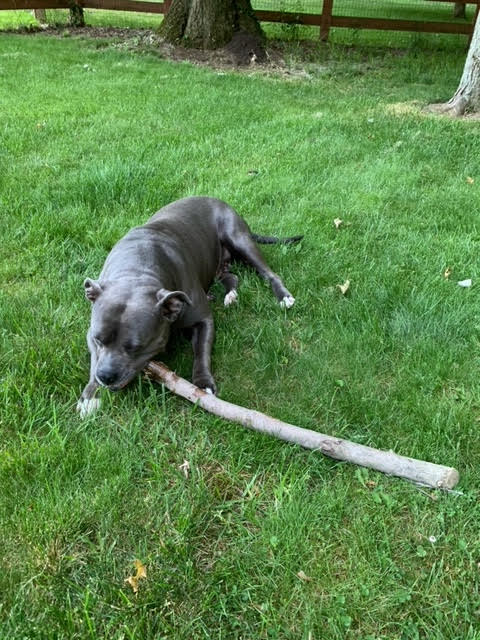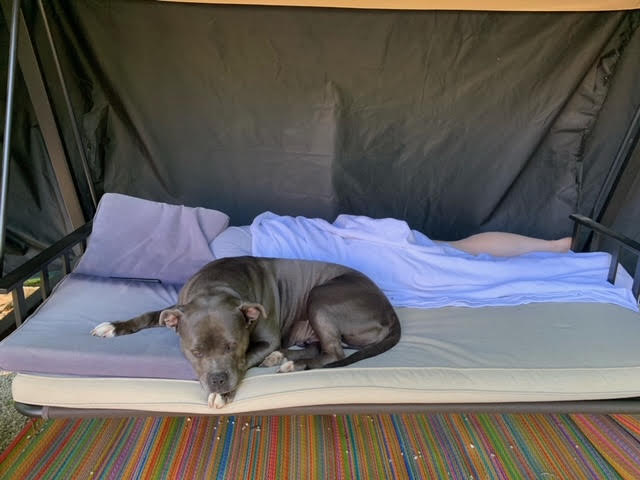 Major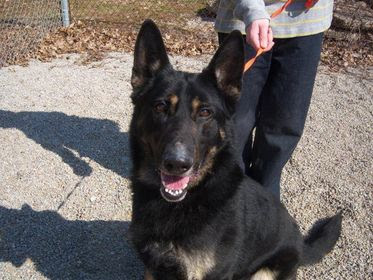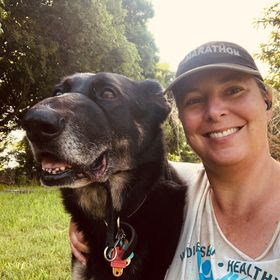 Here is Major today. He's much grayer, and his arthritis is getting worse, and I know the end is coming closer. I've loved every dog I've had, but Major is different. He was untrained bundle of unrestrained energy when we got him. But with training and consistency, he became the best dog I've ever had. He watched over my daughter's crib when she was a baby, he was my running buddy for several years, and he kept me company when I started my flower farm and he still loves to greet farm visitors. He's never met a person he didn't like, and it's a huge disappointment to him if someone ignores him. I love this boy so much. He has been the perfect family dog, the perfect dog for me, and I'm so grateful to ARF for giving him a second chance and for adopting him to me.
Abby aka Lavern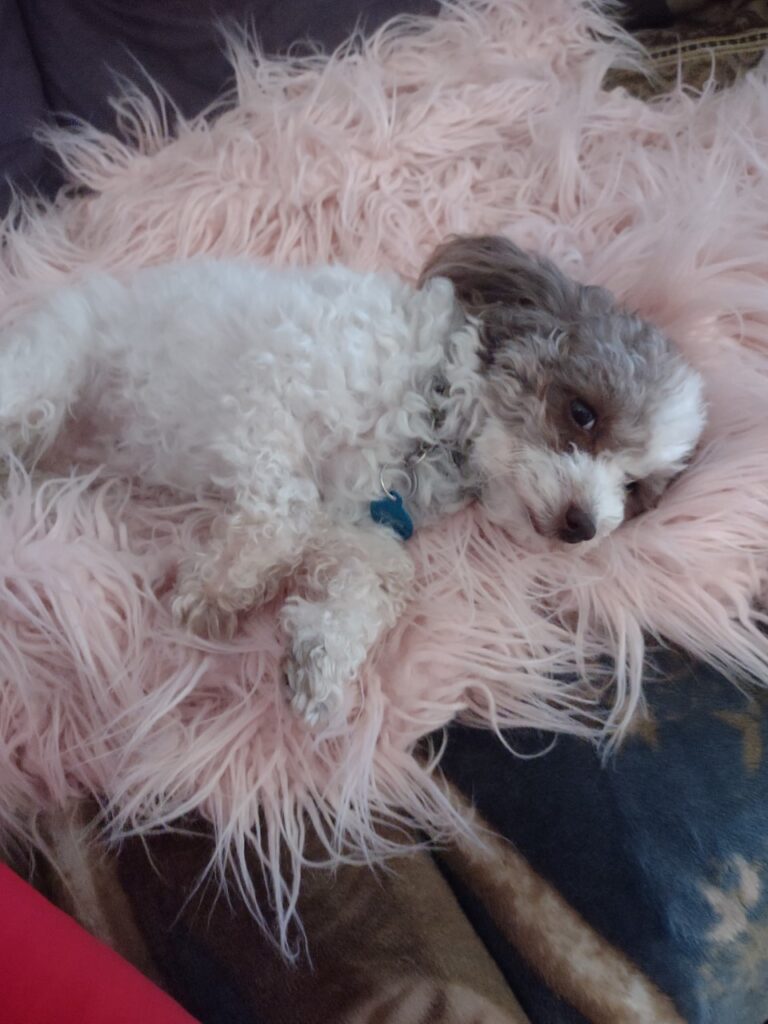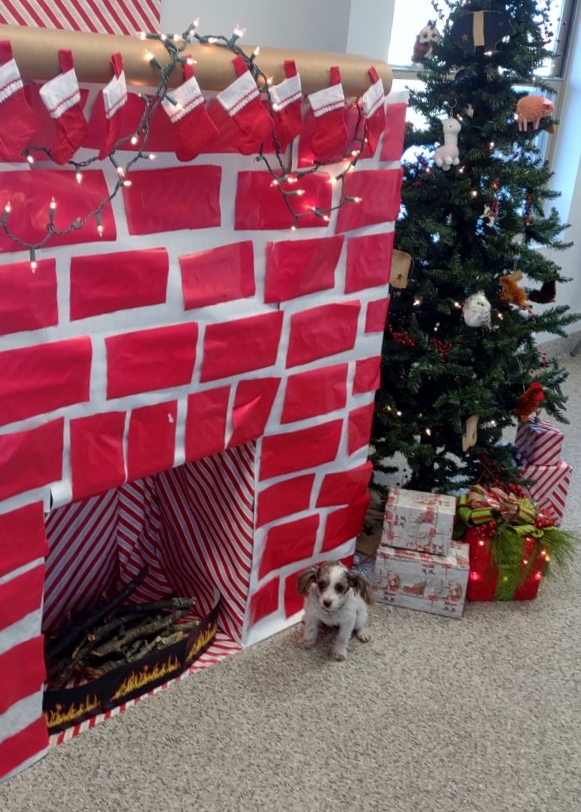 Lavern was adopted by Bonnie and Don Morrison. Her name was changed to Abigail "Abby" for short. Fits her better. She is the sweetest little girl. She is 2 ½ yrs old and was just so frightened to move around the house, but now after watching our other 2 dogs she knows it is ok to run, play, eat out of our fingers and a bowl and meet a lot of new people. She never barks or even cries at night. She fits right in and we love her so much. She is so spoiled already. I take her to the barn in a pet stroller so she has met the horses, donkeys, goats, barn cats and they seem to accept her right away. We are so happy she is part of our family. Thank you for taking care of her until we found her furever home with us.
Eric's Story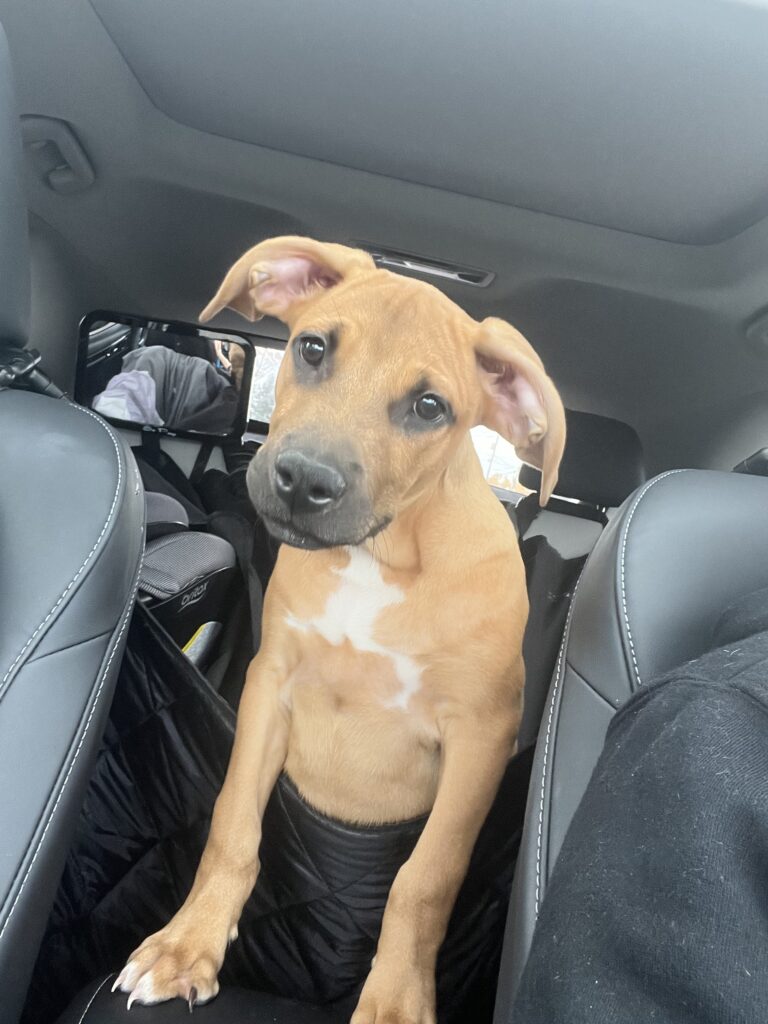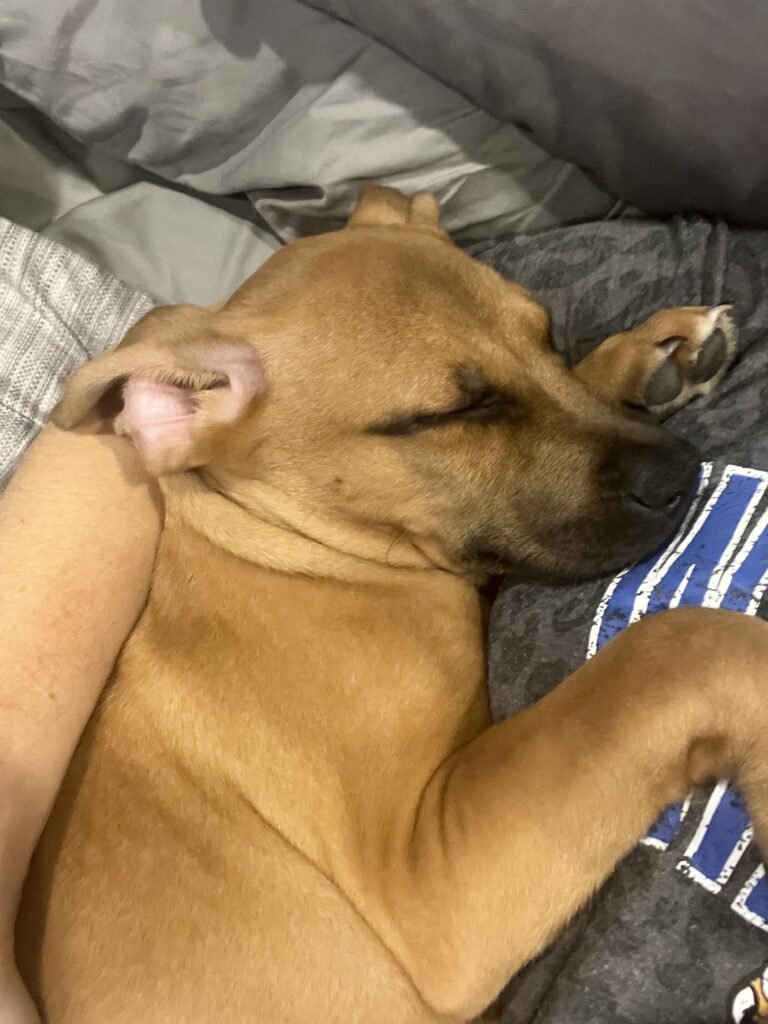 Eric is settling in well! I attached a few photos. He's a great puppy.
Rocky's Story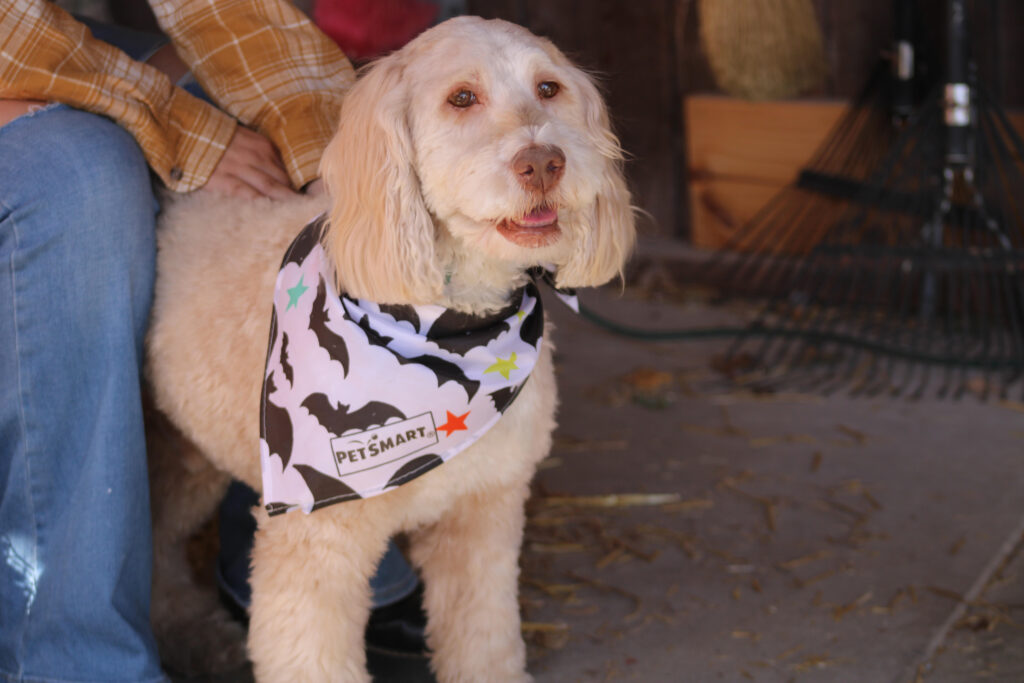 Rocky is the sweetest boy! Not knowing anything about his background, it has been a journey. He loves kids and women but is leery around men. He has come a long way in the few short months with my husband and we're still working on it.
Although we have many dogs in the neighborhood, Rocky is everyone's favorite. He gets lots of love, and of course treats!!!
Rocky gives me unconditional love and protection. My boy is a cuddle bug and I love it. He is close by while working and has a favorite chair and a bed under my desk. He makes my daughter feel safer when home alone and he has made all of us more active. Because of Rocky we have gotten to know all of our neighbors and make new friendships. Being a little older (at 6), he is very mellow and hardly ever barks.
I'm so thankful that he picked me as his person. He has brought us a lot of joy and he is very loved and spoiled!!!
Missy & Lazslo's (aka Lil Hoss) Story
We adopted Freya (aka Missy) 12 years ago and she has flourished. We recently adopted Lazslo (aka Lil Hoss) and he has done a great job.
Freya is teaching Laszlo all the tricks dogs do, and they love to play together. They both love walks and cuddles!
Laszlo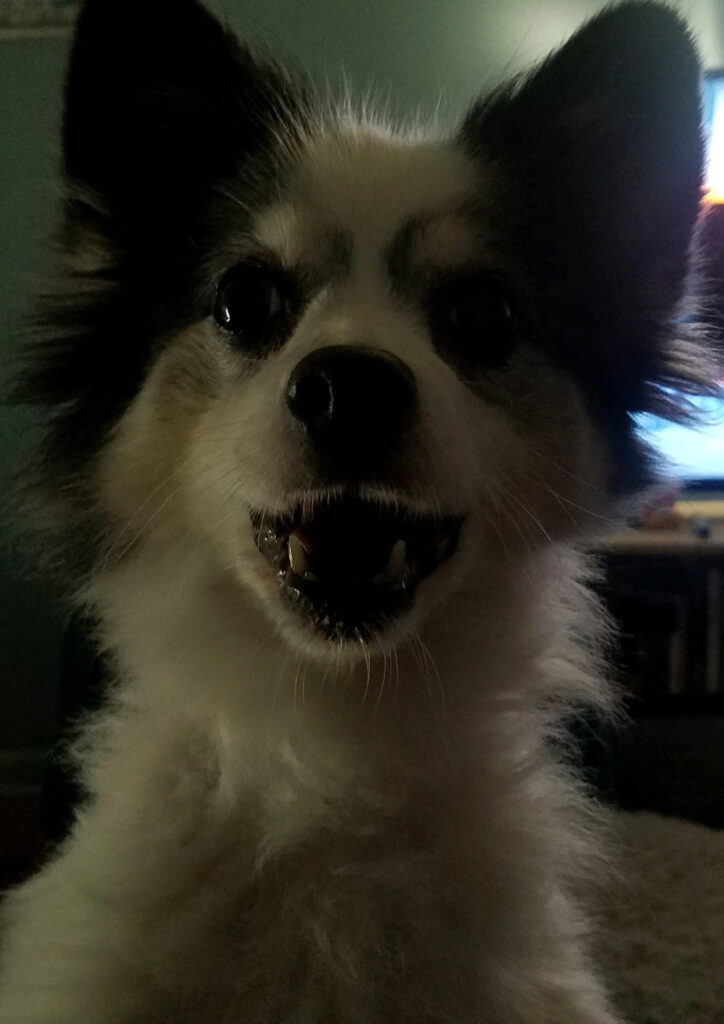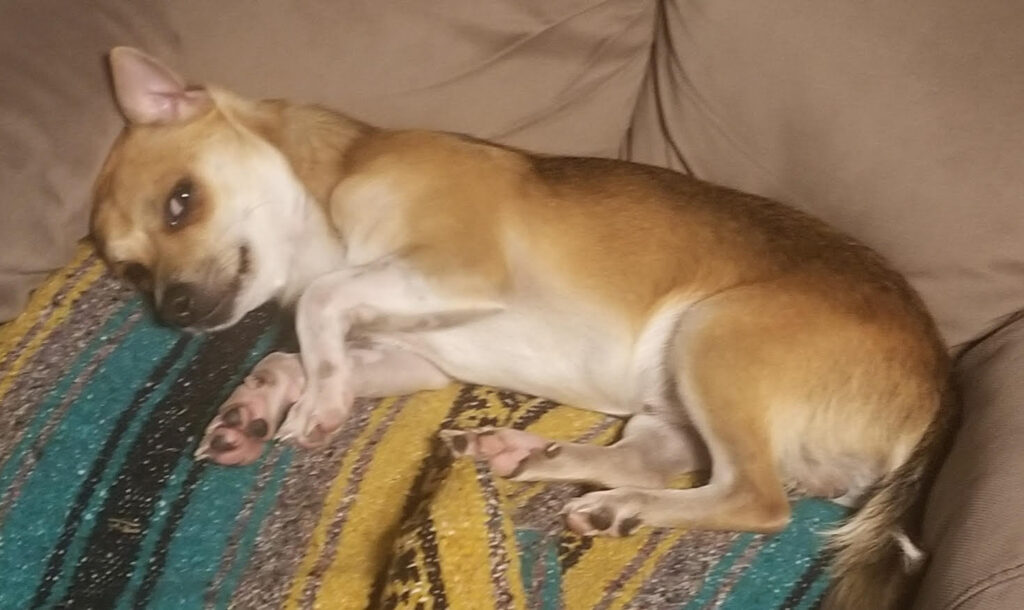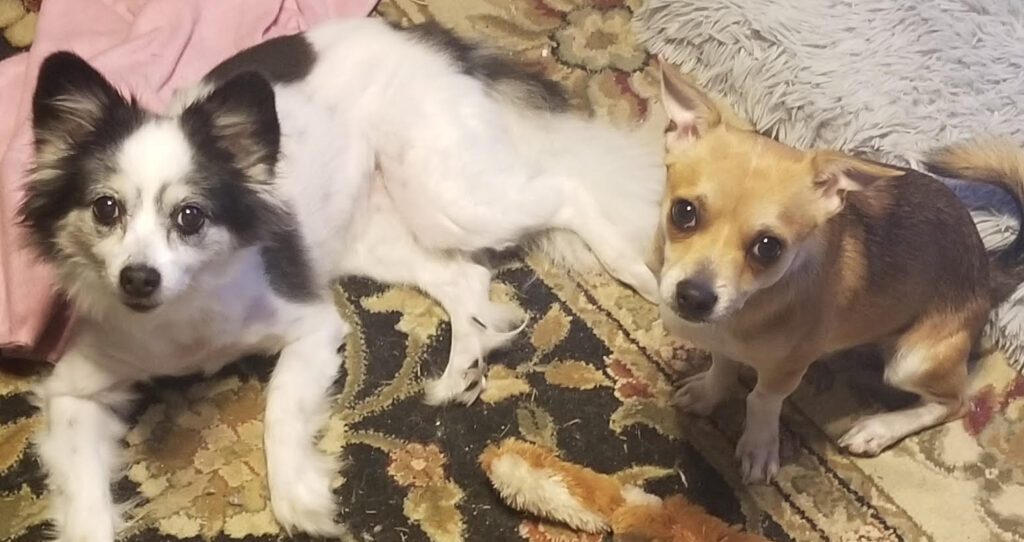 Rambo's Story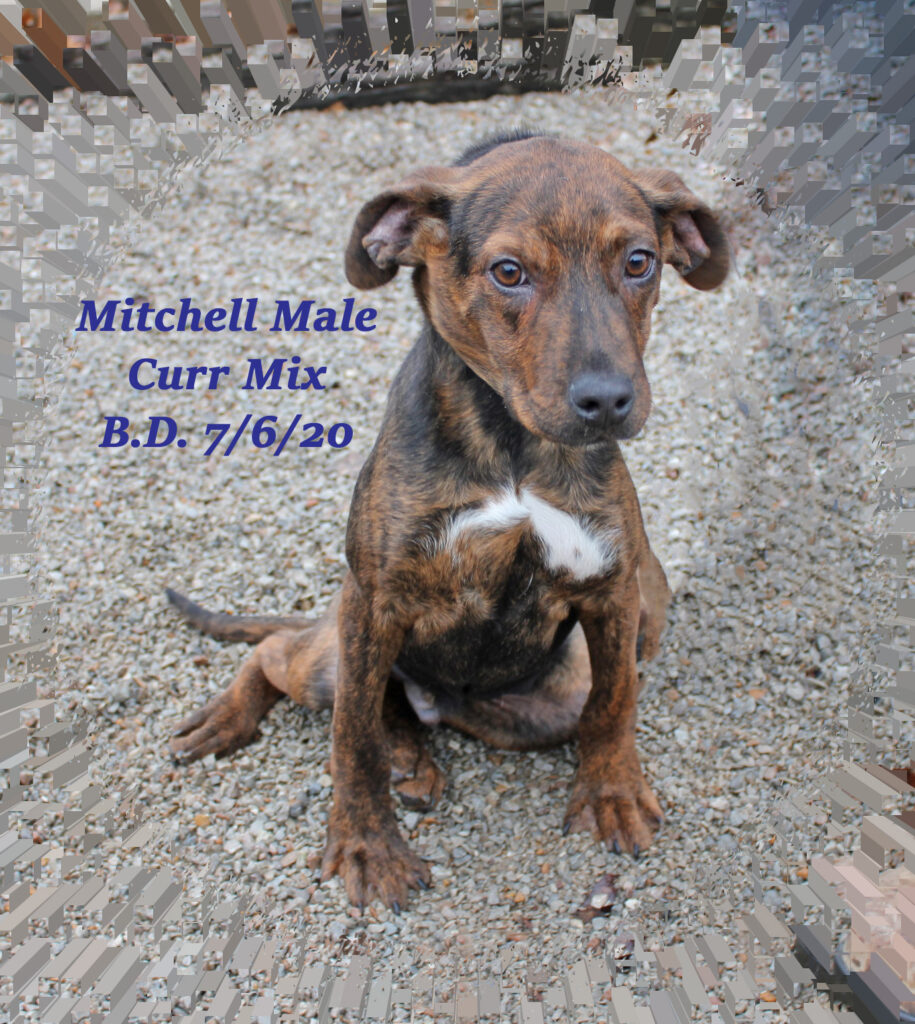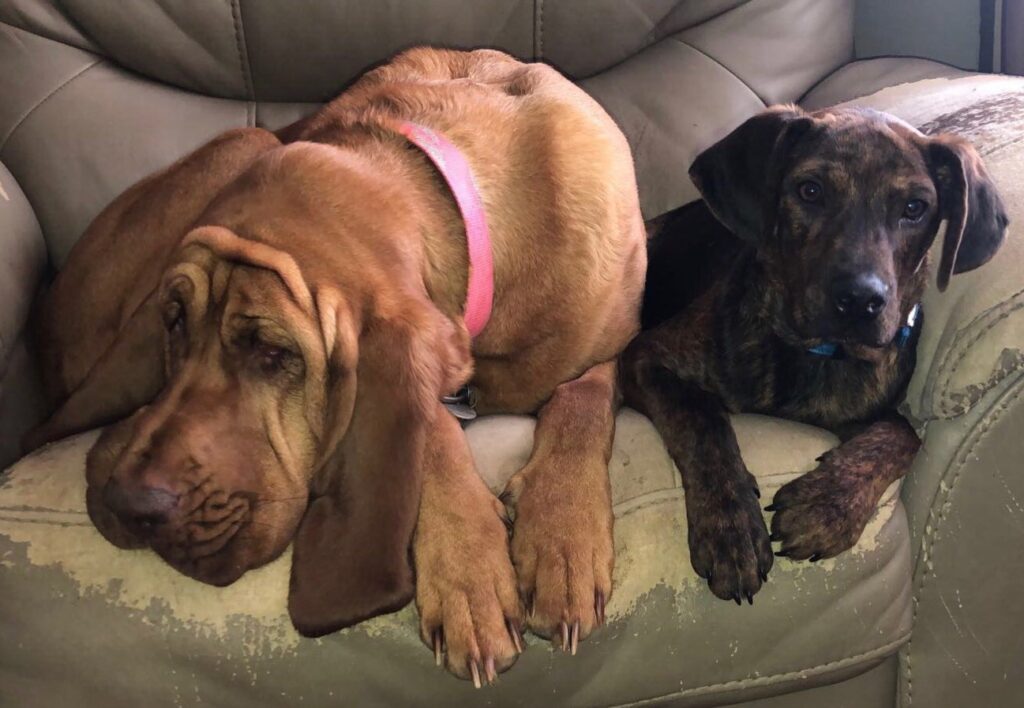 Xochi's Story
I adopted Xochi from ARF almost 12 years ago. She was about 3 months but I don't know her exact birthday she has to be 12 by now. She was in a litter. She came up to me when I went to look at the bunch but when I asked to hold her in the penned off area she kept climbing on my lap. She stared at me across the room while I filled out paperwork. She picked me. She is so smart and learned tons of commands. A little over 2 years ago I decided to get a second dog. I wanted her to have a friend before she was too old to appreciate it. She picked out Coco (big brown dog) from another rescue and they love each other. They play sometimes and I think Coco helps keep Xochi "young." Several months after getting Coco I decided to start fostering dogs. Older smaller dogs feel safe around her.
I wish I knew how her littermates lived too!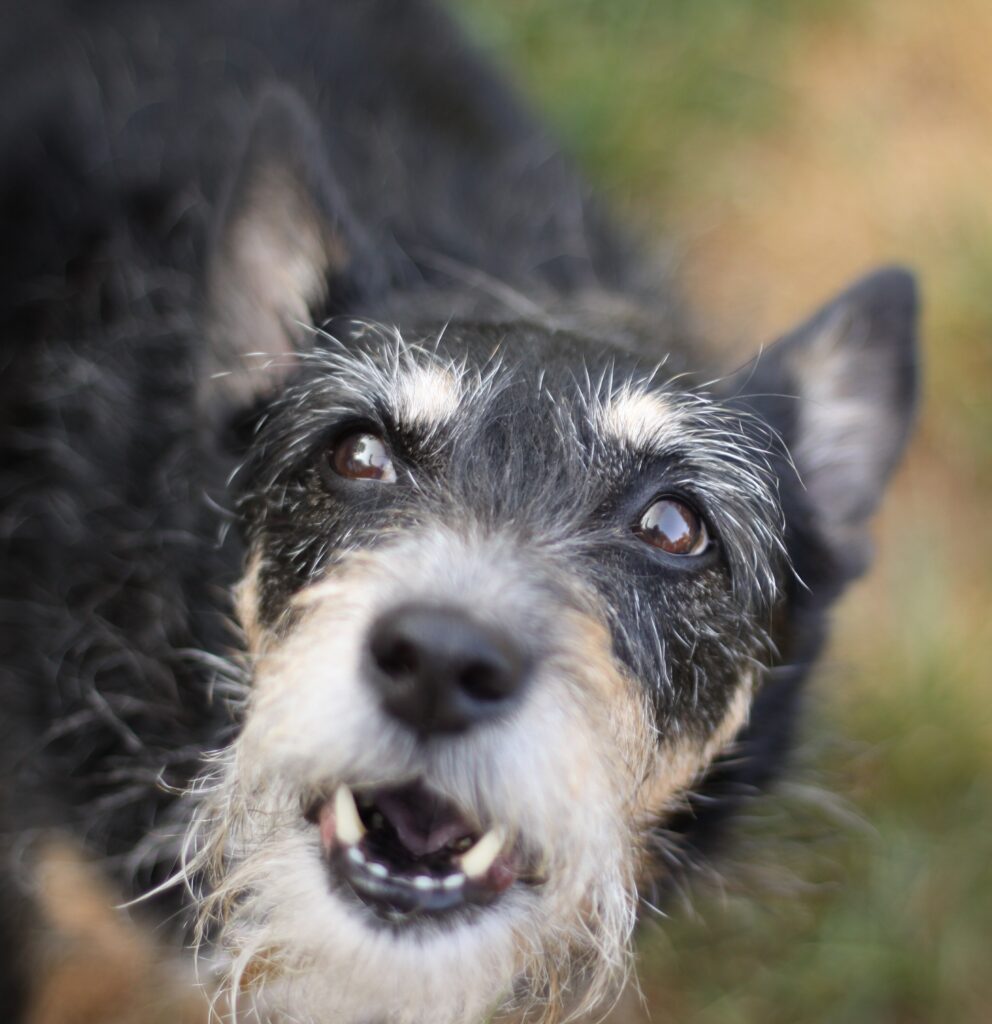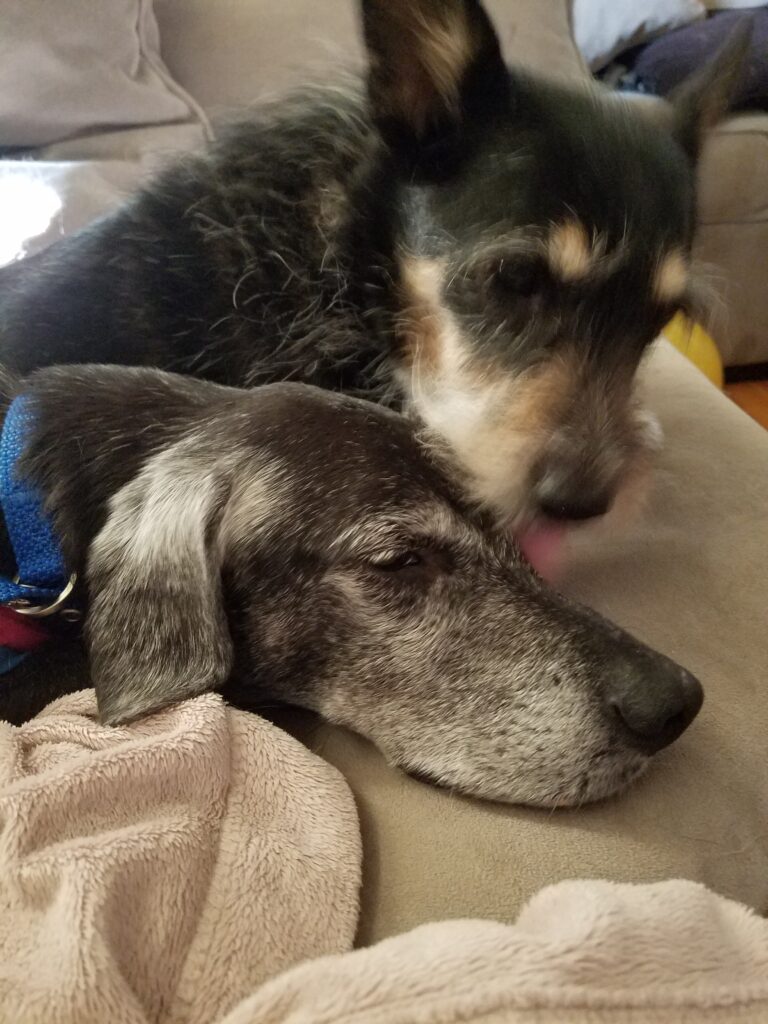 Guy aka Gunner's Story
Guy, known as Gunnar at the shelter, was adopted over a year ago. He was a very shy dog with no confidence that had lived a very hard life before coming to ARF. He was adopted by a young man who took a chance on this shy "Guy" and gave him an opportunity at a wonderful life. With lots of patience and love Guy has turned out to be a wonderful dog and friend! Take a look at these pictures of a happy, confident, and loved dog…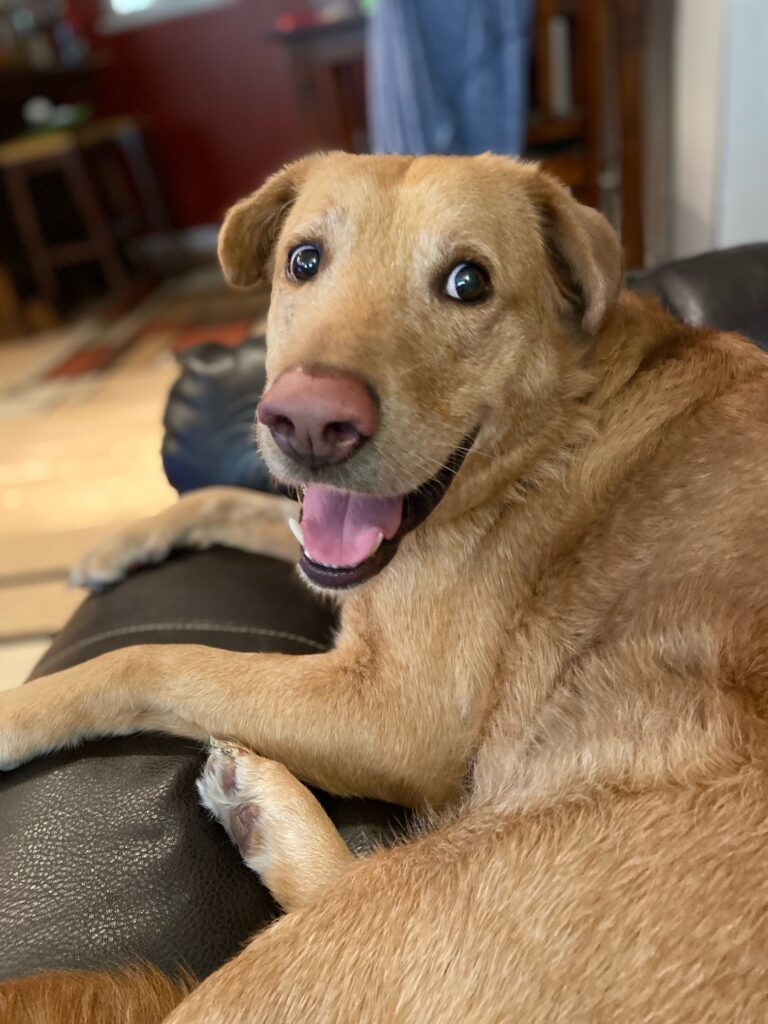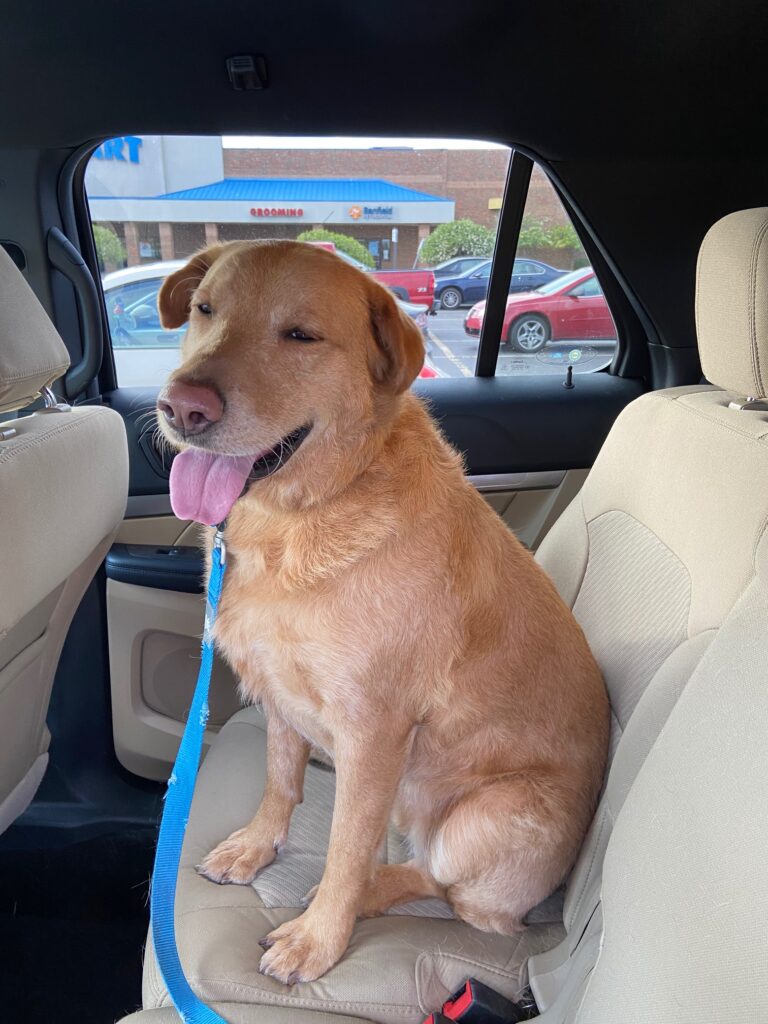 Josie aka Bella's Story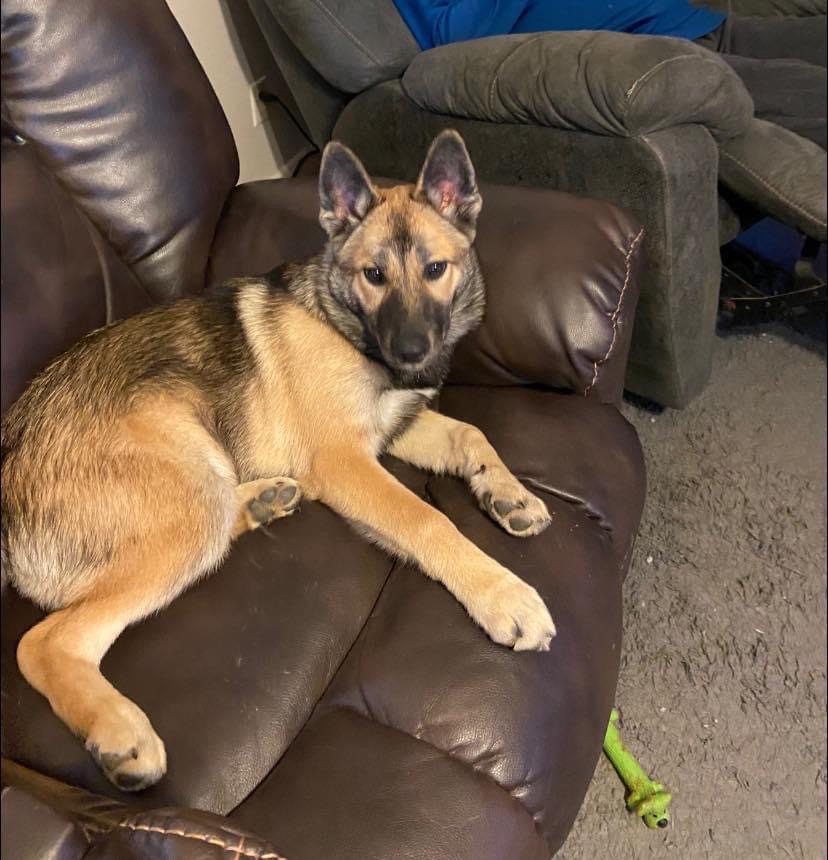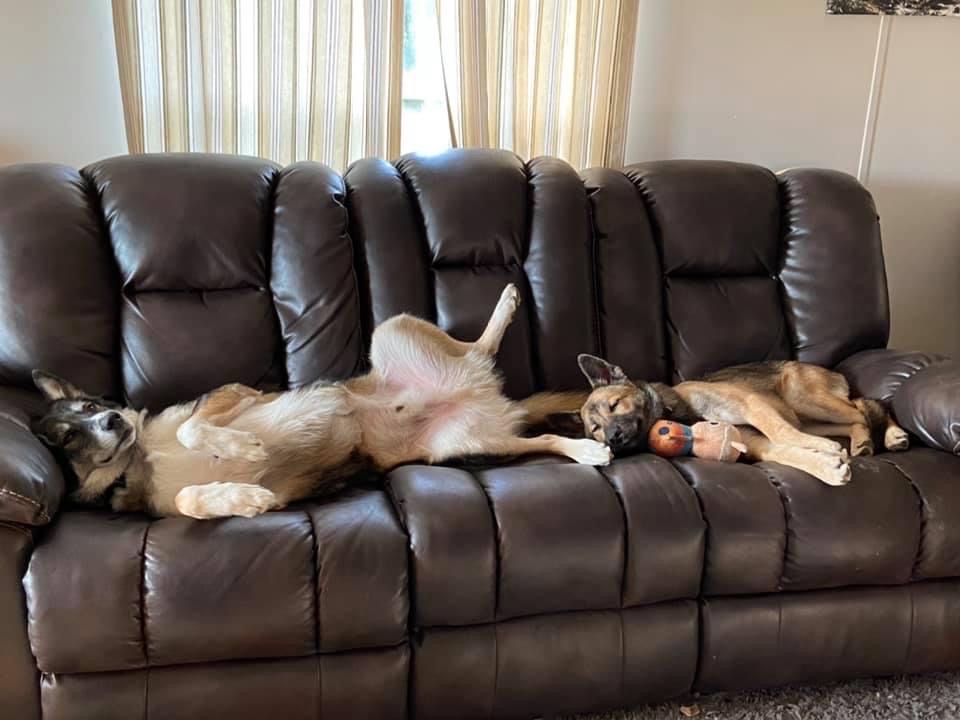 Blue aka Bert's Story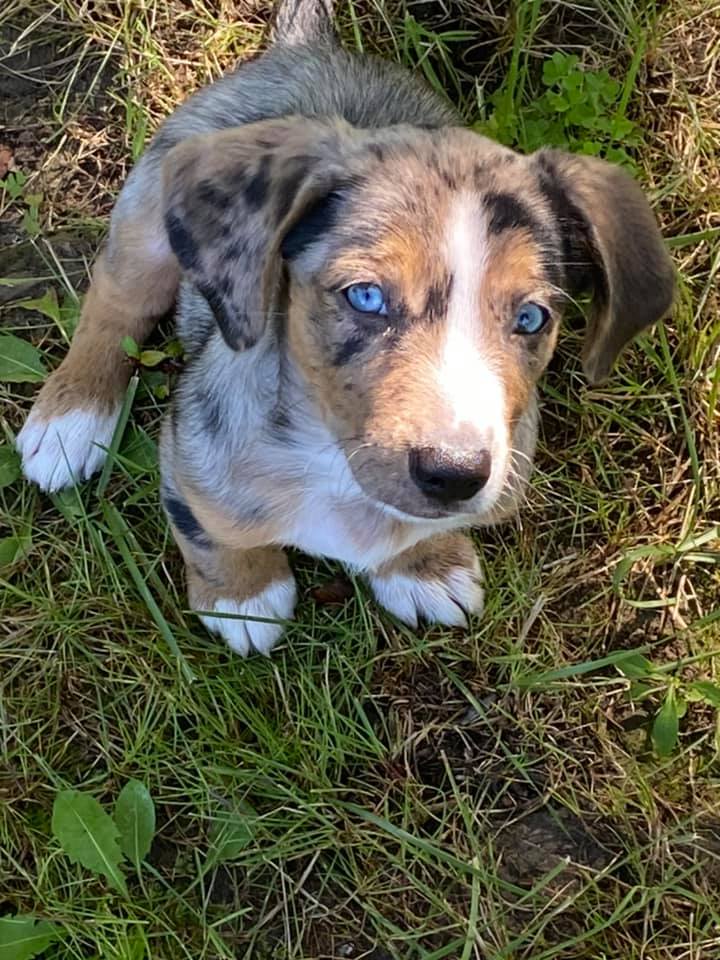 Bert is now Blue not because of his eyes because of blues clues!! We love him so much!! Blue was the addition our family needed!! He is a spoiled little guy!! He's doing wonderful!! He is so loving and smart!! Blue and Kel my special needs daughter are best friends!! He healed her in so many ways it's amazing!! Blue was meant for us!! Thank you all so much for doing what you do!!
Cooper's aka Camaro Story
Cooper is a sweet boy, He loves play time with other dogs and meeting new people. He also loves to come out and tan with me lol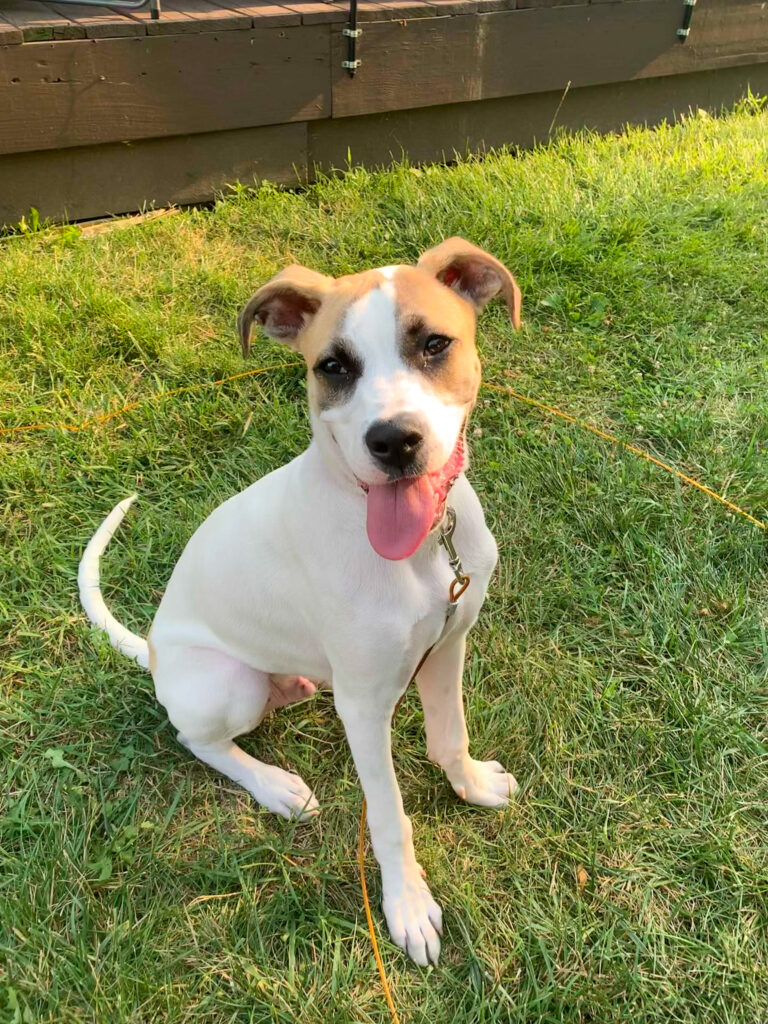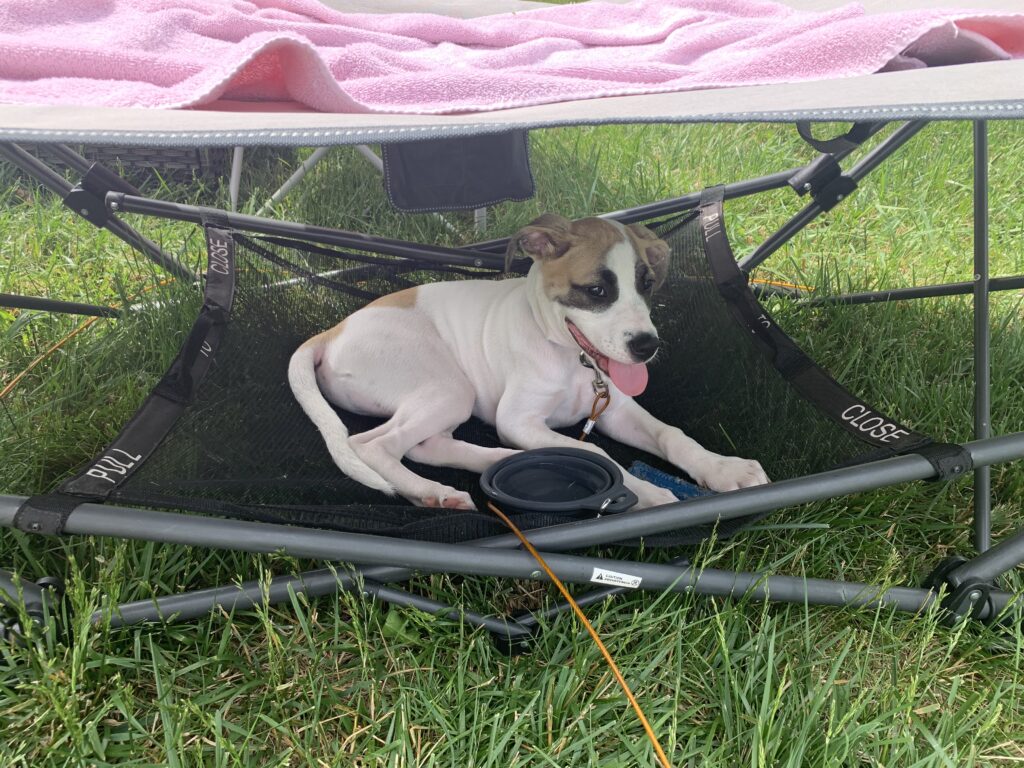 Axel's Story
We love our Axel so much. He is a sweetie pie. Gives lots of kisses.. he is d oing so well. He is brave and smart. Learns quickly. Loves his toys and going for walks. Great addition to our family now that we are empty nesters.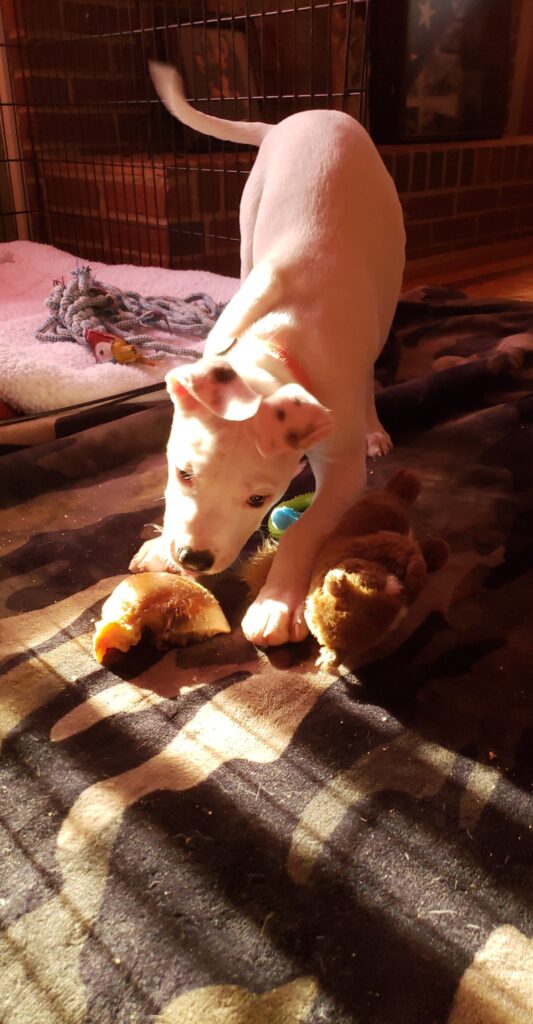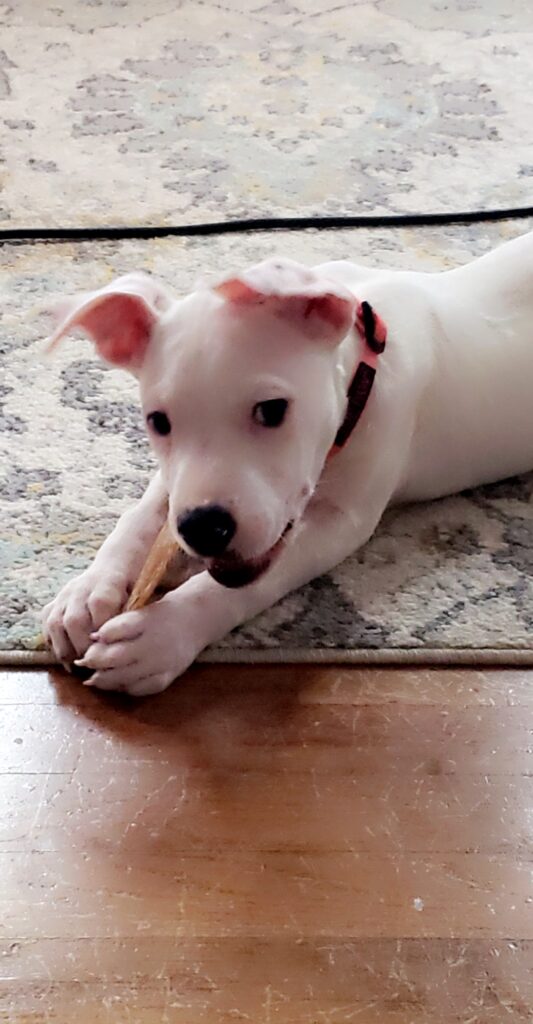 Jinx's Story
We adopted Jinx from ARF at Petsmart in Eastgate.
She is a beautiful fur baby and quite the character! She rolls over for belly rubs, carries toy mice in her teeth, likes to climb, and loves to chase spongy balls!
She has made herself quite at home. Her favorite place to nap is mommy's chair!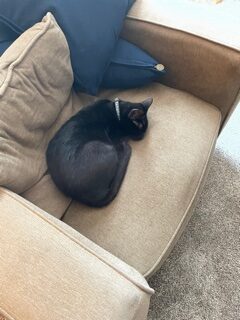 Paxton's (AKA Echo) Story
My name is Tim and my wife's name is Kara. We stumbled upon the puppy photos by chance, and I had to go look. Once I saw Echo sitting there wagging his tail with almost a half smile on his face, we knew we had to take him home. Echo now has a new name – Paxton. It's been a very eventful week 1 since he has arrived home. We go on lots of walks, play lots of fetch, and went to a half marathon to watch our family run. We even completed week 1 at puppy school and know how to sit, and look to make eye contact. He is the sweetest pup who loves to play, and when he's tired, he lets you know by snuggling up. We are so happy to have picked Paxton and already can't imagine our lives without him!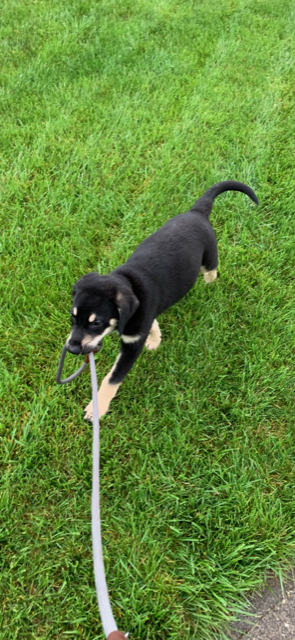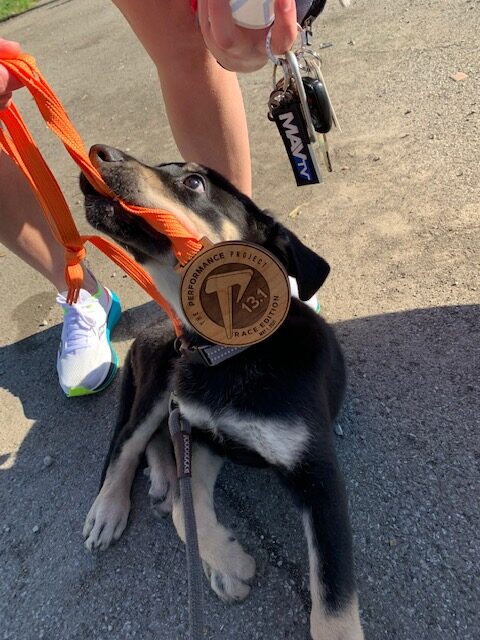 Fern's (AKA Jelly Bean) Story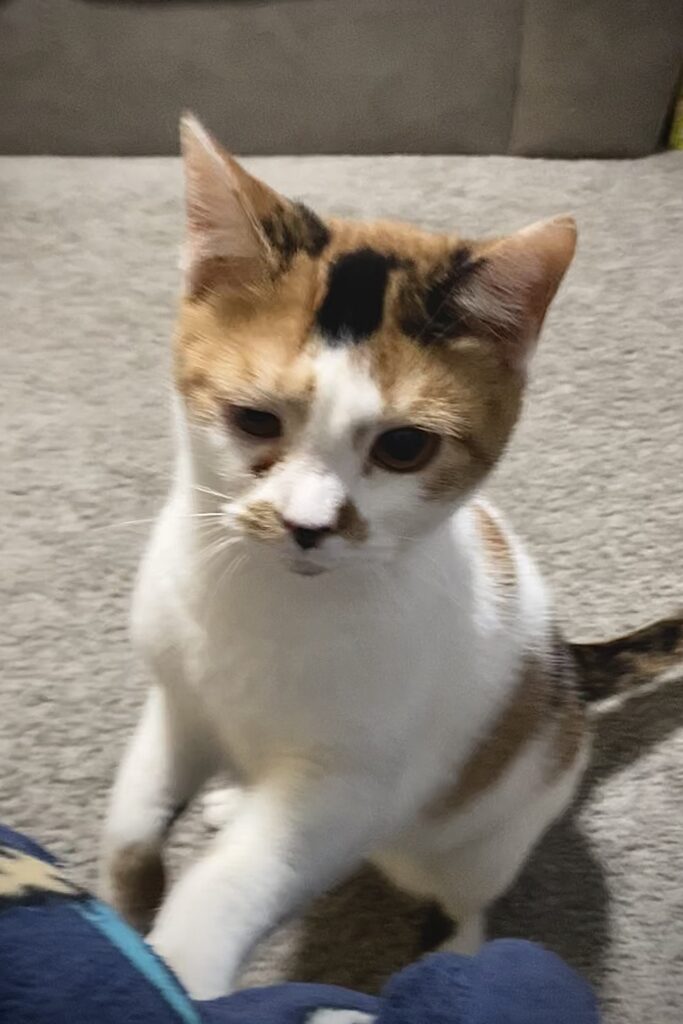 Nico's (AKA Pierce) Story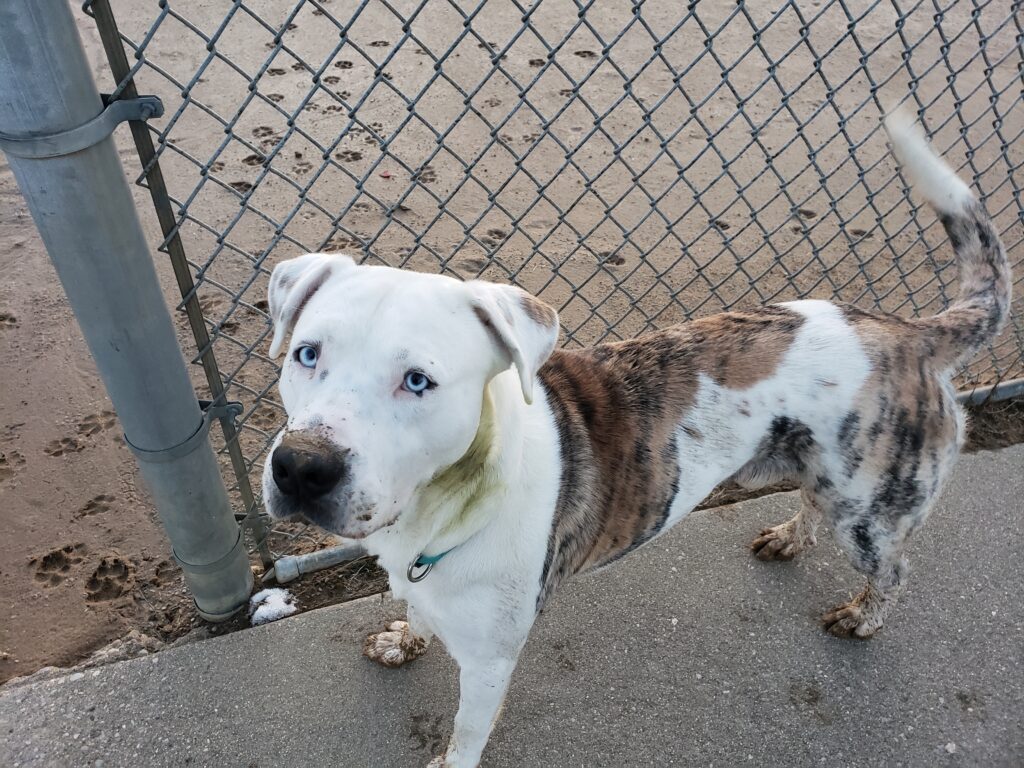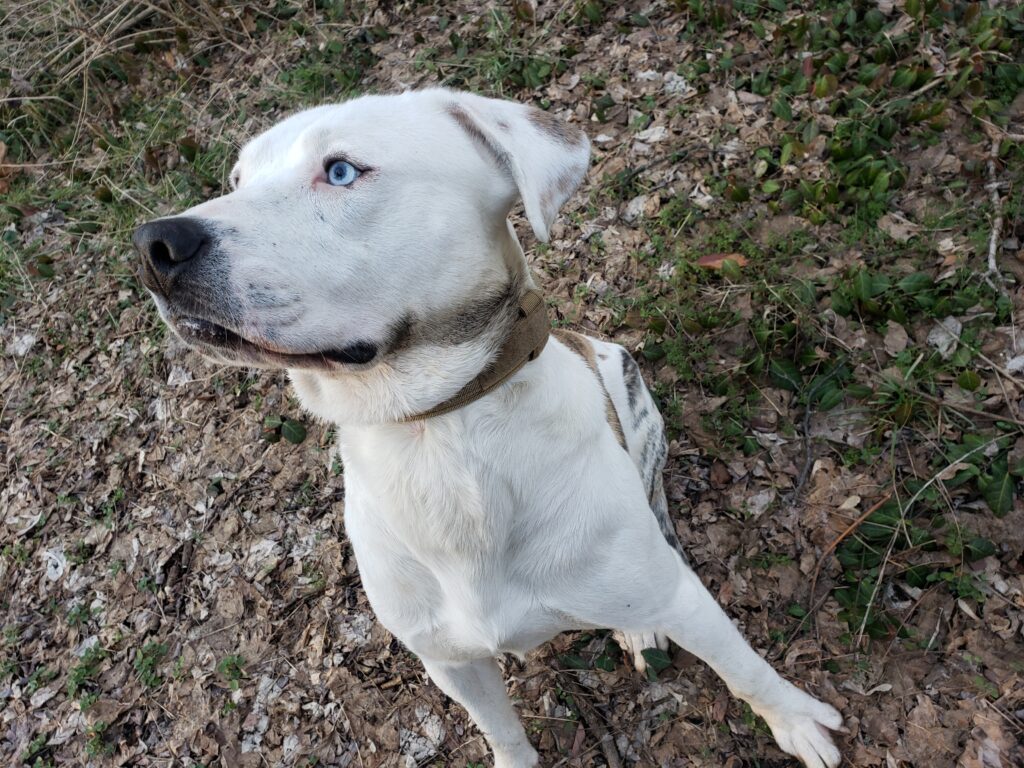 Paco's Story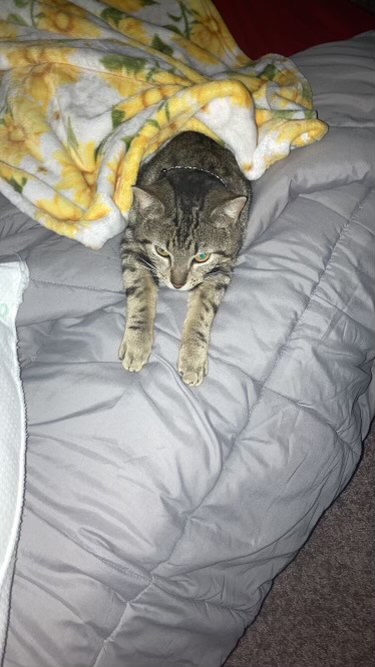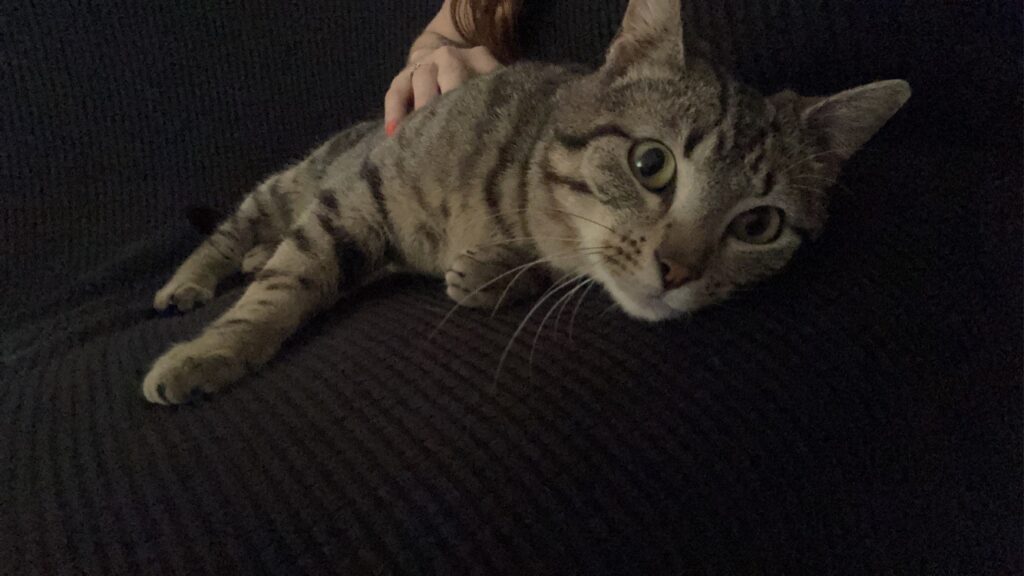 Lucky's Story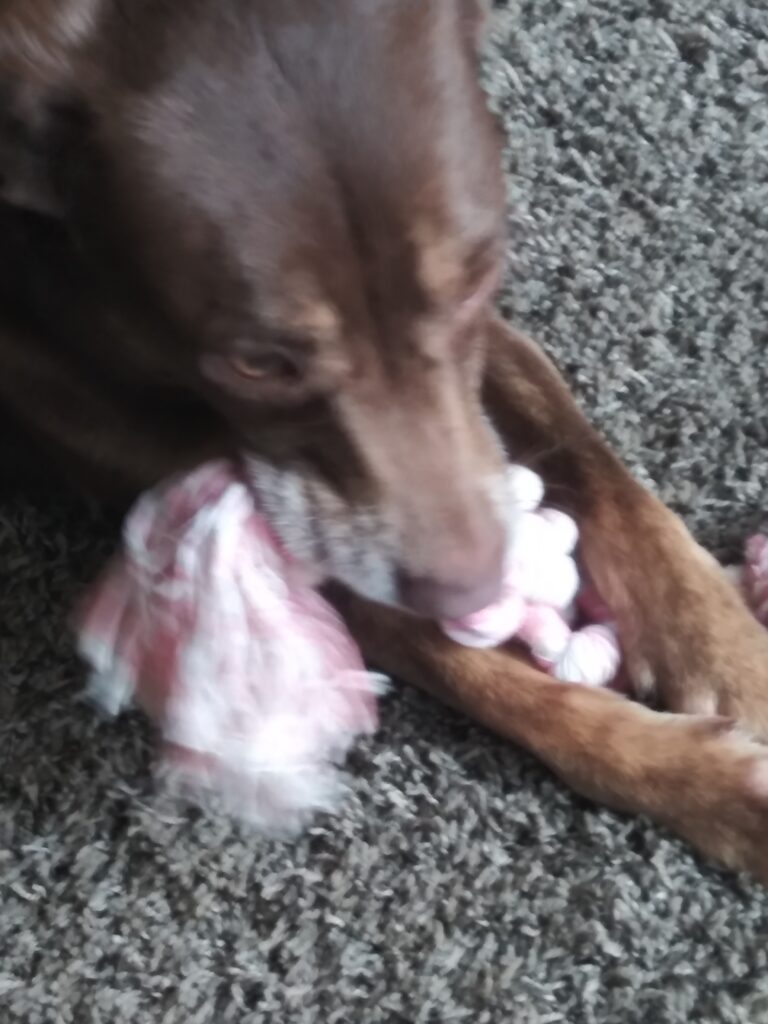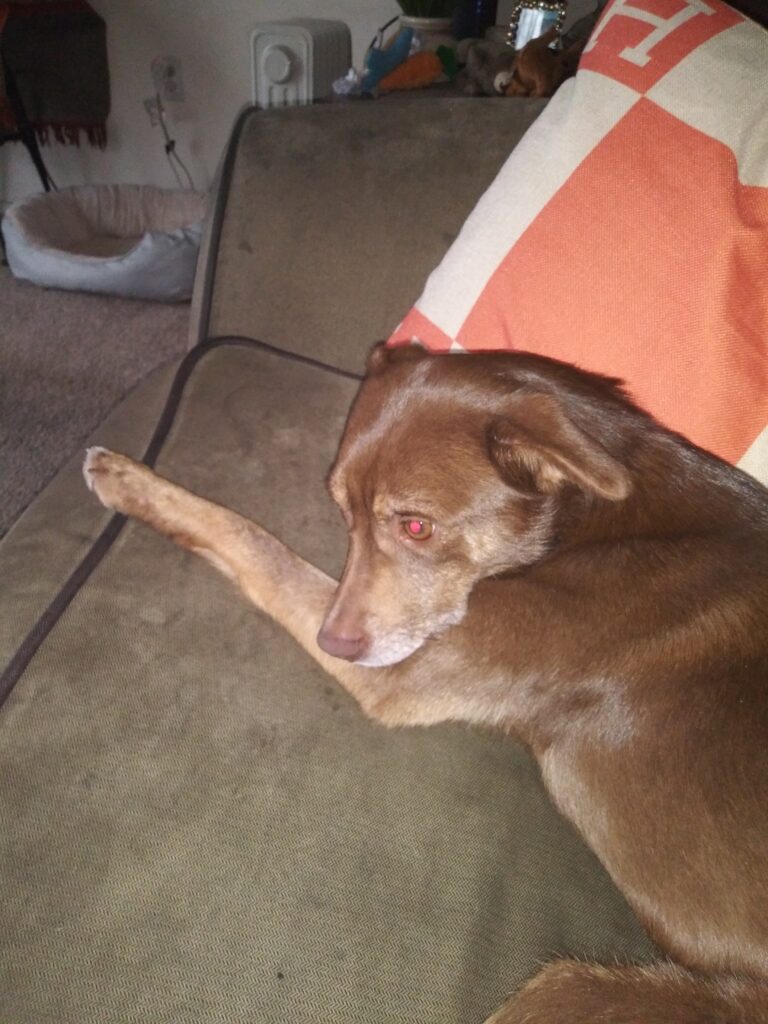 Sweetie now known as Lucky has saved me as much as she was saved. Since we met on our first walk I knew she needed me. She loved the ride home and as soon as she walked in she knew this was her roost to rule! I was ready to take on the task of house training Lucky, but to my surprise it was not necessary. Lucky will walk to the door and just give me a look saying Dad it's time. Lucky wants to say hello to everyone she meets and give them kisses. I can't wait till it warms up and we begin to travel. Lucky will be able to go hiking and camping and run on the beach and swim in ocean this summer and living the life she deserves.
Zoey's Story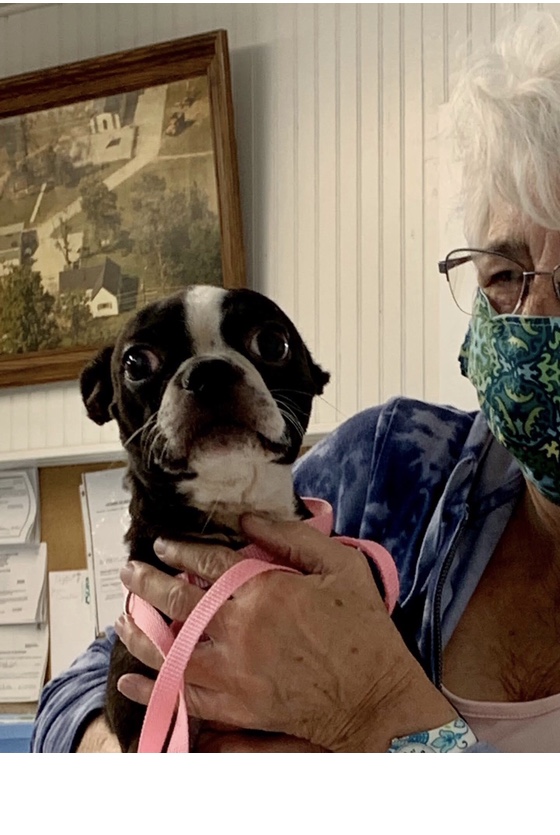 I don't know how I got so lucky, but Zoey is a perfect dog! Since the day she came home, in Oct 2020, she's been a completely housebroken and very affectionate snugglebug. She's calm, cheerful, rarely barks, and settled in immediately. It's as if she already knew all the household routines. She's really a joy to have around. Thank you, ARF, for rescuing her. She really is quite perfect
Layla's Story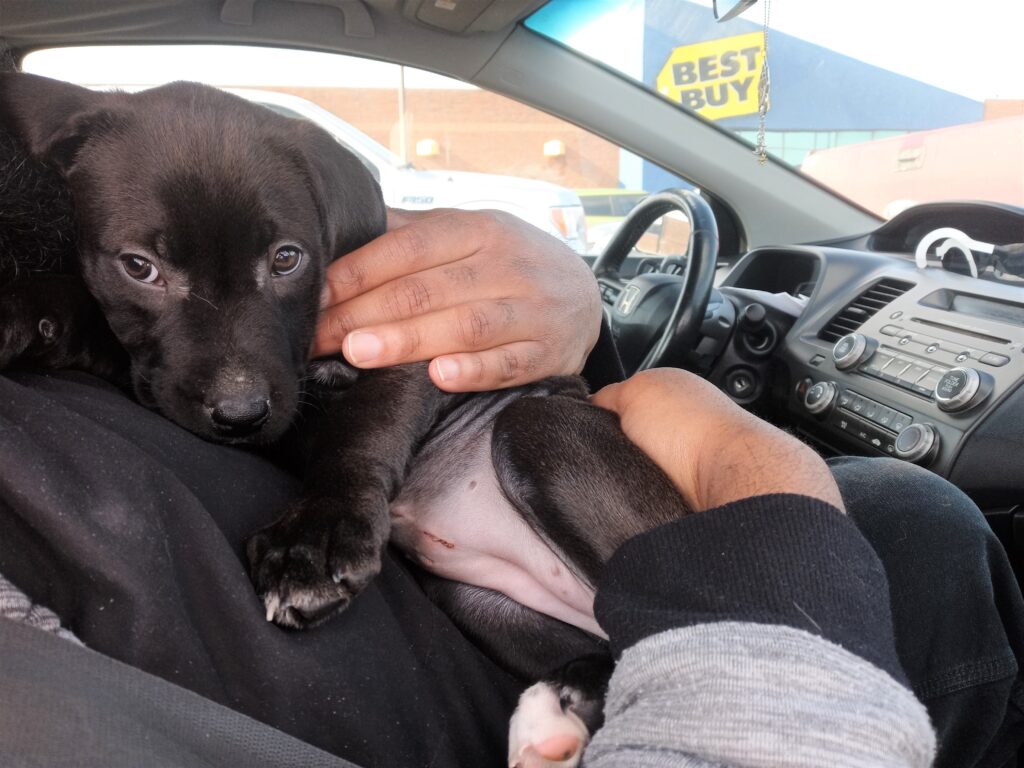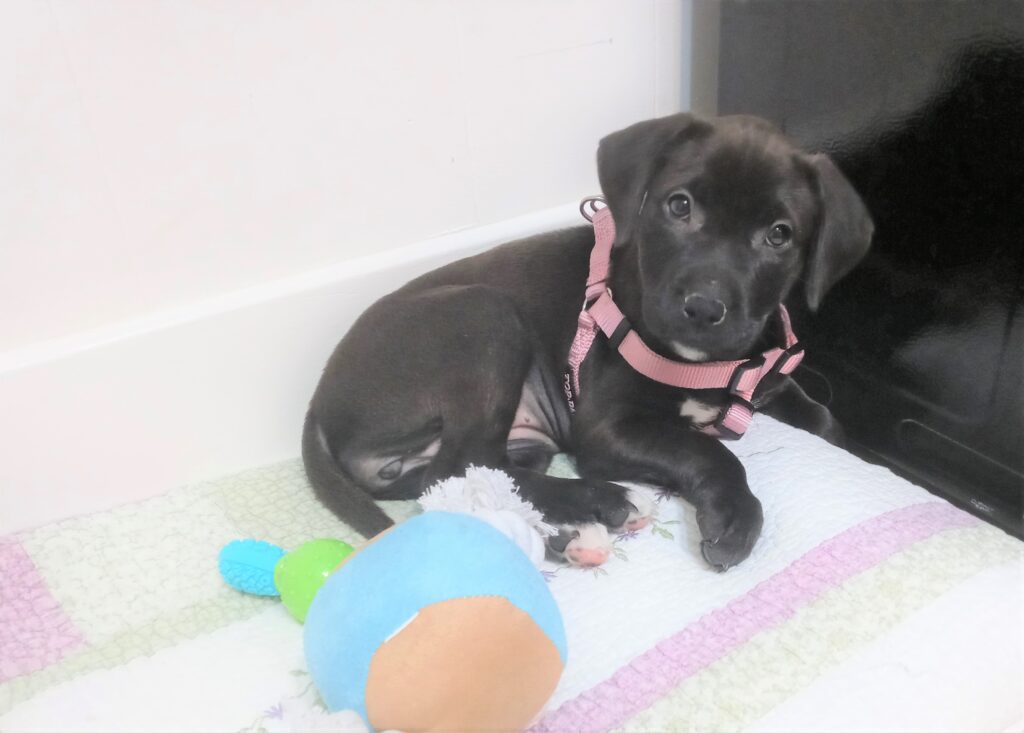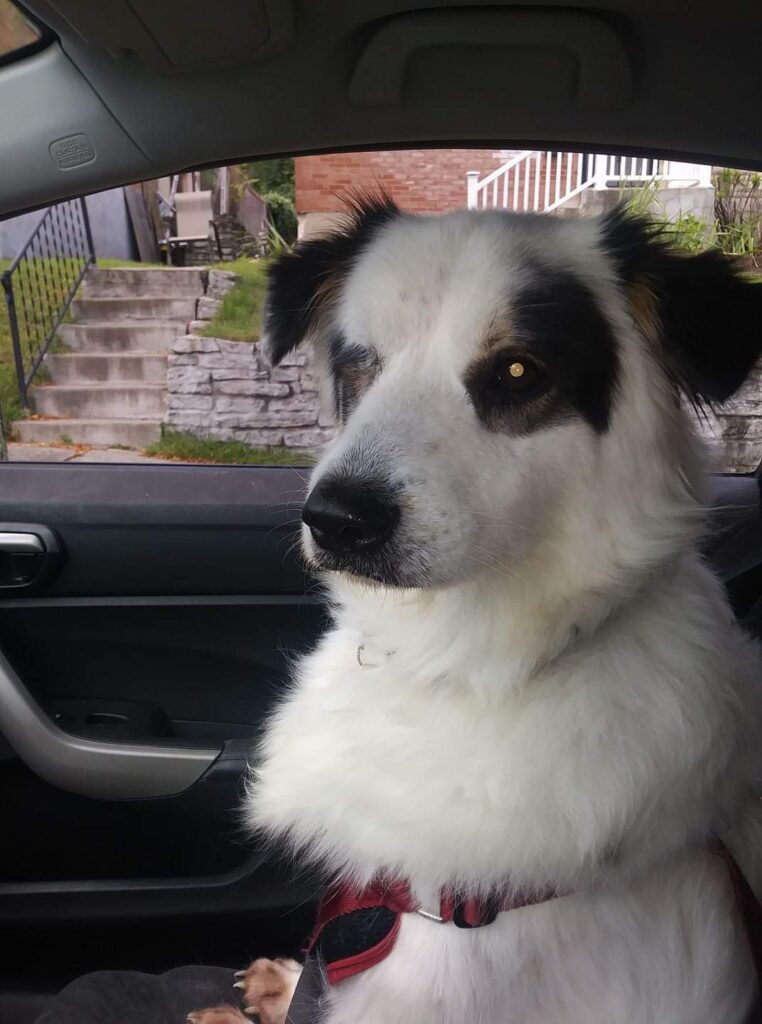 I took this beautiful little girl home on 2-20-21. She's so cute, loving and playful. She's already my little stinker, princess and grumbler.
My first dog Daisy got sick and died in 2017 at eight years old. She was a Border Collie Lab Mix. It's bitter sweet bringing this bundle of joy home. I'm telling her, "Where going to PetSmart." And later on she'll know what that means.
I hope to post more pictures and updates on Layla as time goes on. She'll be getting aquatinted with her new veterinarian this week. Ryan
Roxie Goes Home!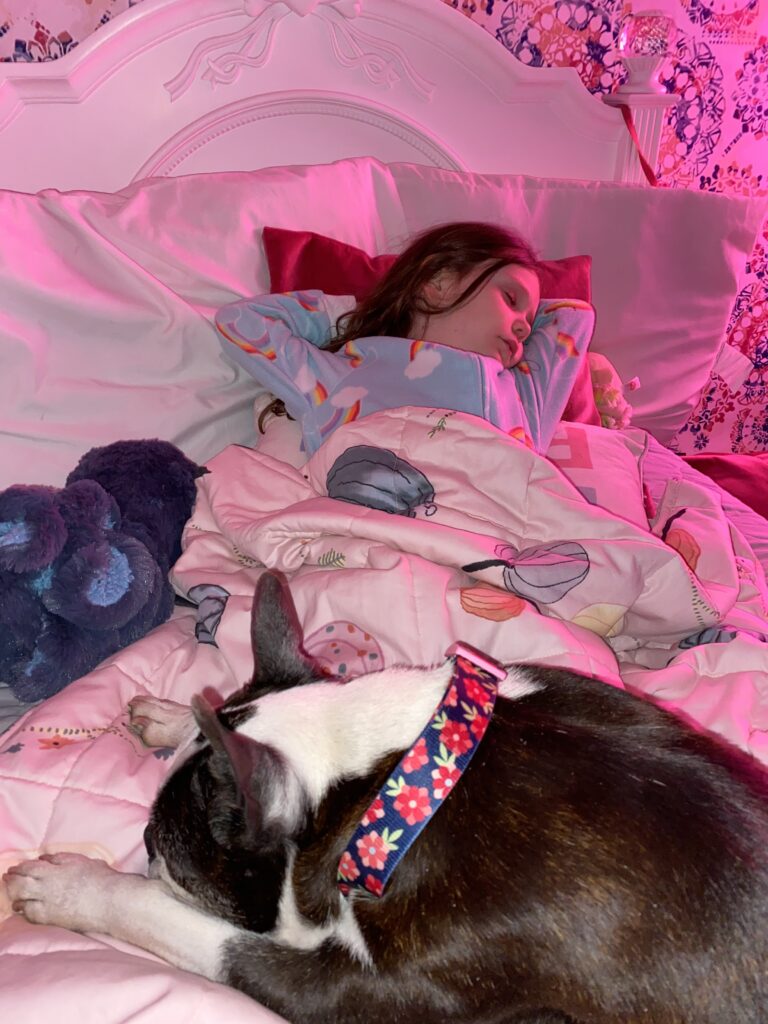 We are so happy to have Roxie home with us. She's been resting a lot (sleeping on the dog bed) and exploring her new space. She loves running in the backyard! So far she's been a loving little snuggle bug and we're so happy she's with us.
I'll be happy to send more pictures as she continues to settle in!
Happy New Year! Christine & Mike
RESCUES WORKING TOGETHER IS WHAT IT IS ALL ABOUT!
It's Amazing What Rescues Working Together Can Accomplish! Jumper's Story…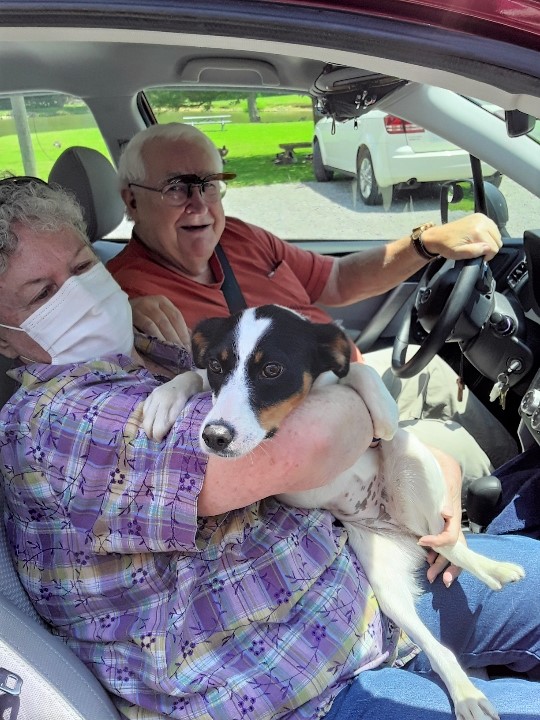 This couple found the love of their lives and the Jumper found the life she had been dreaming of!
This couple contacted 14 rescues, filled out lengthy applications on line and did not hear back from any of them except Angels Rest Animal Society. That rescue did not have what they were looking for, but Natalie, from Angels Rest, offered to help them anyway. Natalie contacted ARF and let the couple know about Jumper. They came out to meet Jumper today (7/10/20) and she was just what they were looking for. They fell in love with her and Jumper couldn't have been happier too!
Zoey's Story
Zoey found her forever home a couple of weeks ago. She is so funny. Such a great personality. I can't even imagine why anyone would have wanted to abandon her. Some humans just don't deserve pets, but thank goodness for places like ARF to save these animals!
Thanks for all you guys do!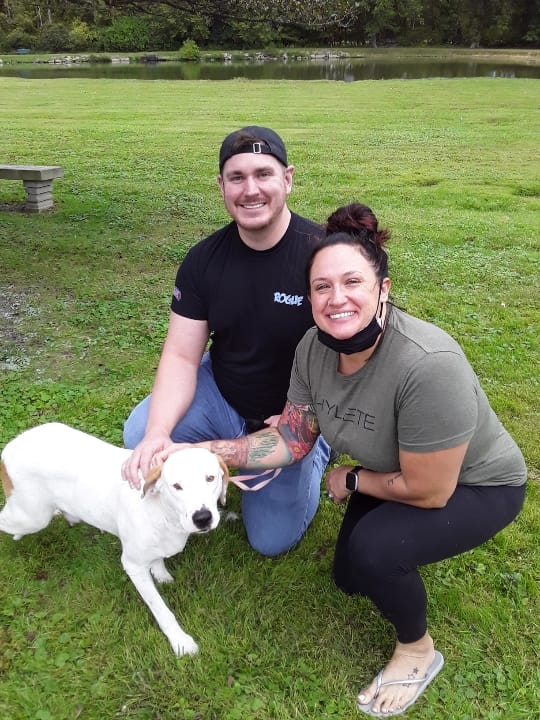 Sonny's Story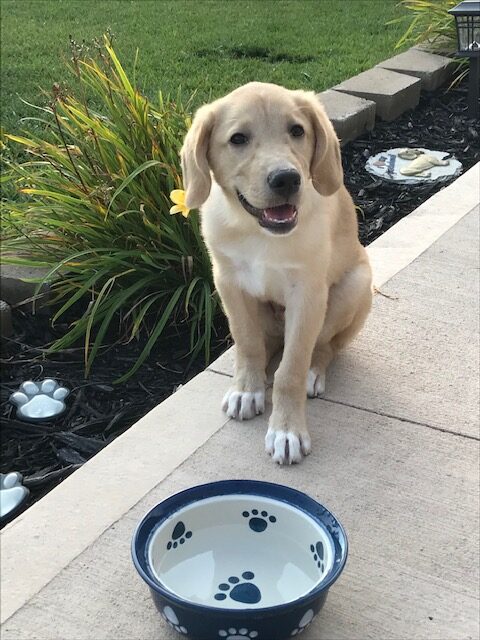 Daisy Goes Home!
Daisy Update…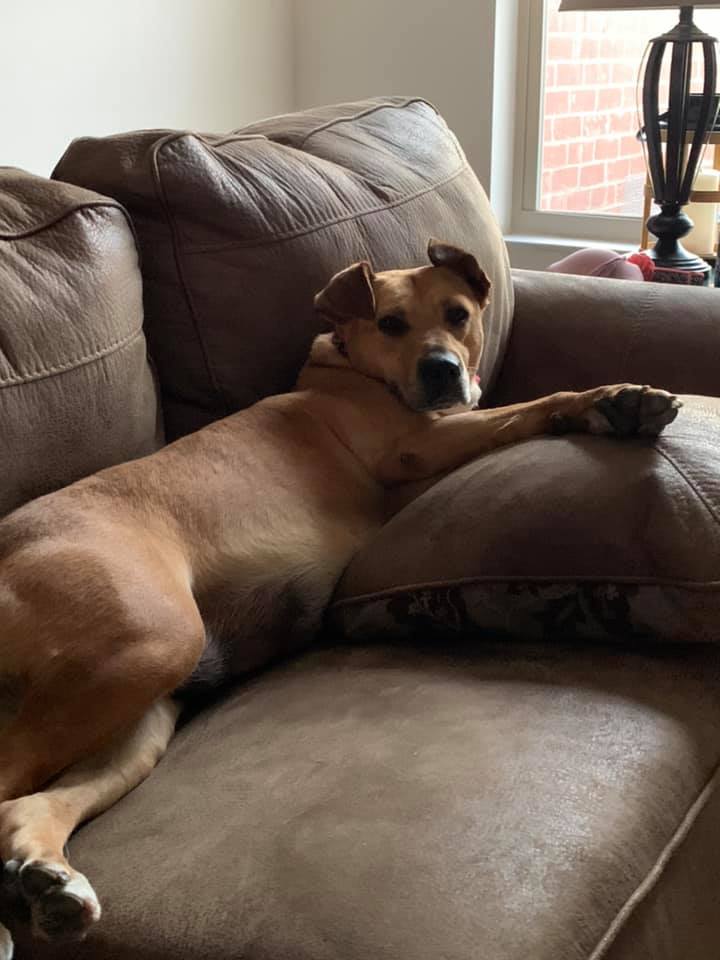 Daisy, is very much loved. I've slept on the couch to help her transition here. She gets walks every 2 hours. Her brother loves her and they get along amazingly! She's gotten 2 new fancy collars and a name tag! She is definitely without a doubt being treated the way she deserves!
Mickey Goes Home!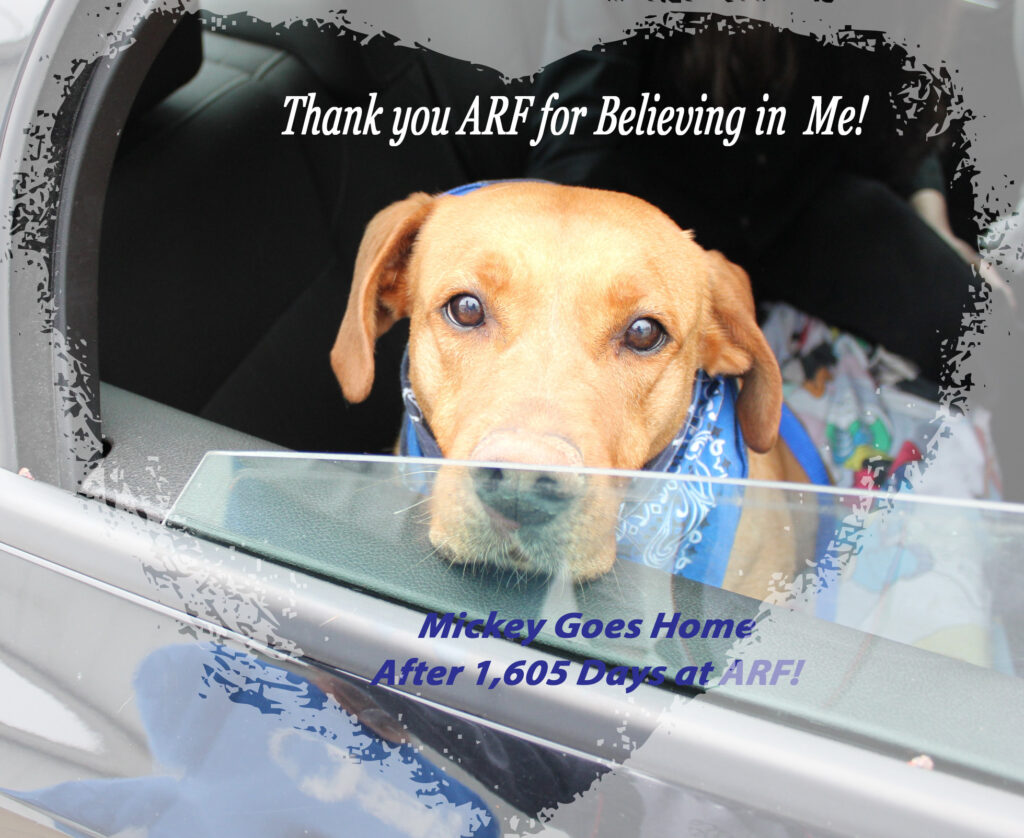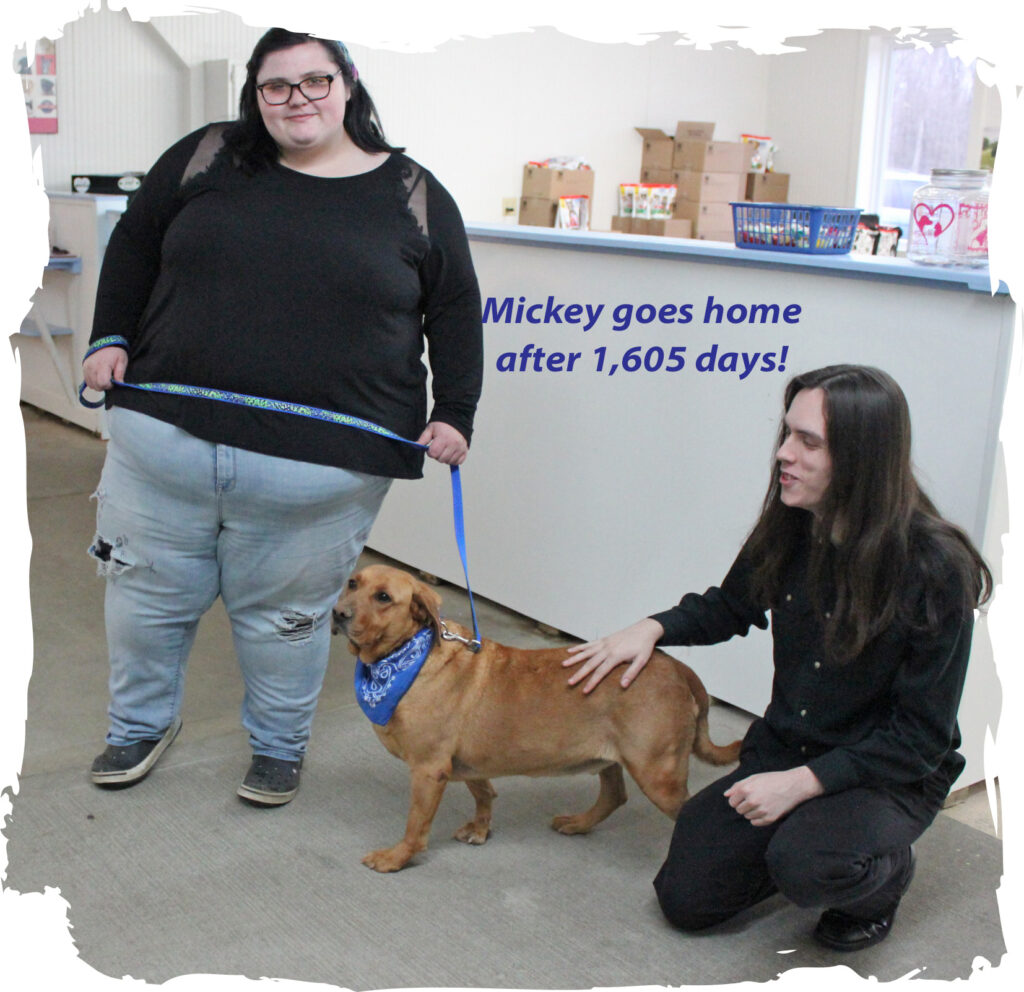 Mickey Update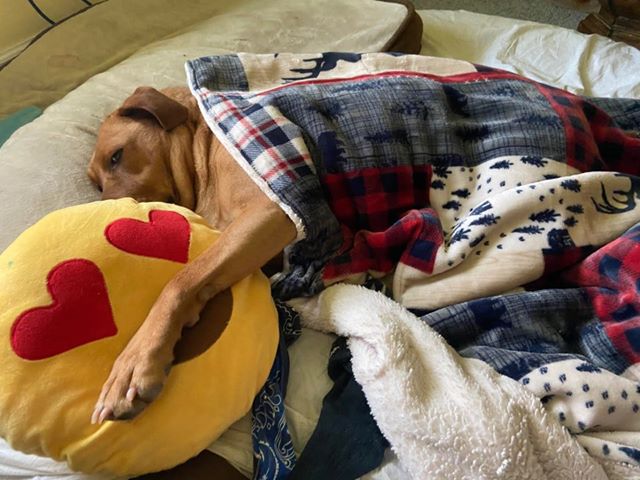 He has become a dog!! He runs and plays and his tail never quits! We love our gentle boy he loves his bed and his favorite part of the day is breakfast!
Walks are also one of his favorites. He has come to love car rides and runs to the car anytime we mention the word! We are so grateful for Mickey!
Cinnamon Goes Home!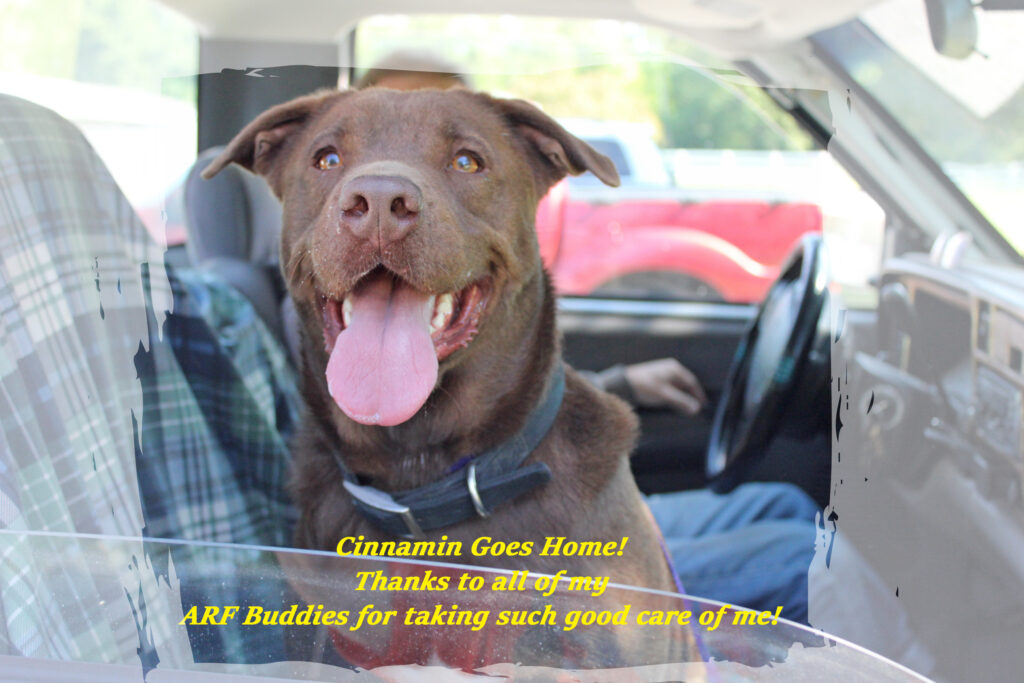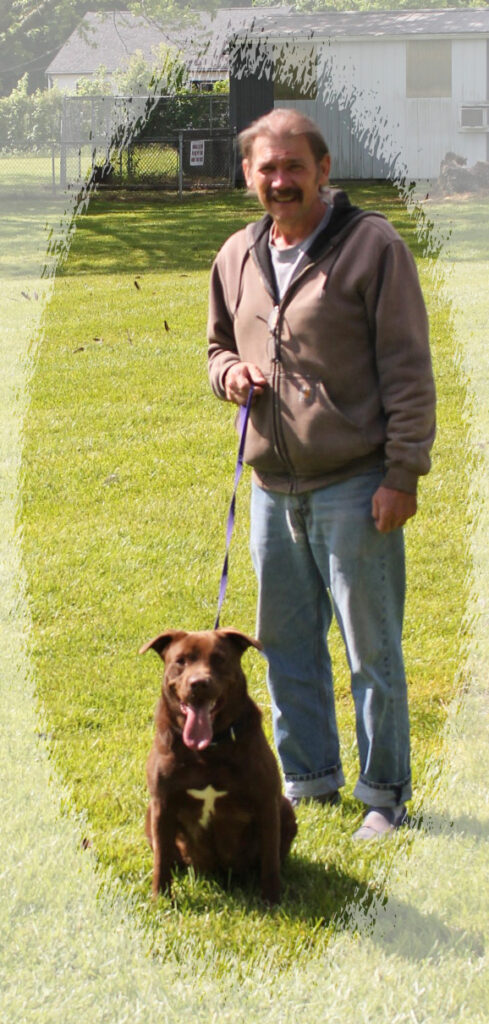 Cinnamon Update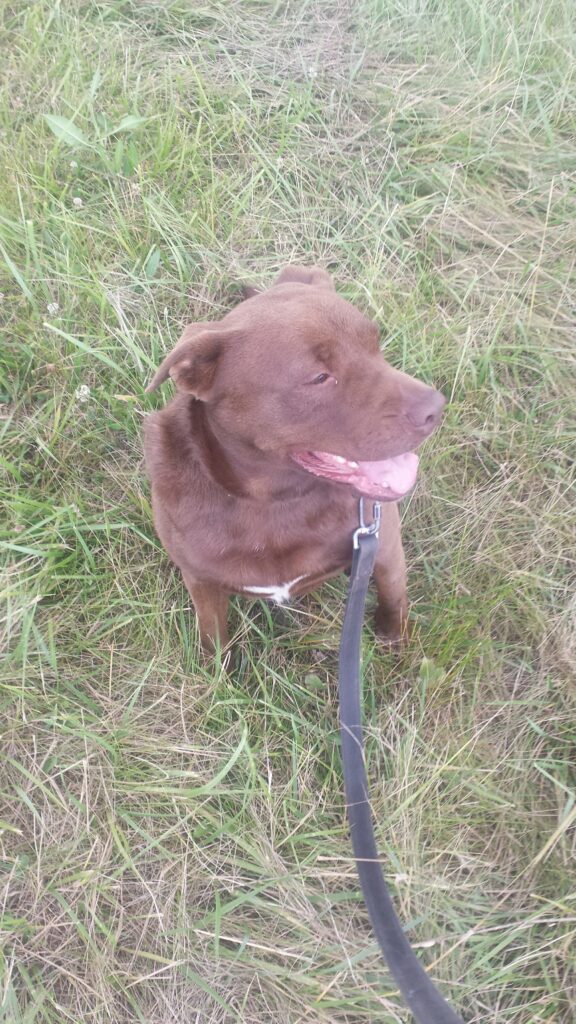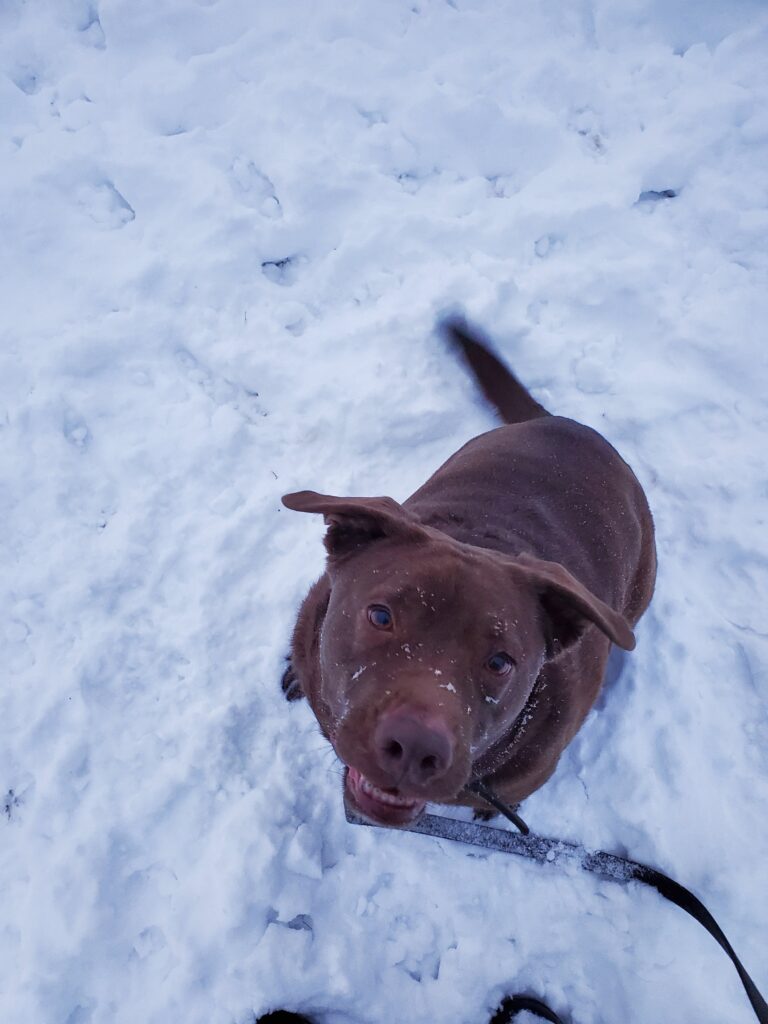 Today makes it 30 days since I adopted Cinnamon… the pics were taken during our daily walk. I know it takes time for a dog to adjust and get used to a new home/routine… she did good on the ride home and during a visit at the vet… she hasn't had an accident in the house or her crate… her favorite toys are a tennis ball and a rope with knots in it… she usually takes one of them with her when we go outside and brings it back inside when we come in. I know it has only been a month… in my opinion she is doing great.
Finn's Story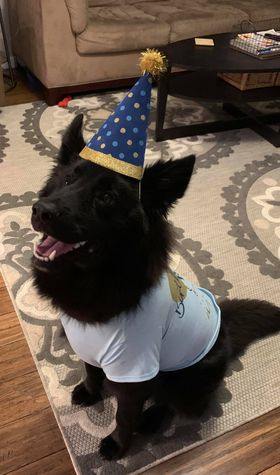 Remus's Story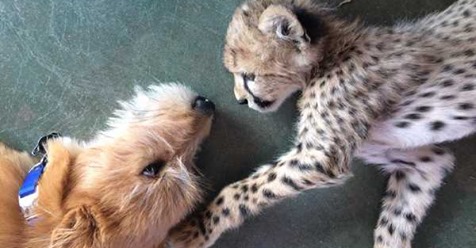 Remus lives and works at the Cincinnati Zoo. She lives with Kris the zoo's baby cheetah. What a great job for an ARF rescue! Just click on the picture to see a short video about Remus and Kris. Remus was adopted as a companion dog for Kris when she was a young cub in August. The dog has kept Kris company and has taught the cheetah social lessons through play and engagement.
The pair will be featured in the first show of a new show on Disney+ called "It's a Dog's Life" streaming on May 15th.
13 Year Old BB Goes Home after being at ARF for 251 Days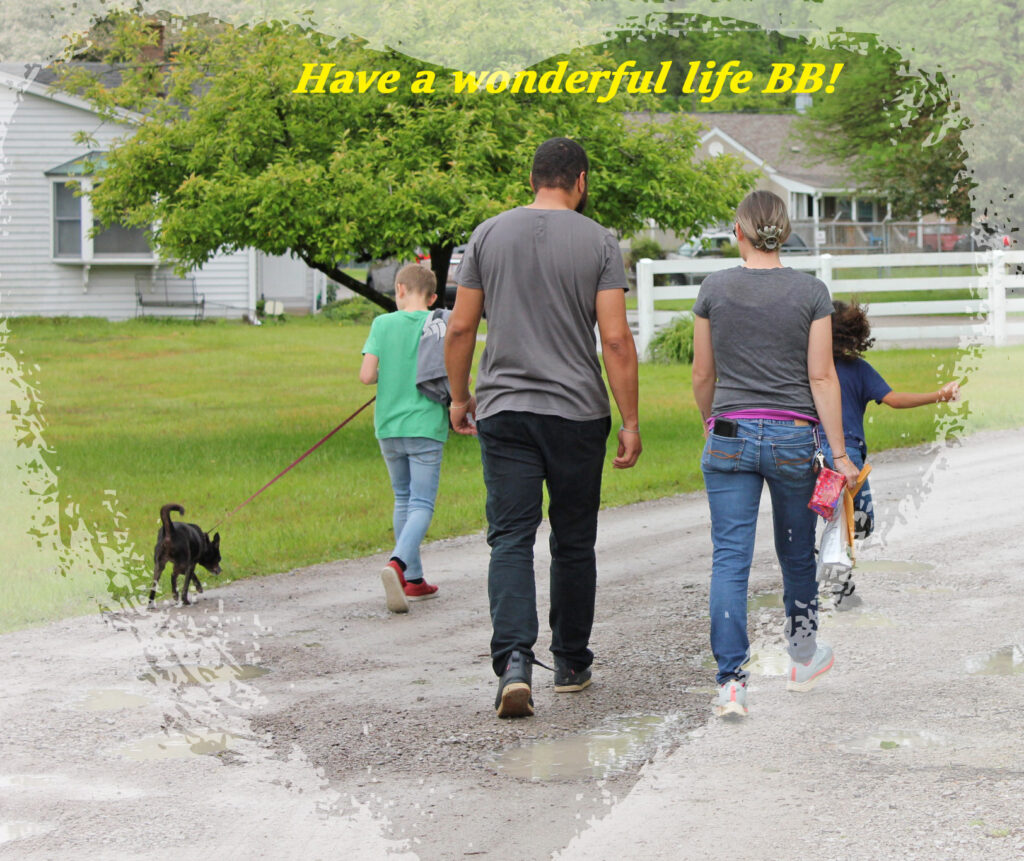 BB (Now Bella) Update
Hey everyone at ARF, We are just loving having BB( now Bella)! She is such a cuddle bug, and we love that about her! She is definitely enjoying lazy days sunbathing by the pool. Our other fur babies have taken kindly to Bella! Our cats took a bit longer but as you can see, they've bonded a bit. We love her spunky attitude when we get home or after she comes inside and wants treats. She's bouncing around and behaving like a younger pup, it's adorable! So glad we found her! She is a perfect match for our home!
Luna's Story
It was July 4th when we went to look at the dogs at Animal rescue Fund. My daughter spotted the one puppy that was ready to go to a new home. We adopted her and she has been one of the best thing that has happened to us. Luna is doing wonderful and getting spoiled. She goes to dog park and loves to say Hi to everyone.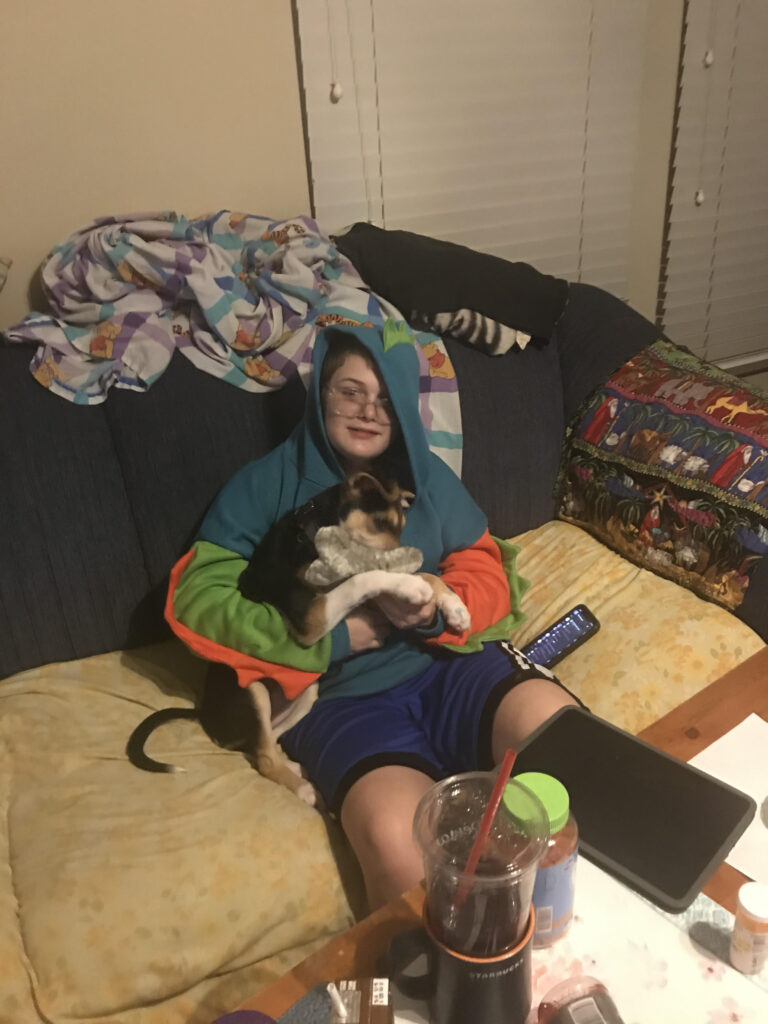 Annie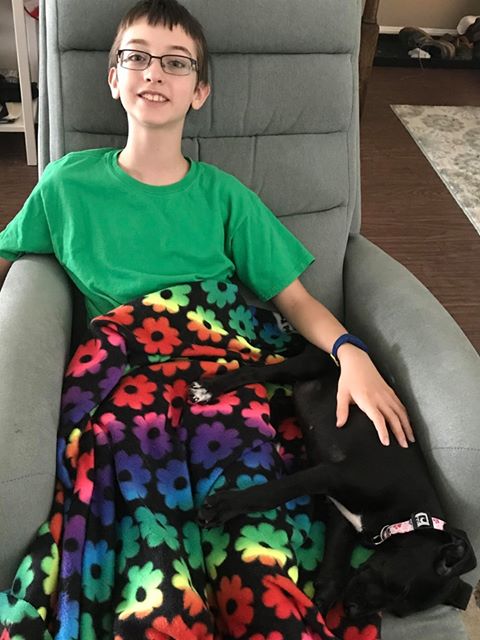 Cher…aka Josie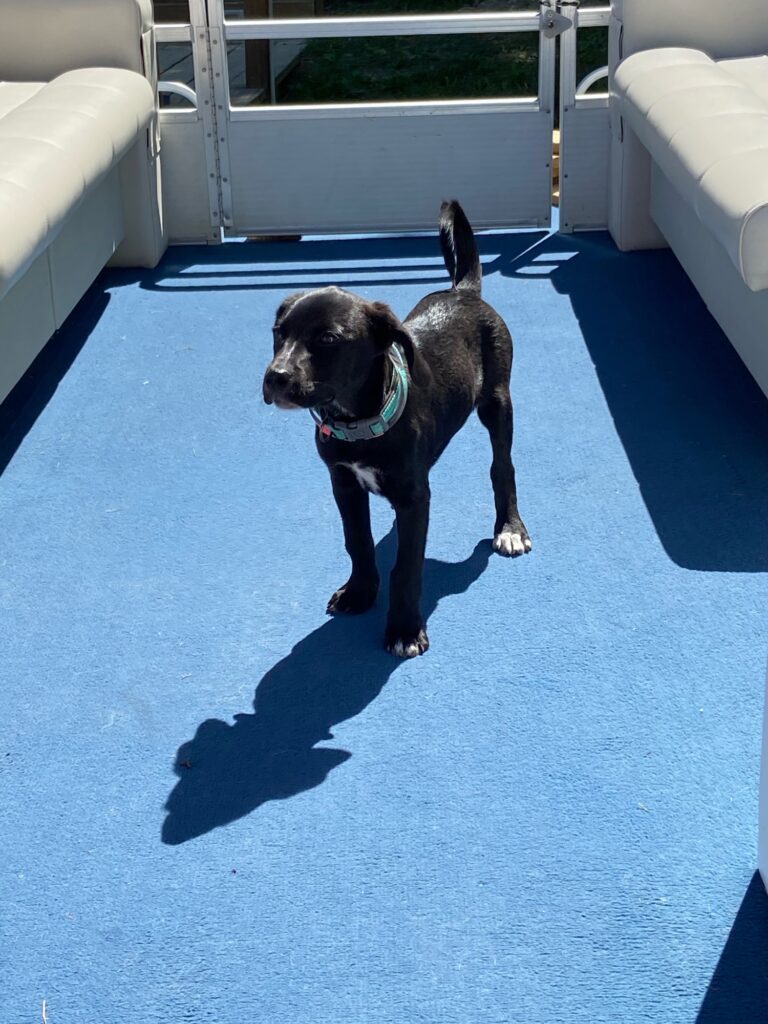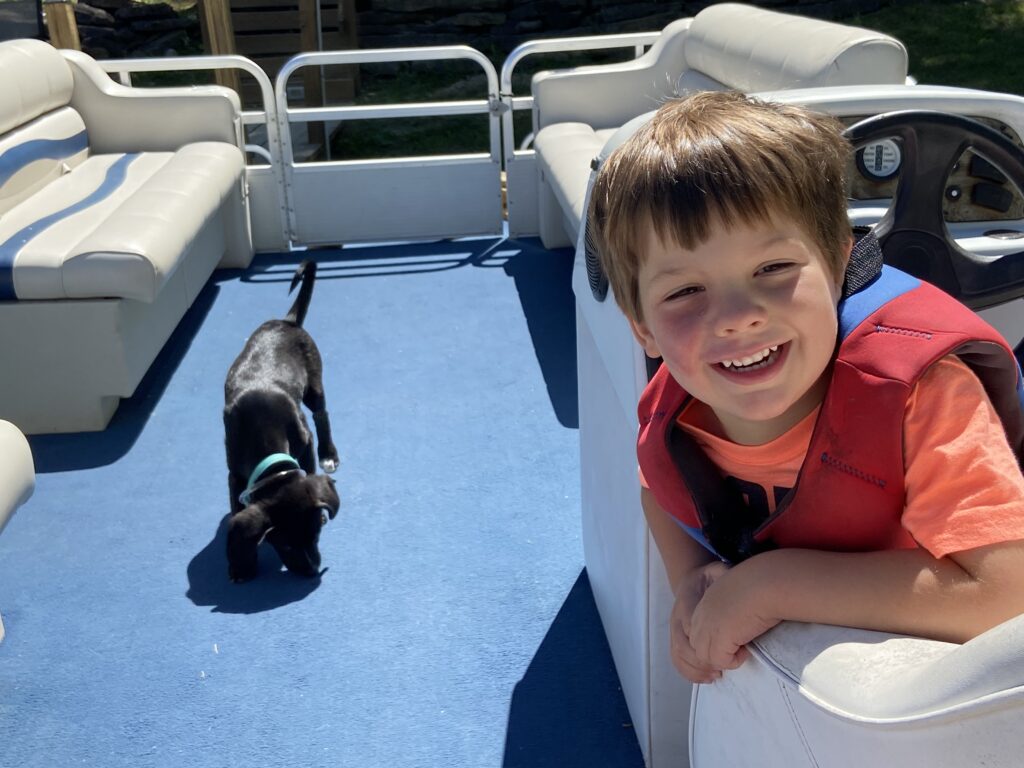 Malibu aka Candy Goes Home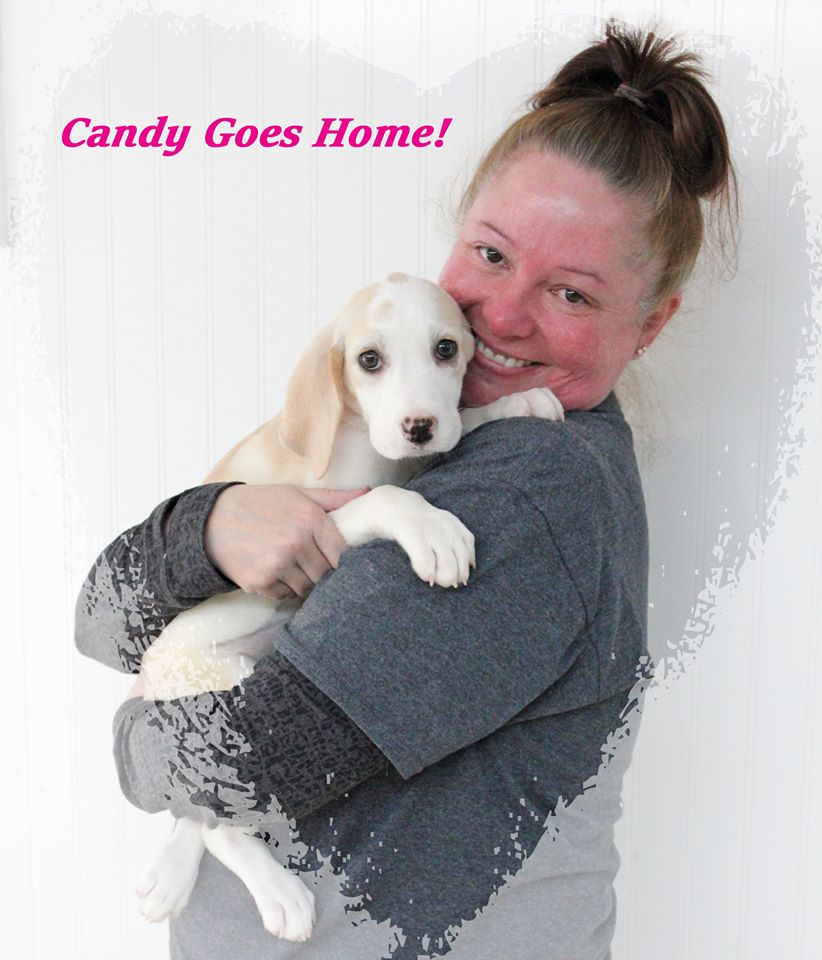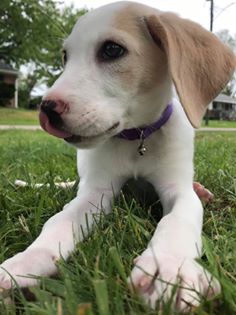 She was pretty timid after we left. Last night, she found her "howl" and today she has found her bark. She is doing well!
Griffin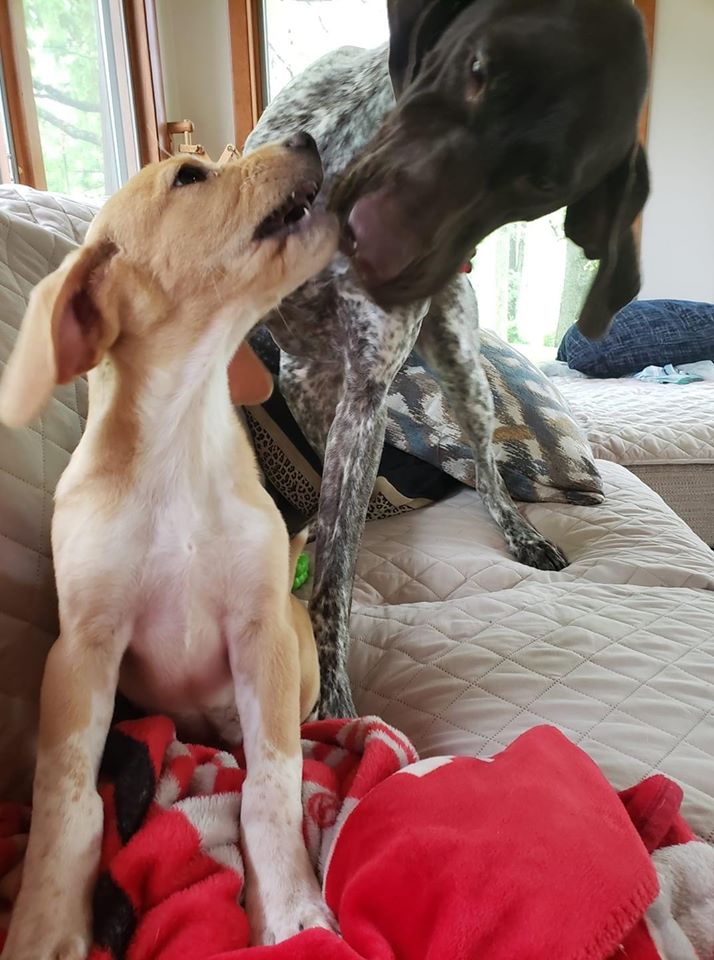 Rusty's Story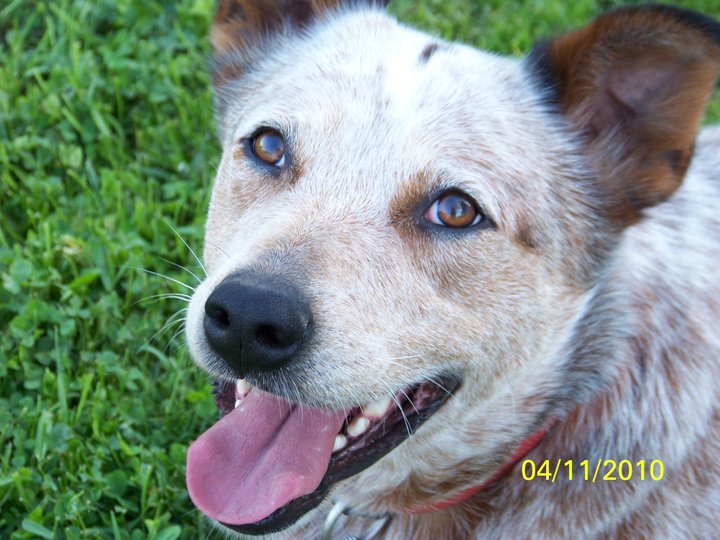 We adpoted Rusty from ARF in Ameila, OH April of 2010!!! He is the LOVE of our lives. He shares him home with Dixie, a Heinz 57, Carmall, Boxer/Pit Mix and 2 cats! THANK you for adopting him out to us…
We had zero history on him…not even an accurate age. He had been in two shelters that we know of. He still has some issues with shyness, but he is love…pure and total. I had a doberman for 13 years and he passed away after 3 years of diabetes and blindness…our other dog, Dixie lost interest in everything, even eating. I searched petfinder.com and went thru many, many bios…found him, hubby and I (and Dixie) went to see him and they did well together…Sometimes when I'm missing Thorn the dobie…all I have to do is look into Rusty's face and say…it's all good…
Snoopy's Story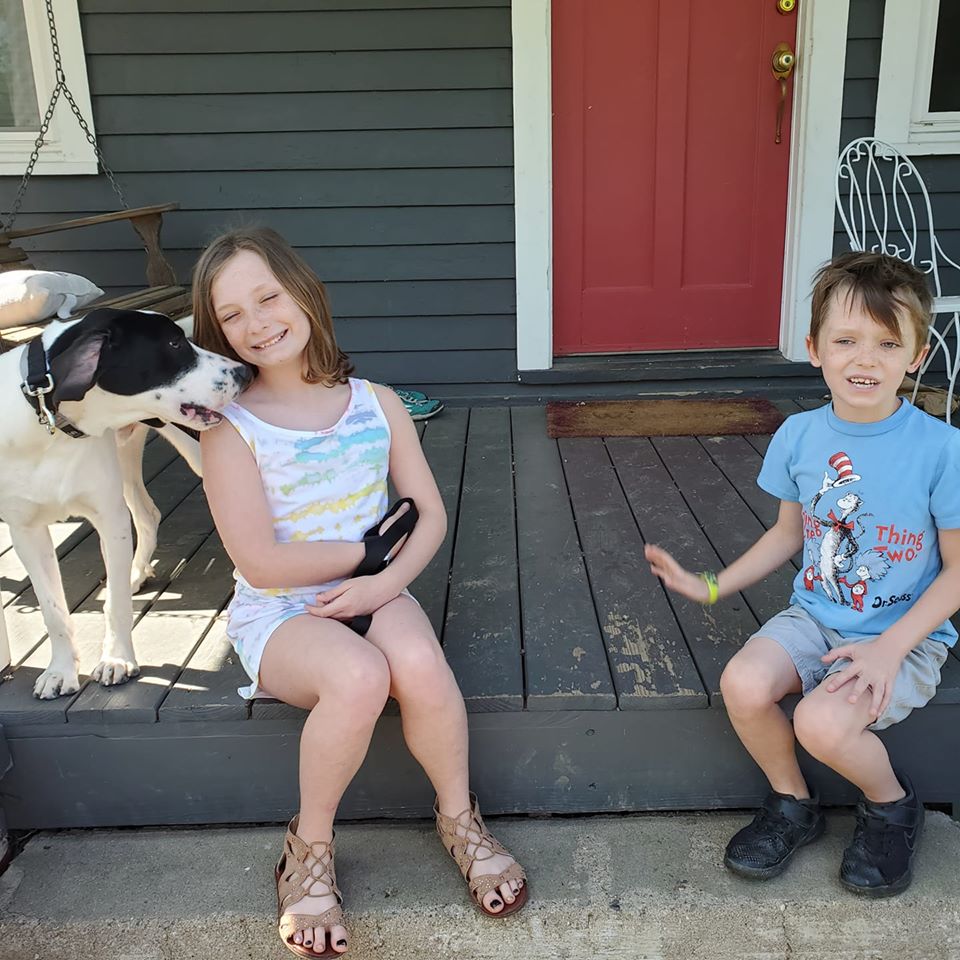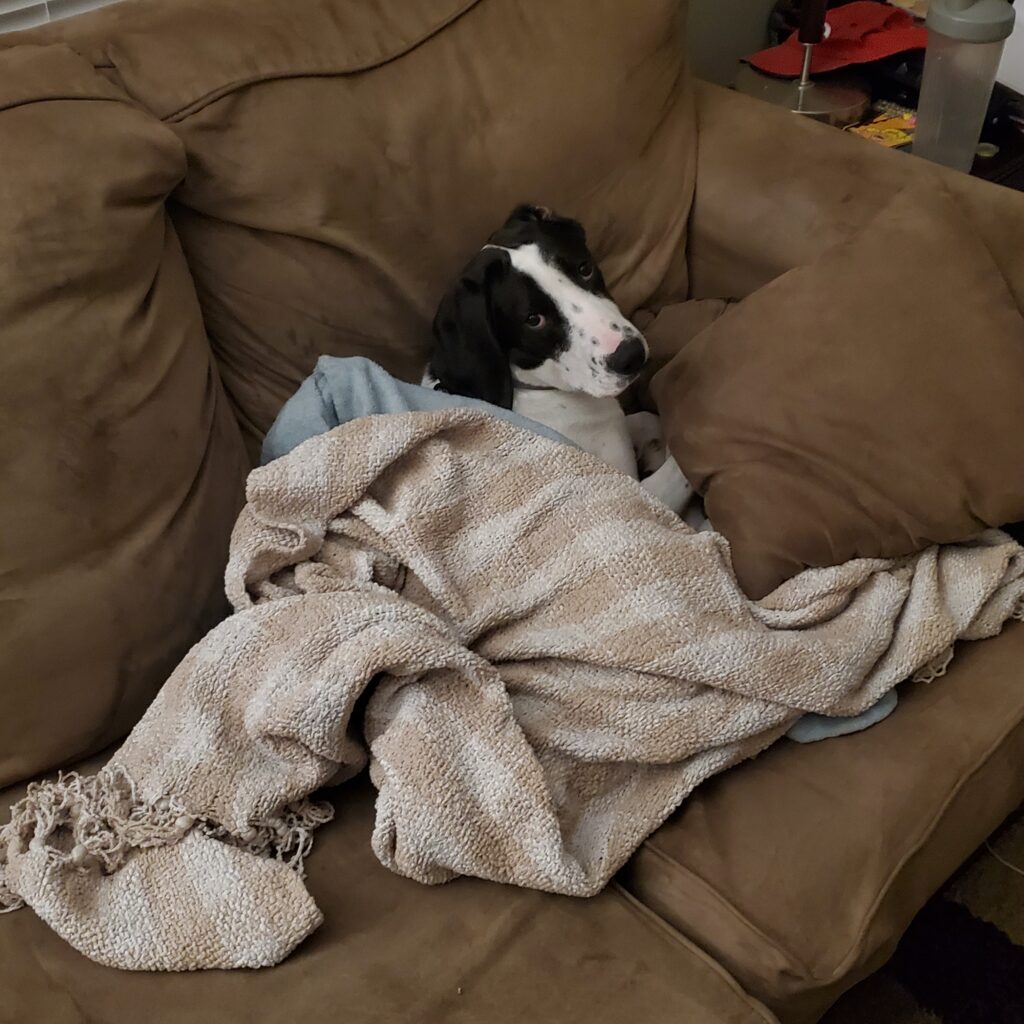 Good morning from the Perrys! I just wanted to update you on Snoopy (adopted May 2nd). He is so spoiled and we adore him! He loves cuddles and likes to streeeeeeetch out, even if it means kicking you out of your own bed. We are so happy he is a part of our family!
Phoebe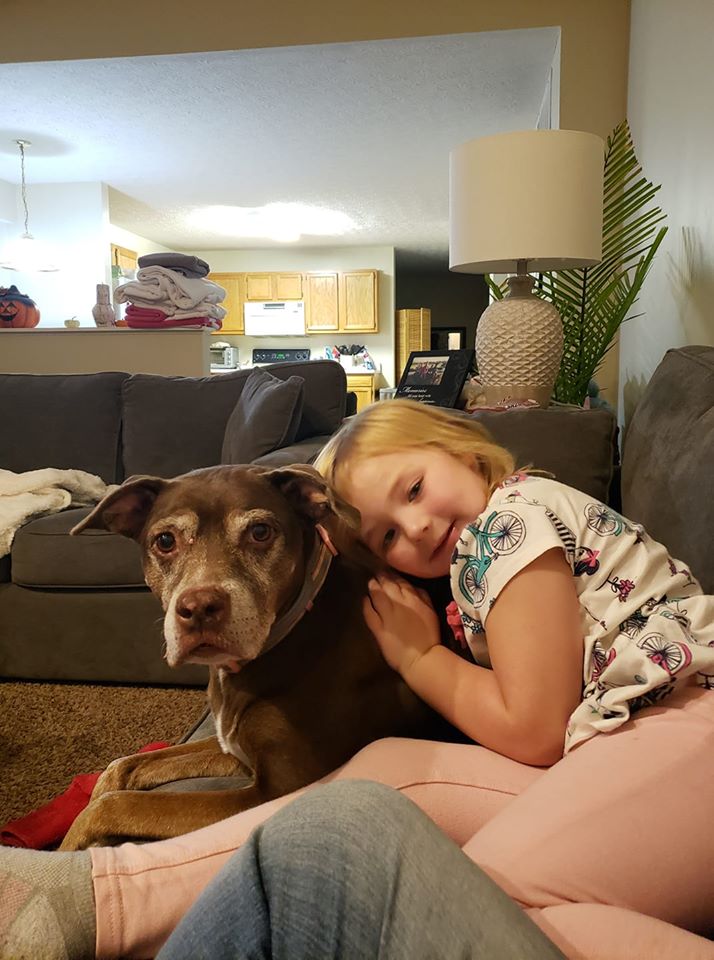 Bravo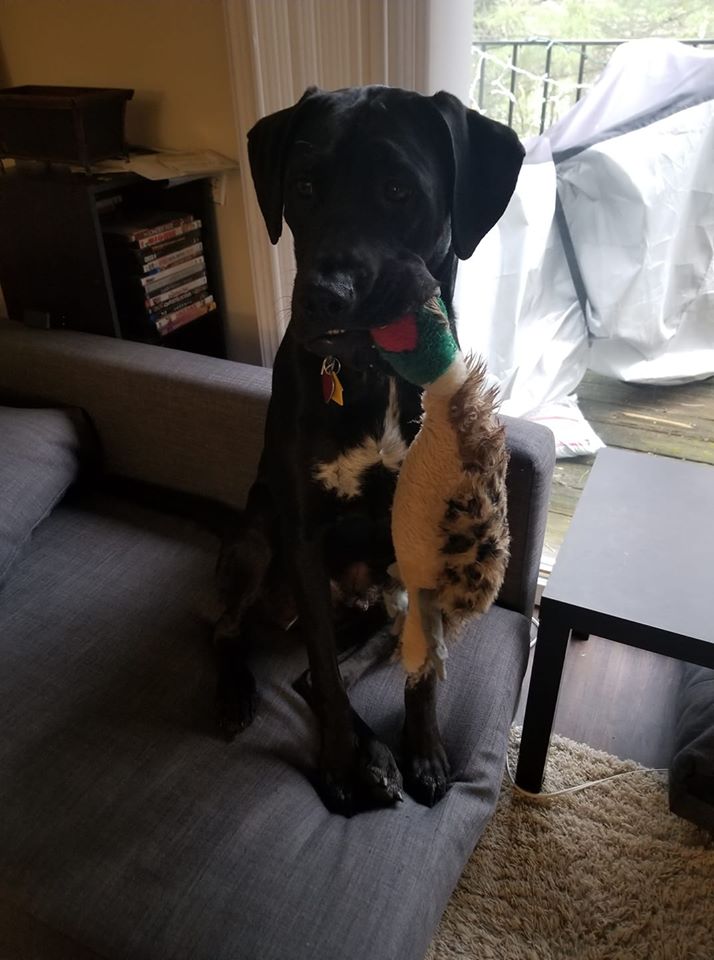 Mandy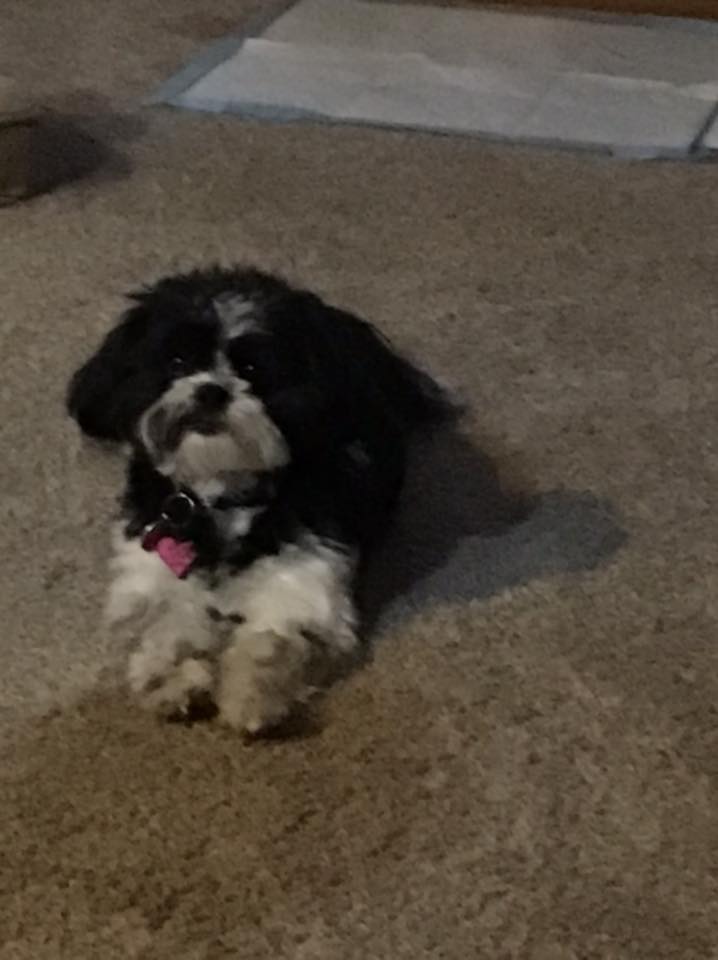 Roxie & Abi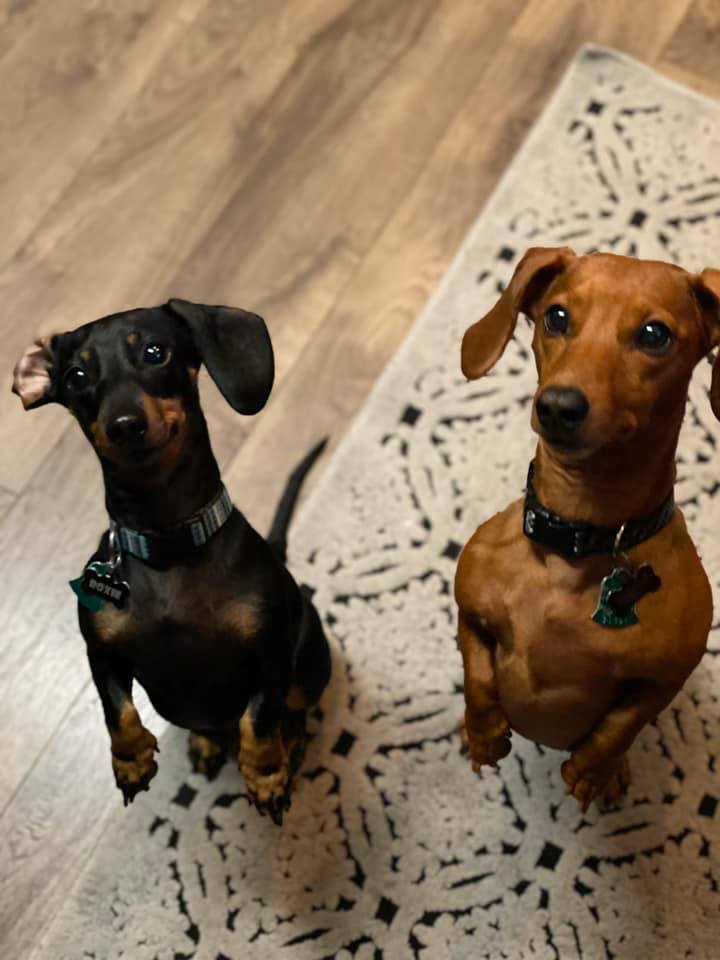 Flynn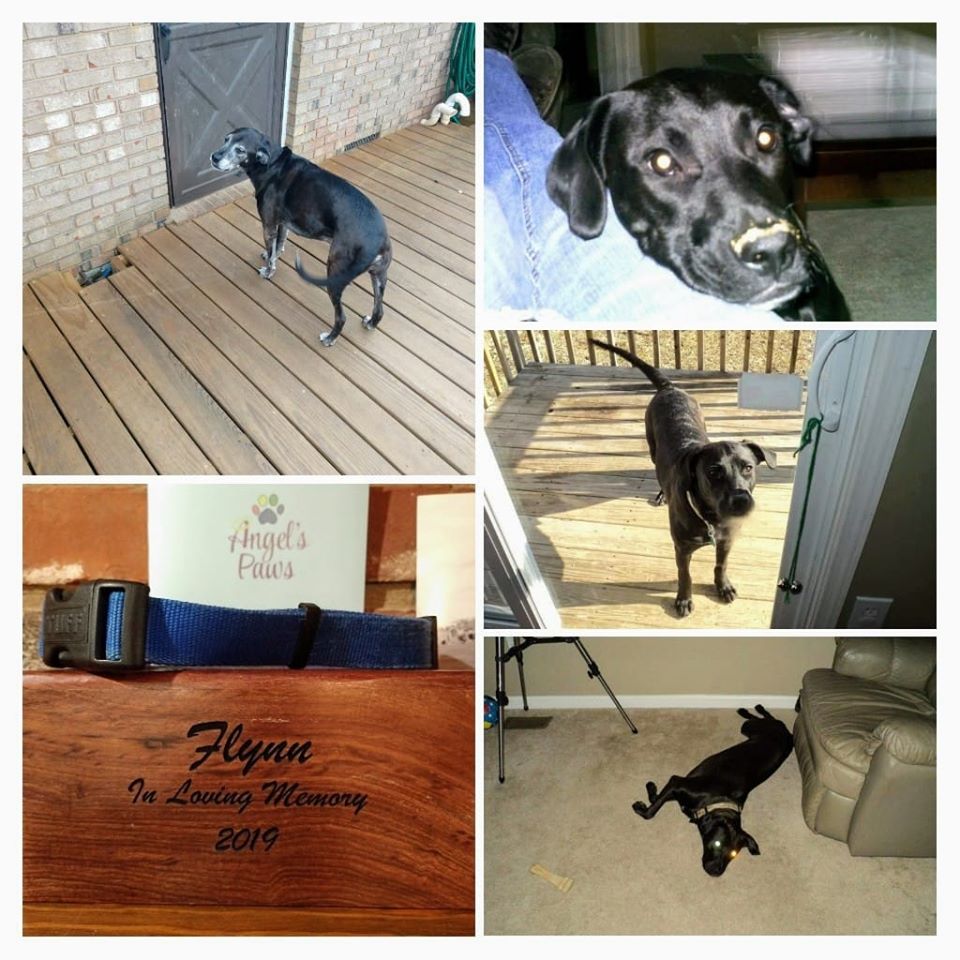 Jet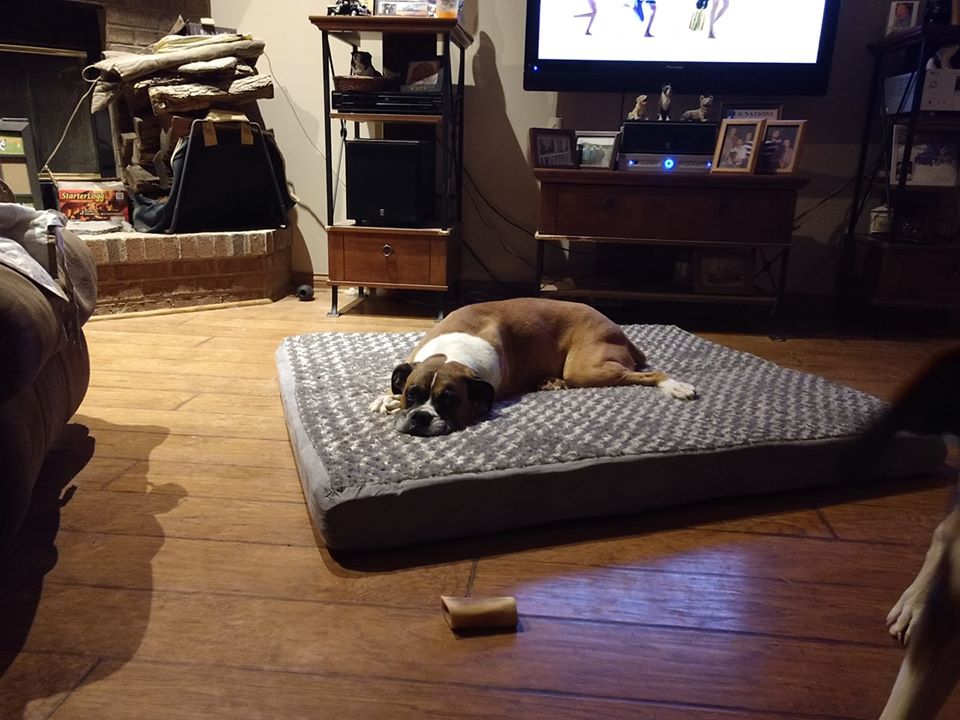 Bernie Living the Dream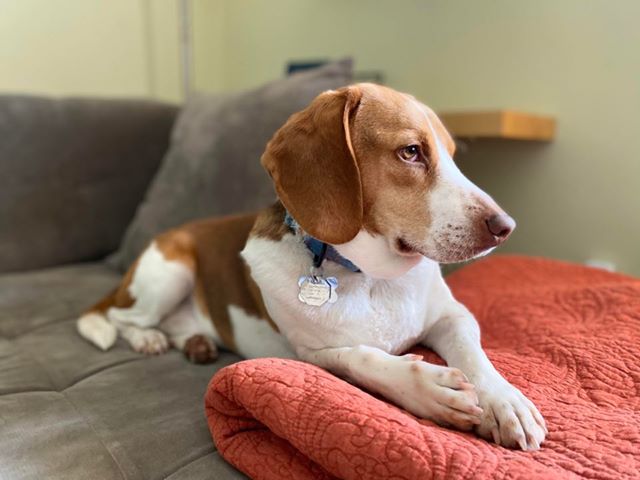 Bernie is doing well (we knew he would). He is working on the 'sit' and 'come' command and walking well on a leash.
Pumpkin & Karl Barx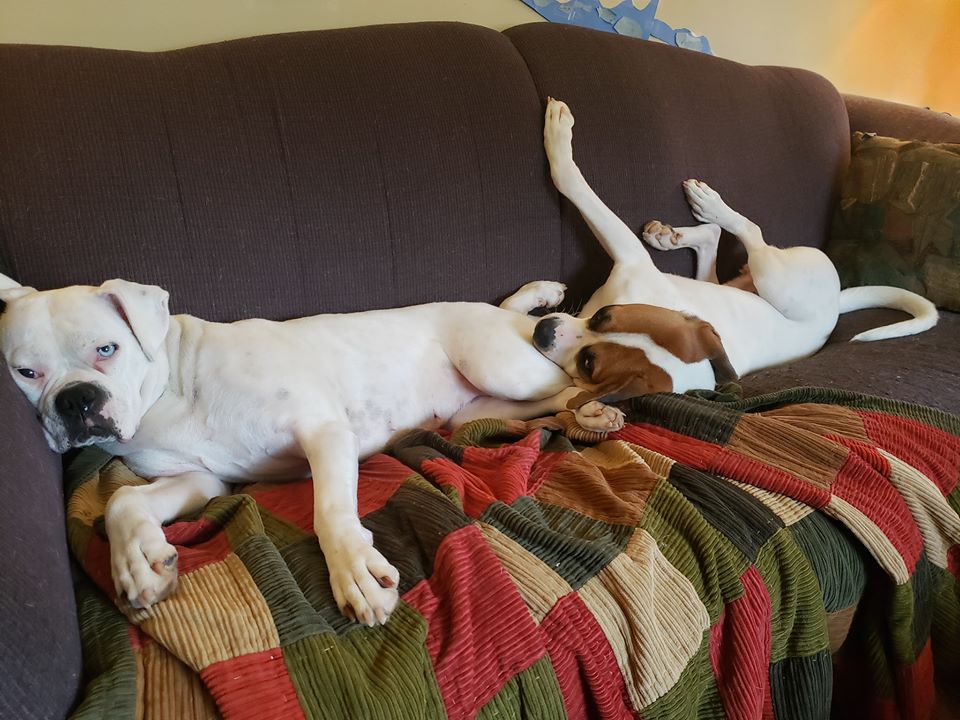 Cody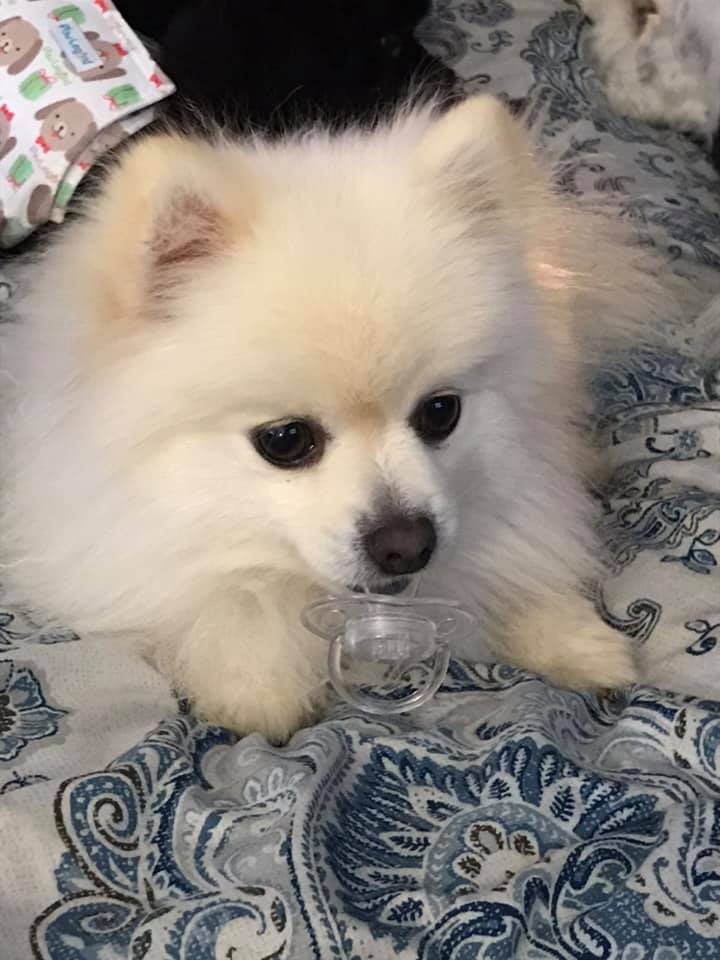 Maddie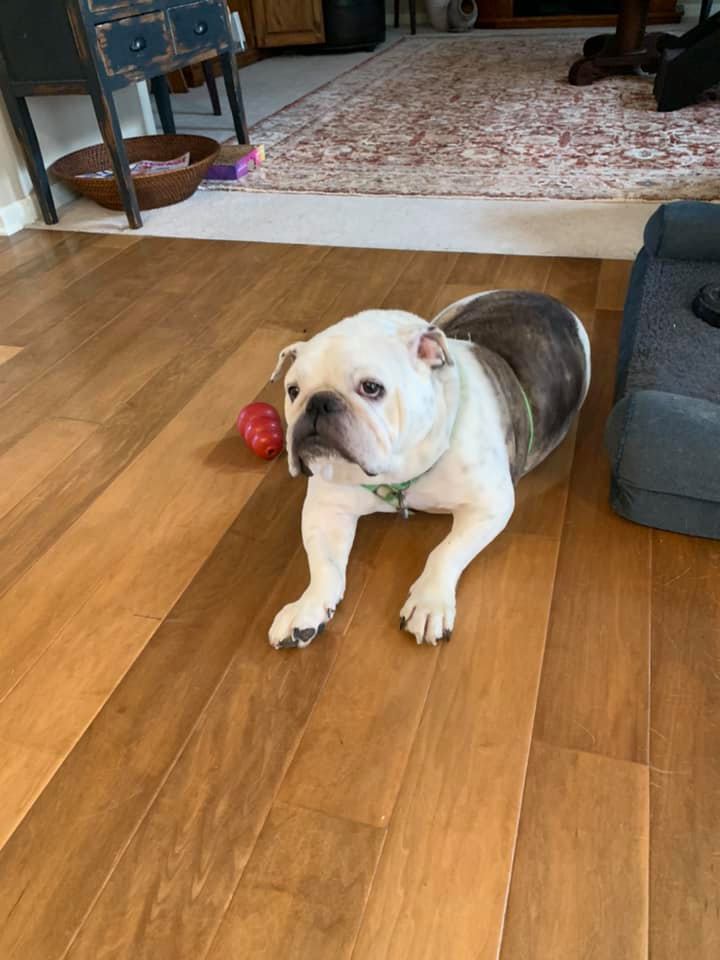 Apollo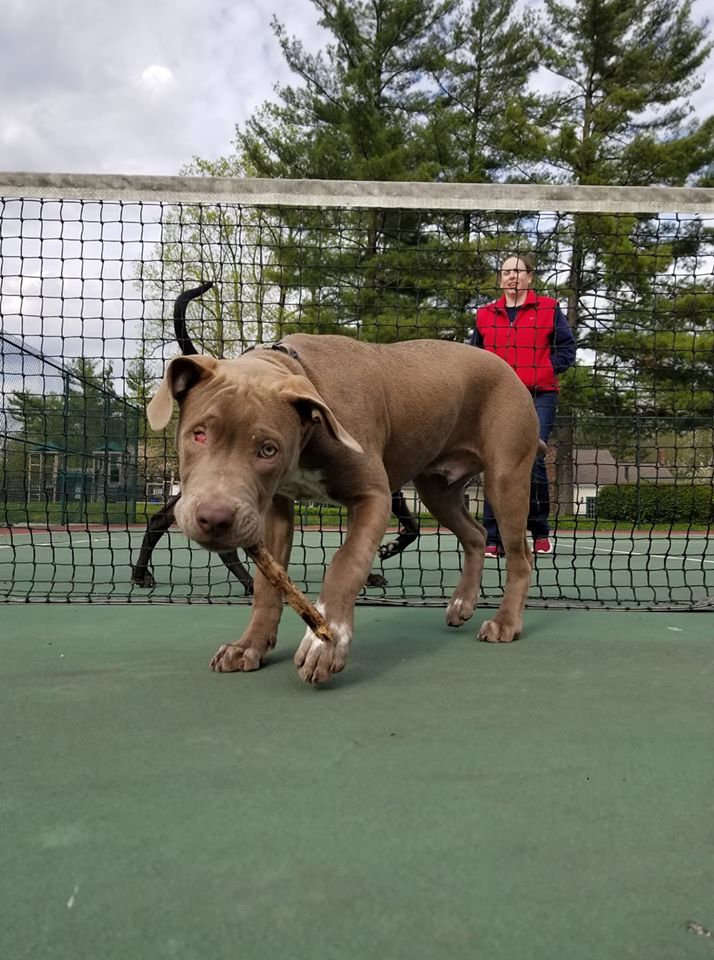 Chino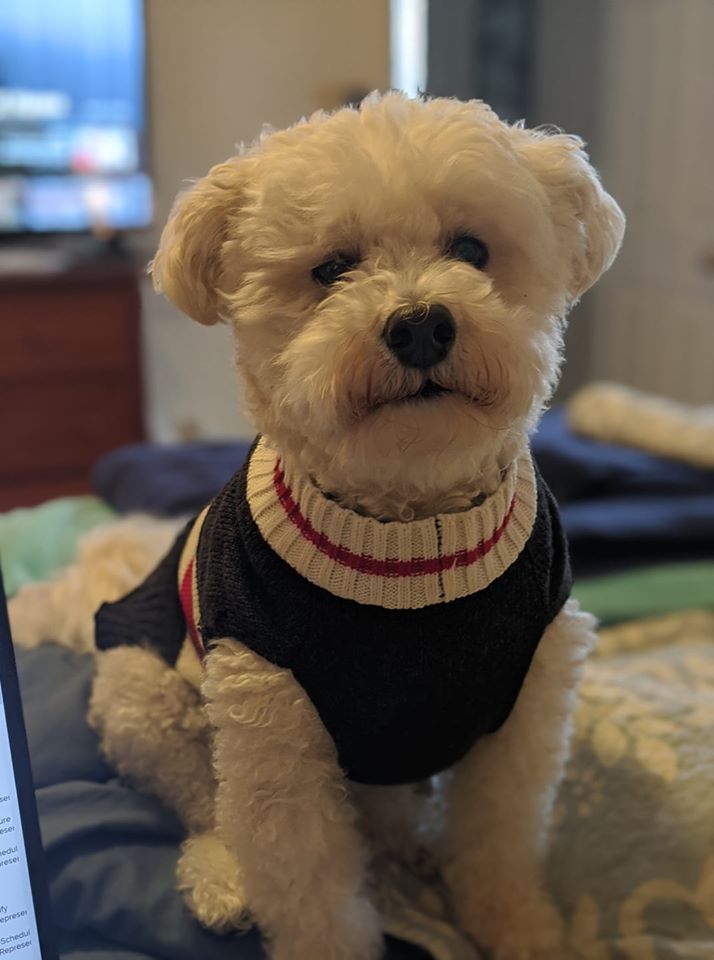 Maggie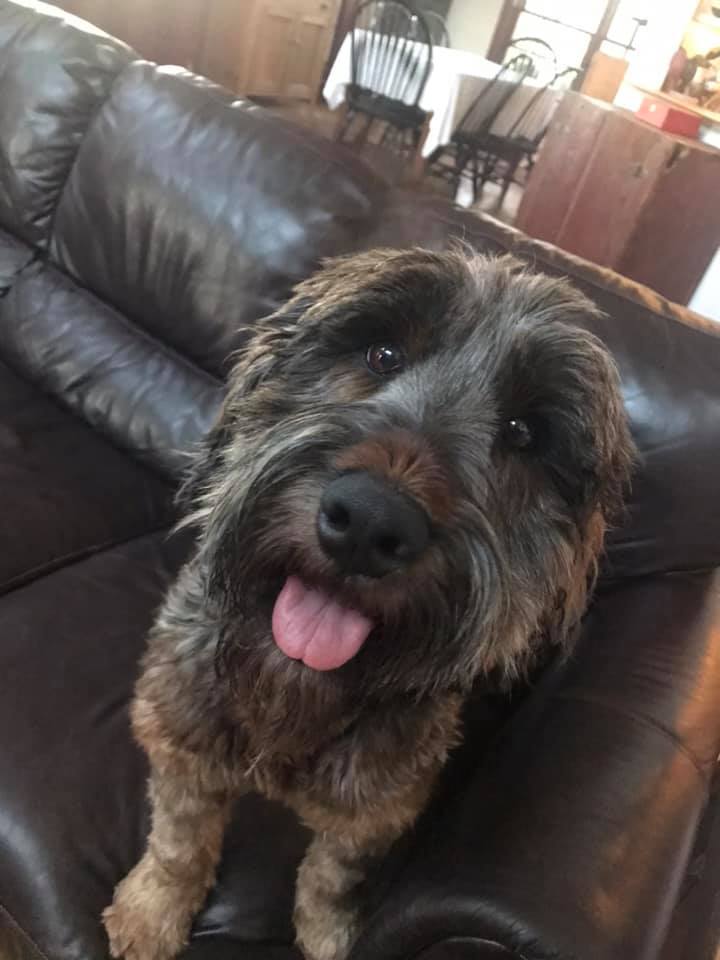 Tyrion & Fern's Story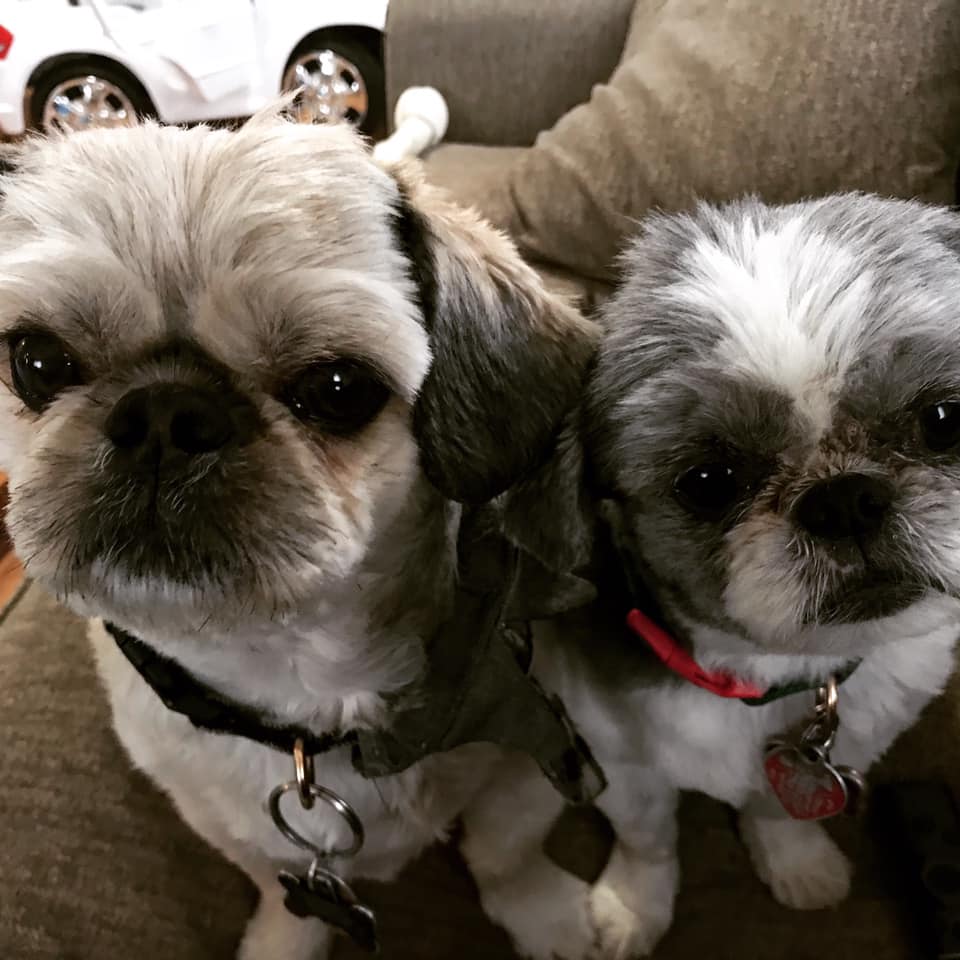 Penny AKA One Cent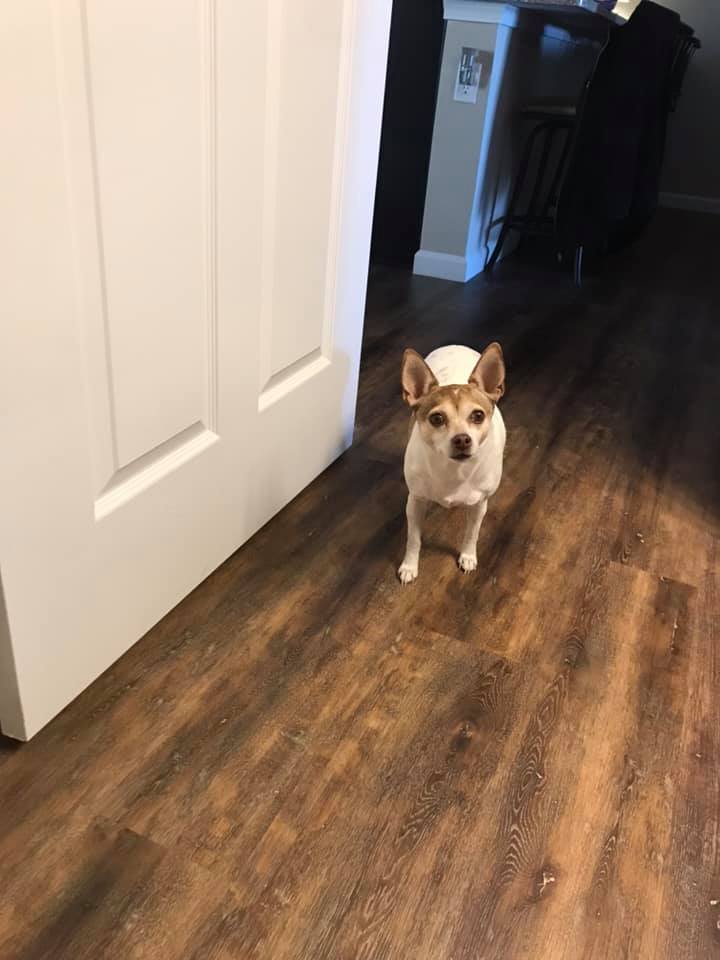 Molly's Story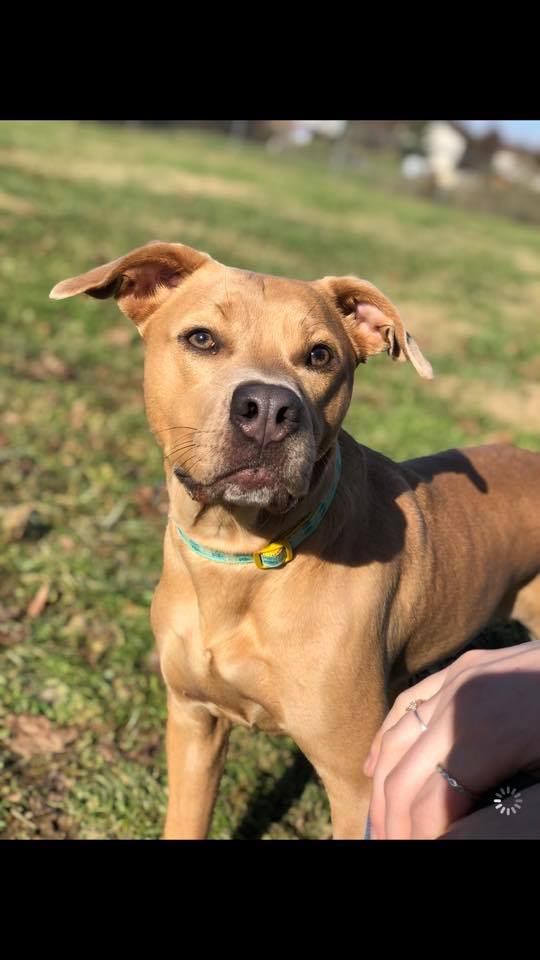 Korben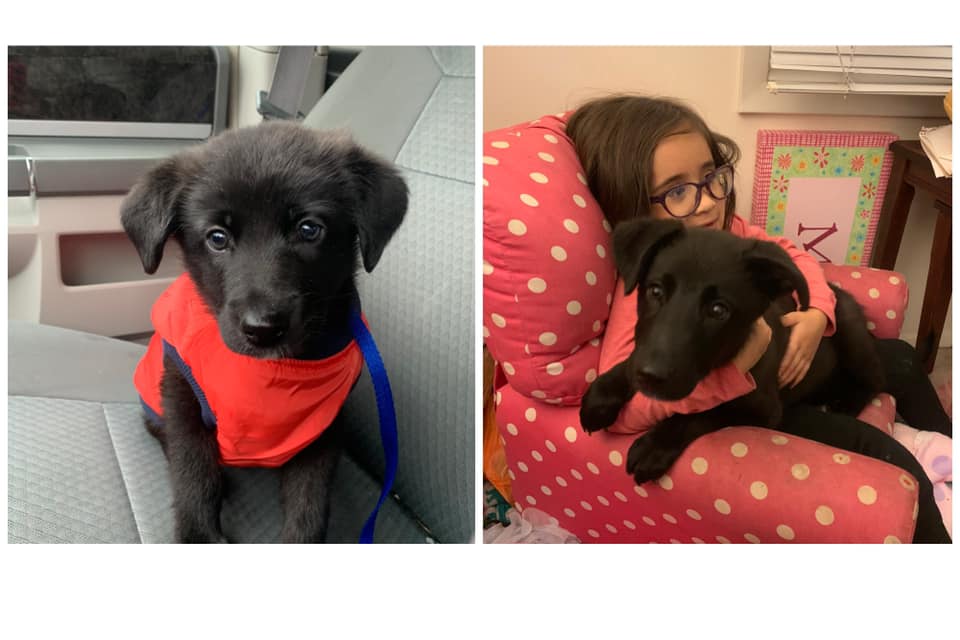 Jack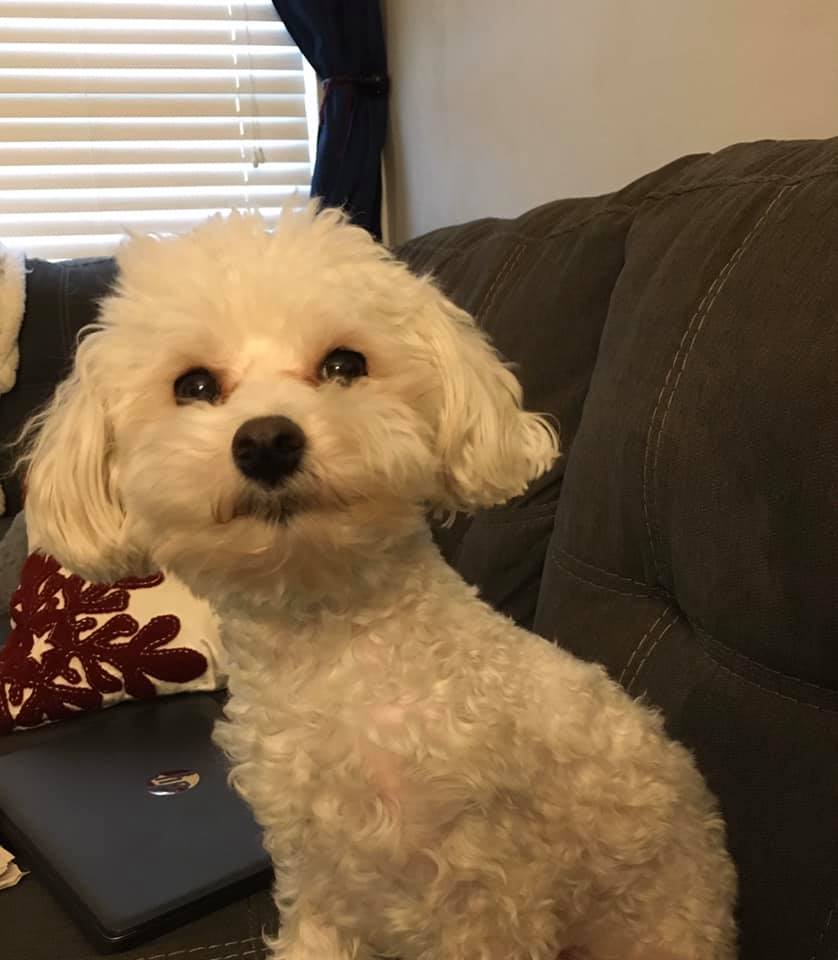 Bam Bam & Dixi's Story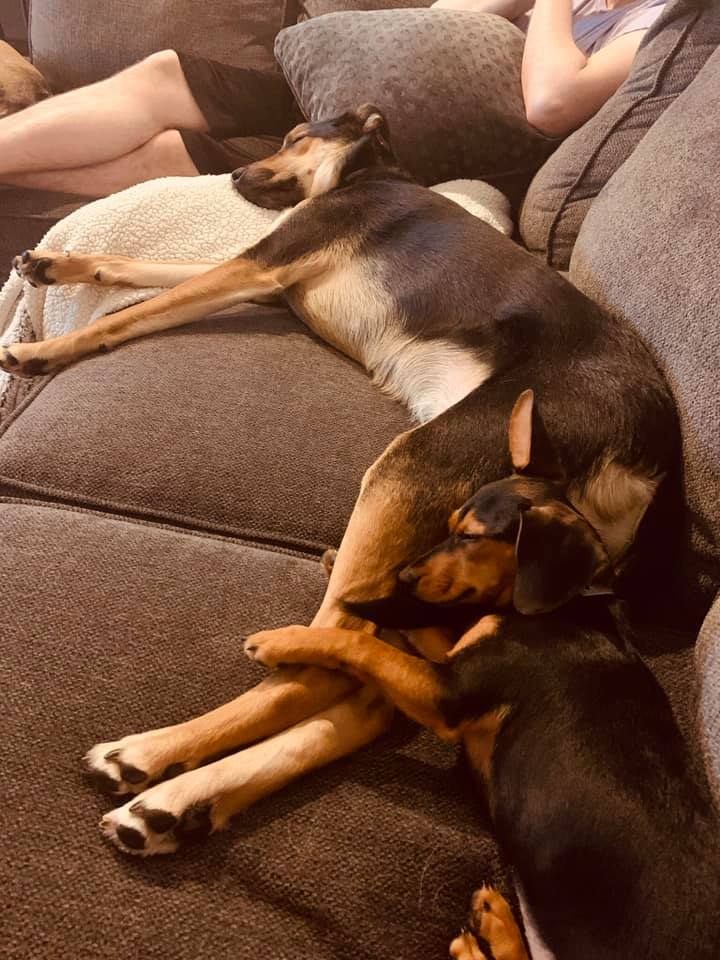 My two peas in a pod! Adopted Bam Bam in early 2019 and Dixi earlier this year 💕 they have a blast together! I call Bam Bam my big horse because he's outgrown what we thought he would for his breed and he's the sweetest guy 😍 Dixi is my feisty one and she's a bit selfish at times but loves to cuddle with her daddies 😍 love them to pieces!!! ❤️
Charlie's Story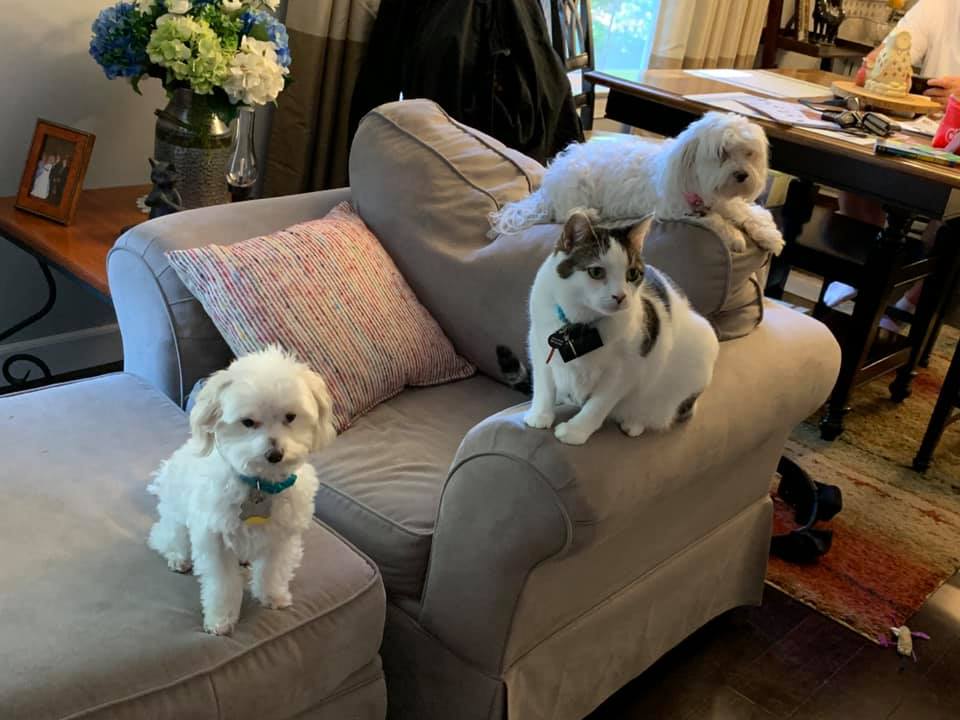 Moose's Story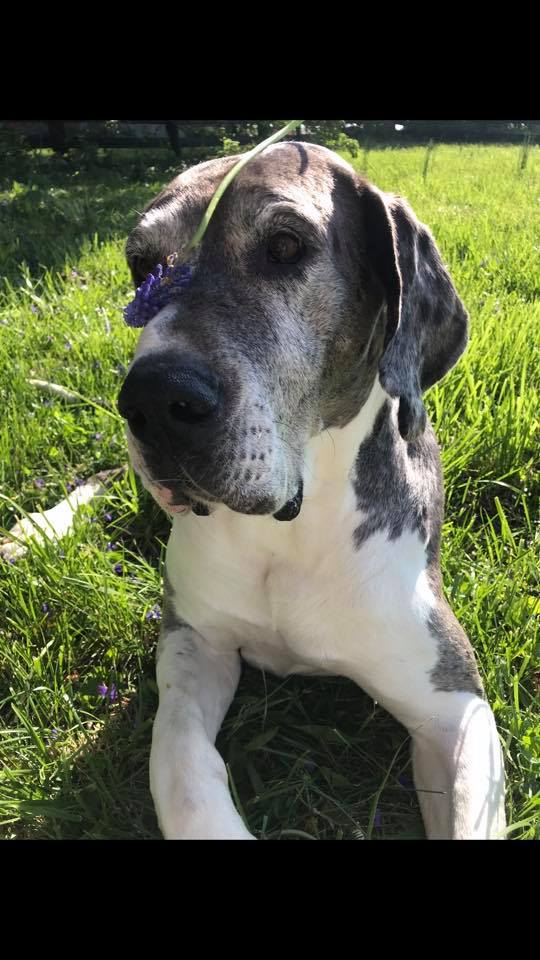 Midnight's Story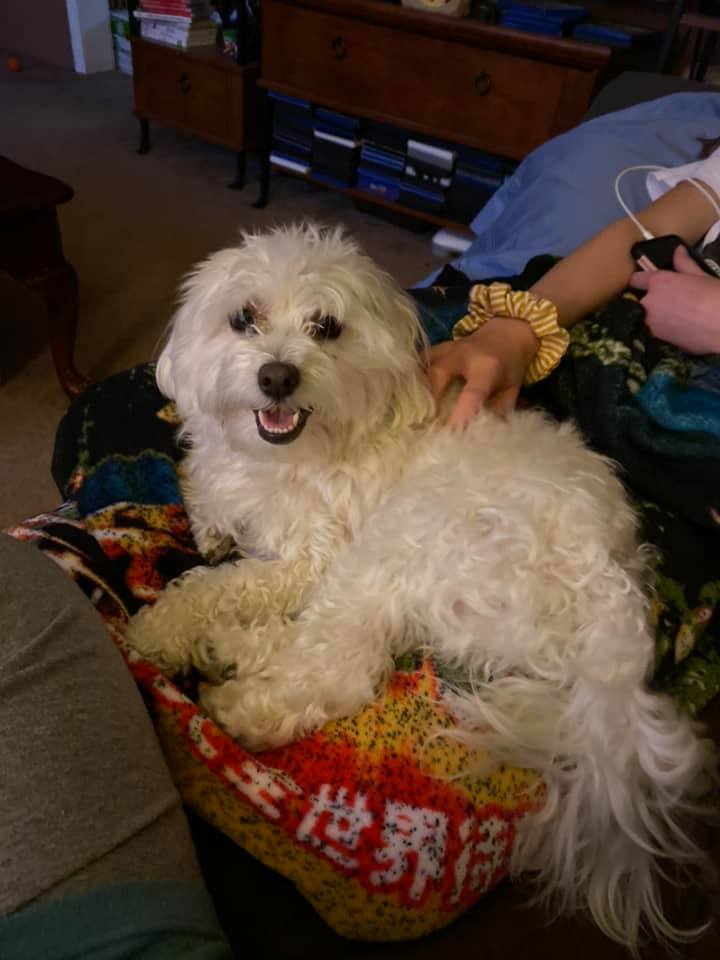 This is Midnight. We got him in December of 2017. He's looking a little shaggy right now since all the groomers are closed but he's a very good boy and is almost always within arm's reach of me. He's never met a sock or shoe that he didn't want to eat, so we have to keep those up and out of reach.
Maverick & Ranger's Stories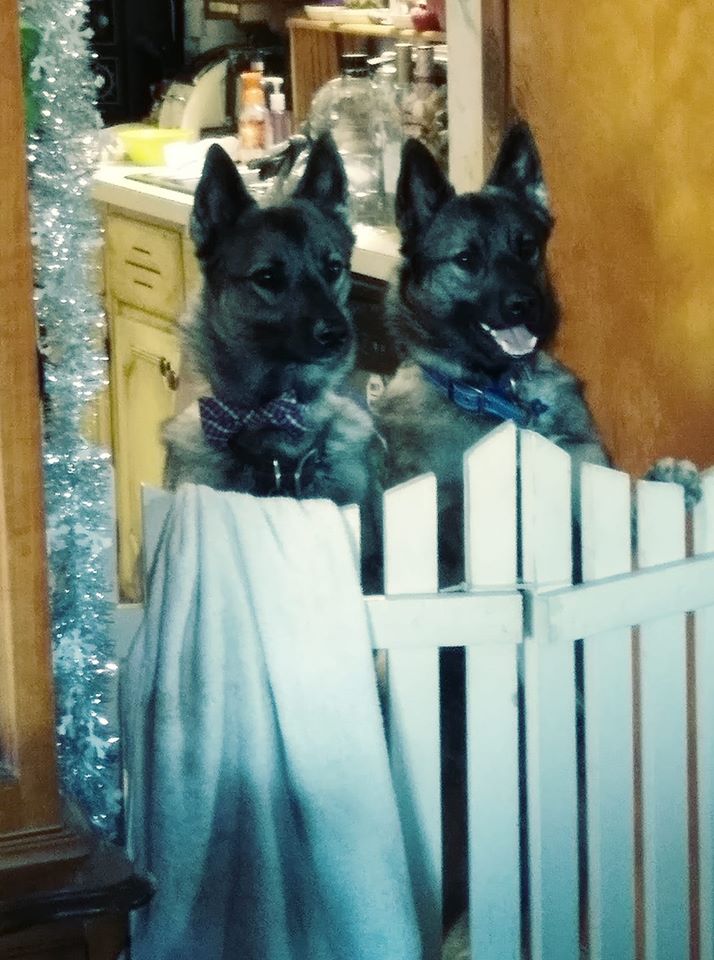 I NEVER thought it would be 6 months later! 2 puppies within a year? What was I thinking? I'm so glad you remembered and called! Having 2 puppy brothers growing up so close is the best! Forever thankful to ARF and all you do for the 4 foots!❤🐾❤
Rosie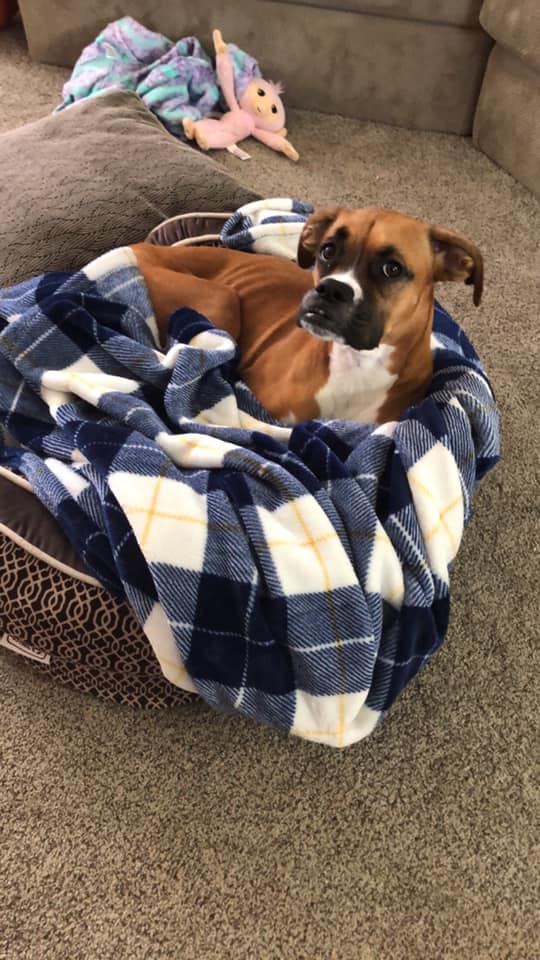 Molly's Story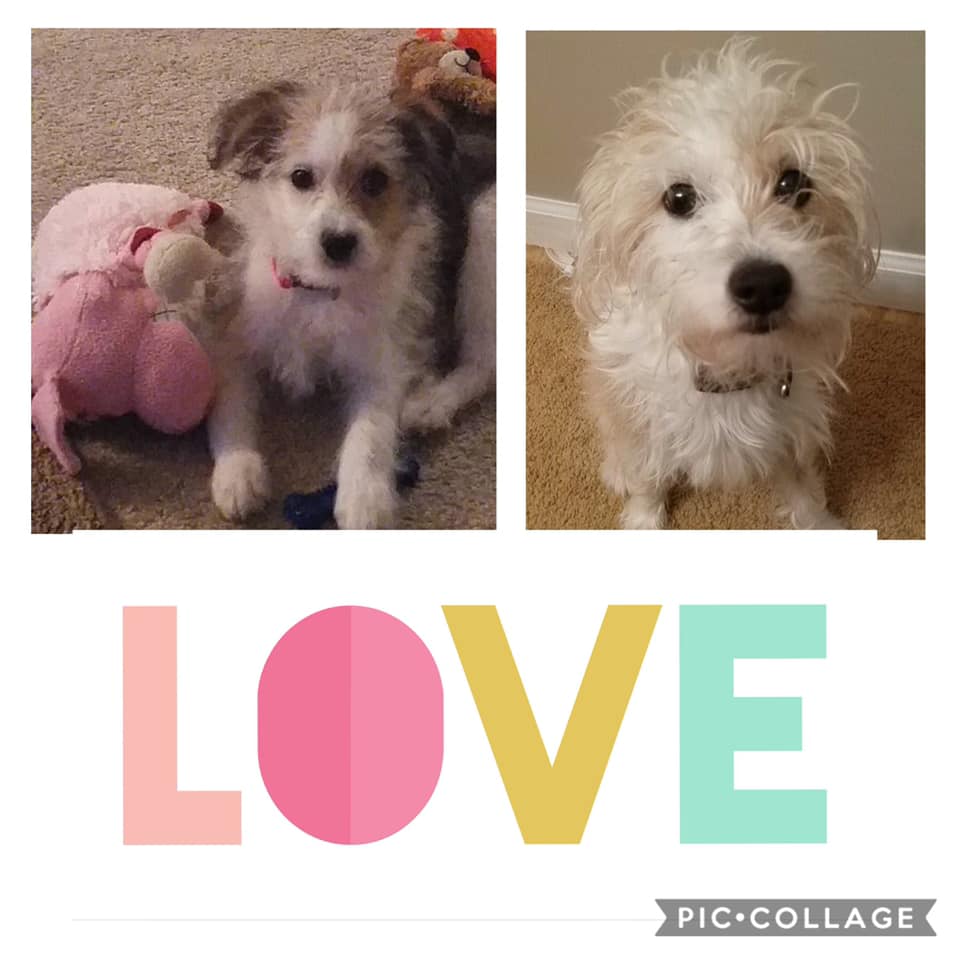 Apollo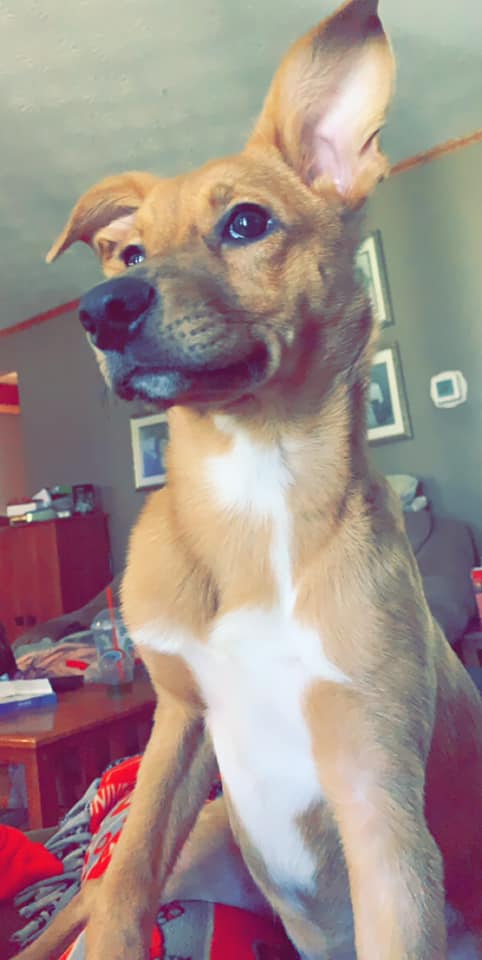 Babyboy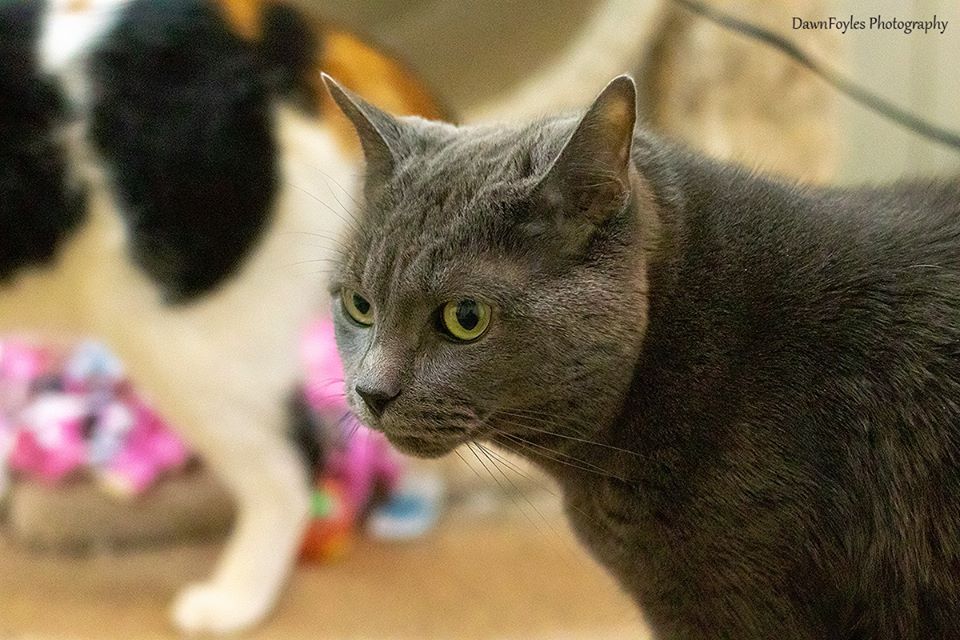 Luna's Story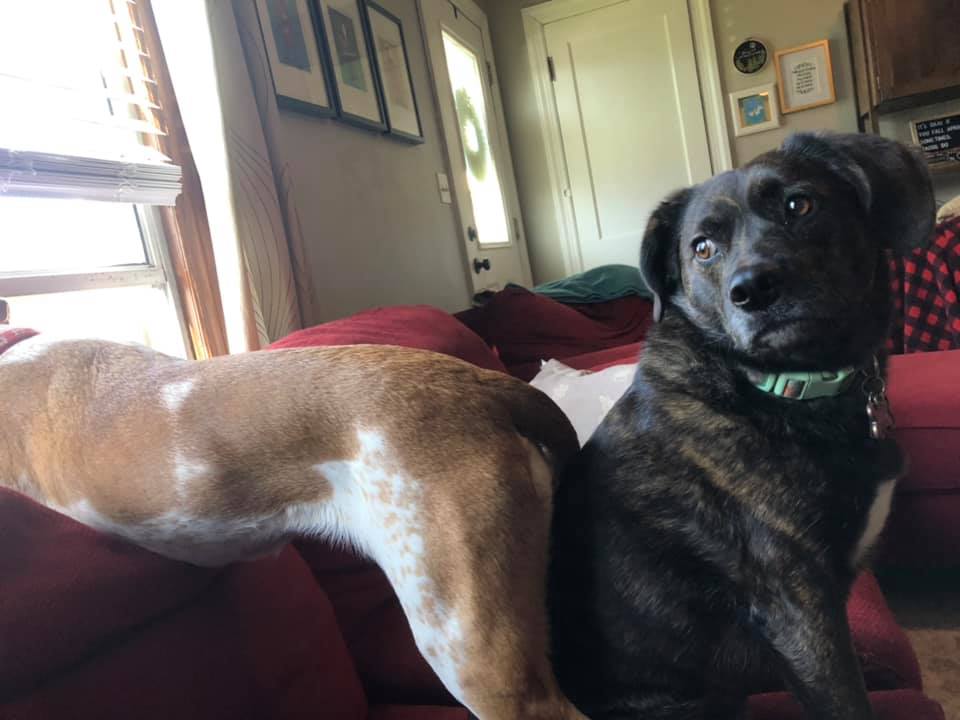 Lexi & Kensi's Stories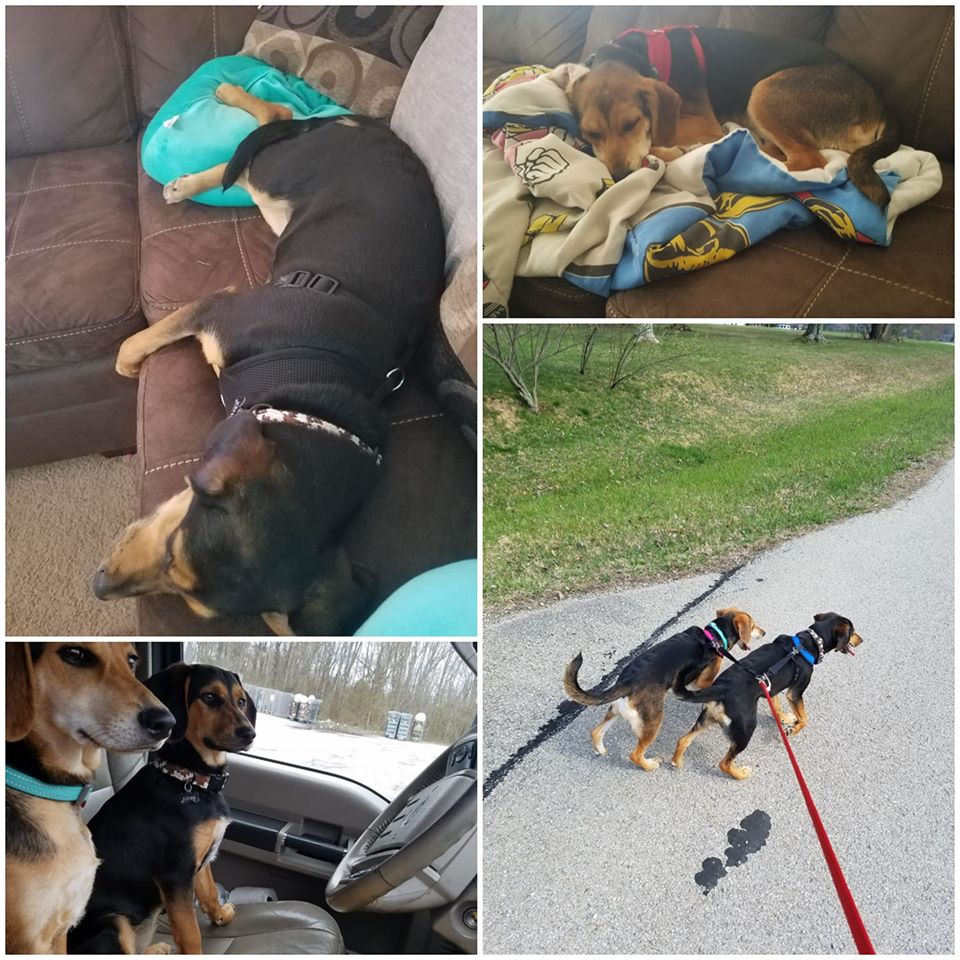 Mellow's Story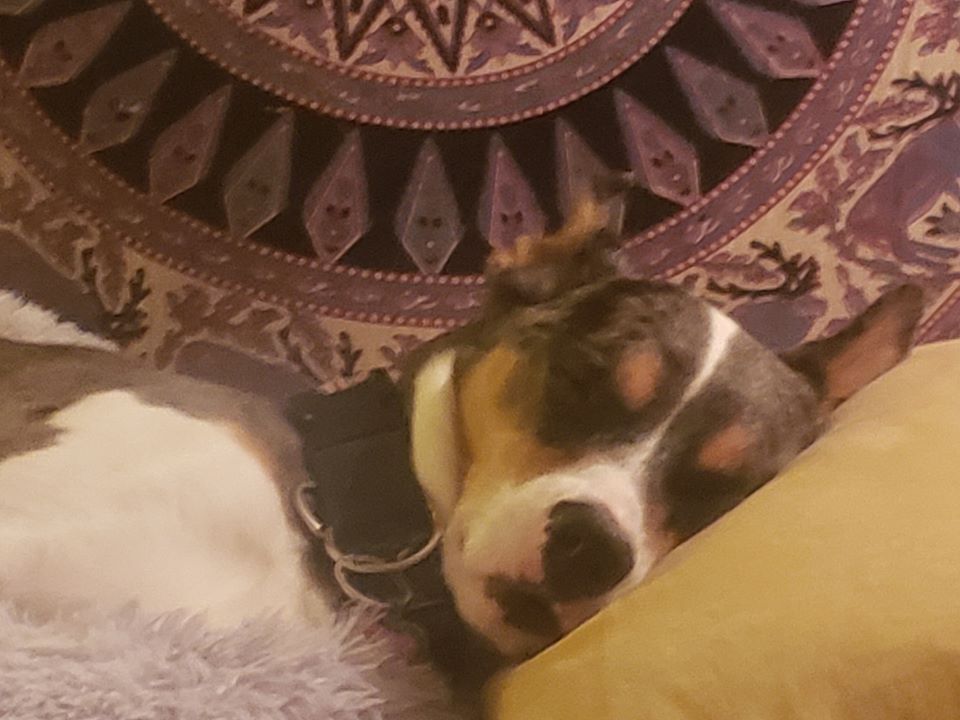 Sully's Story
Finn's Story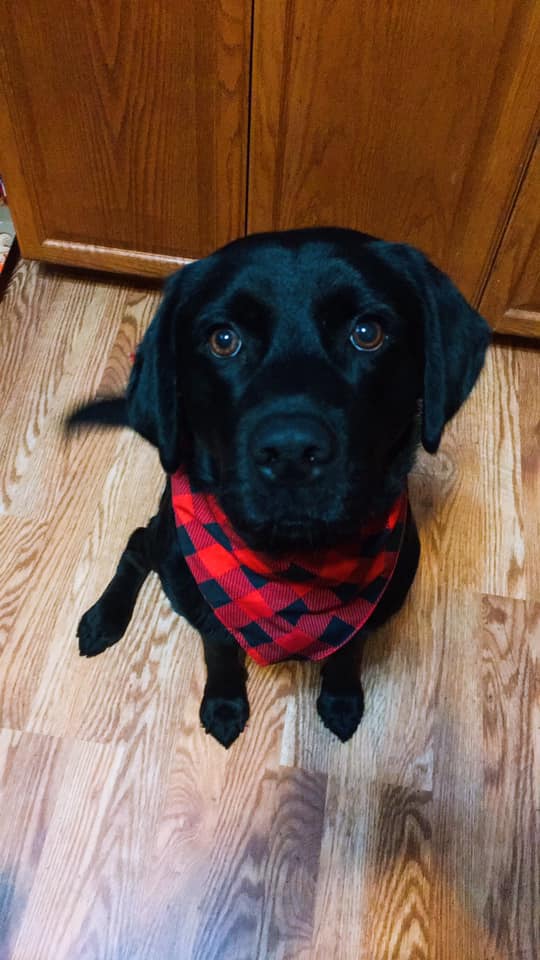 Finn (previously known as Abe) adopted December 2017. He was born Nov. 1 2017. If anyone adopted one of his siblings, I'd love to see pictures!
CoCo's Story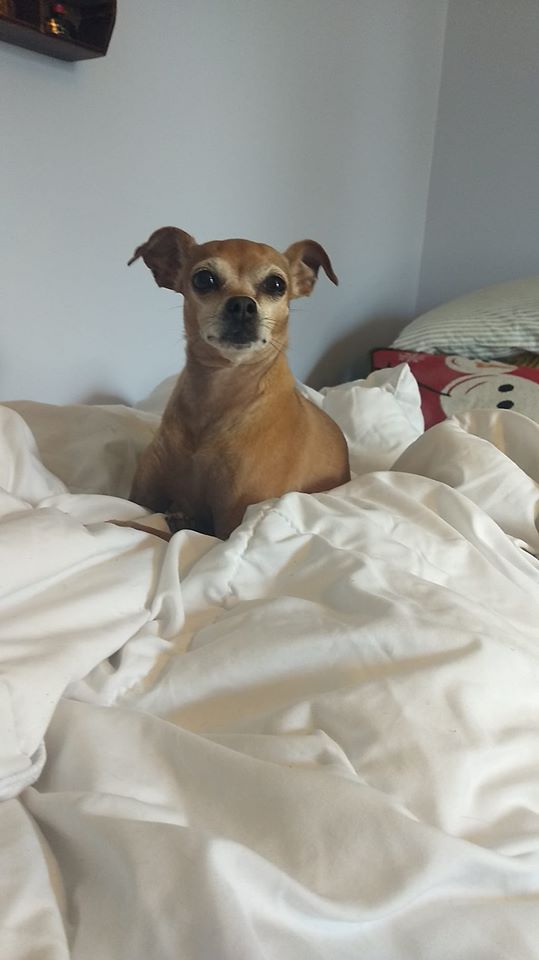 I adopted Coco around 6 years ago from ARF. She is loving life with two other fur sisters and fur fosters siblings.
Percy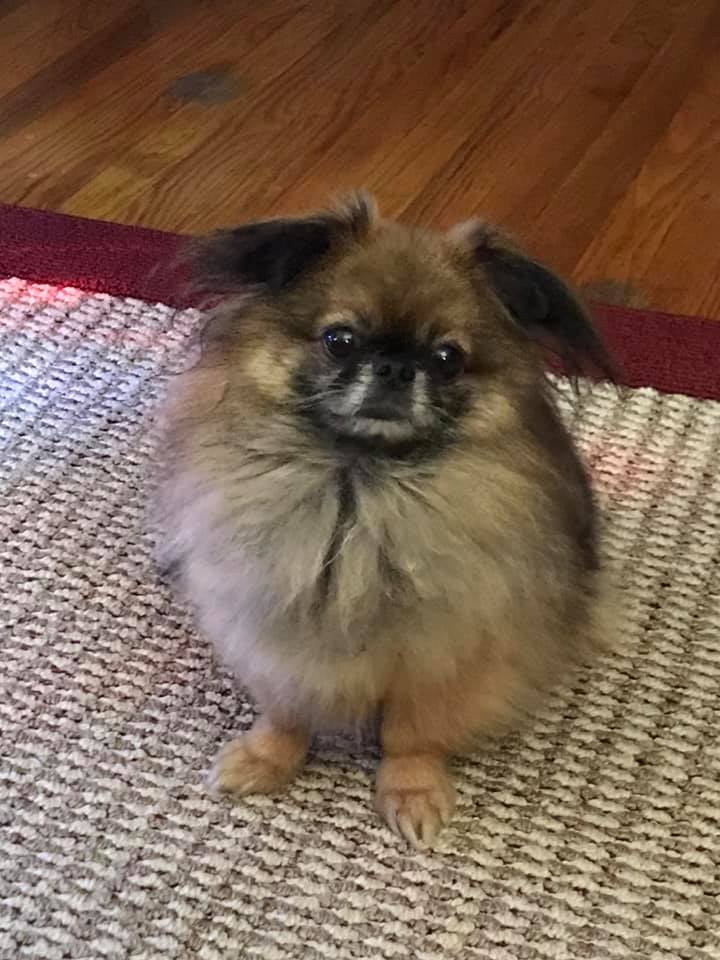 Roxy's Story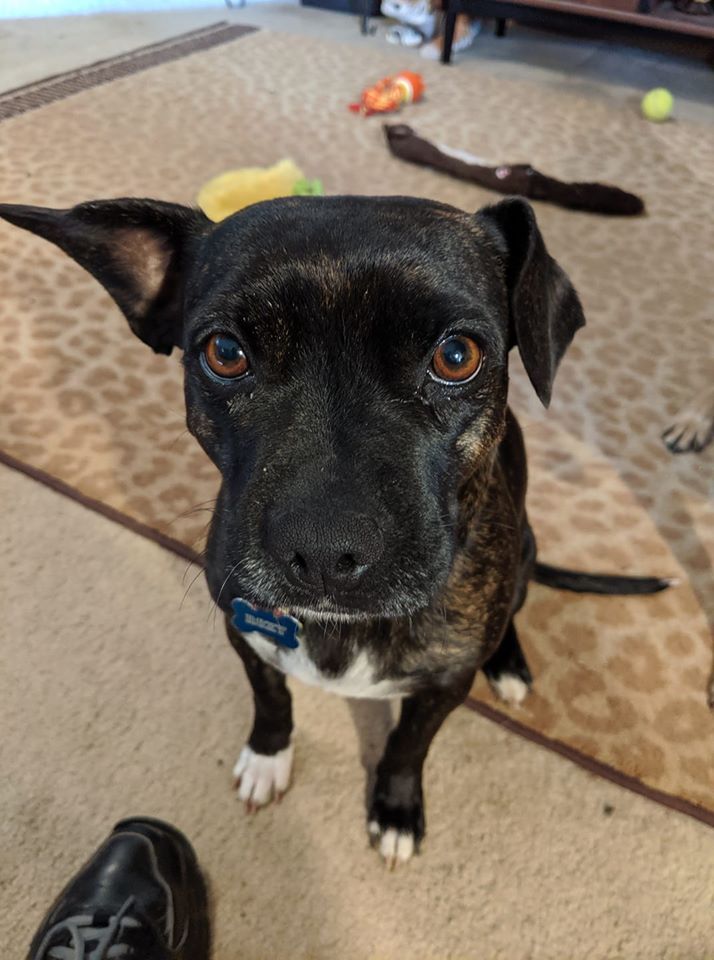 Sandy's Story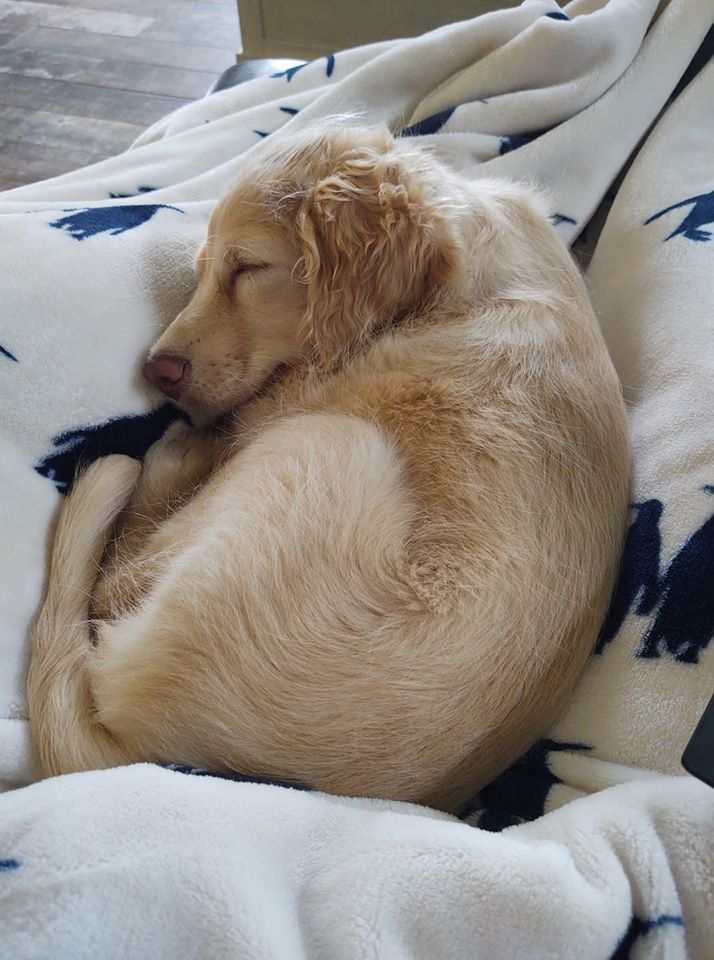 Opal…now Sandy…will be with us now for 5 weeks of her 14 weeks of life…true family dog with the friendliest personality! She was a surprise for her mom!
Jesse James's Story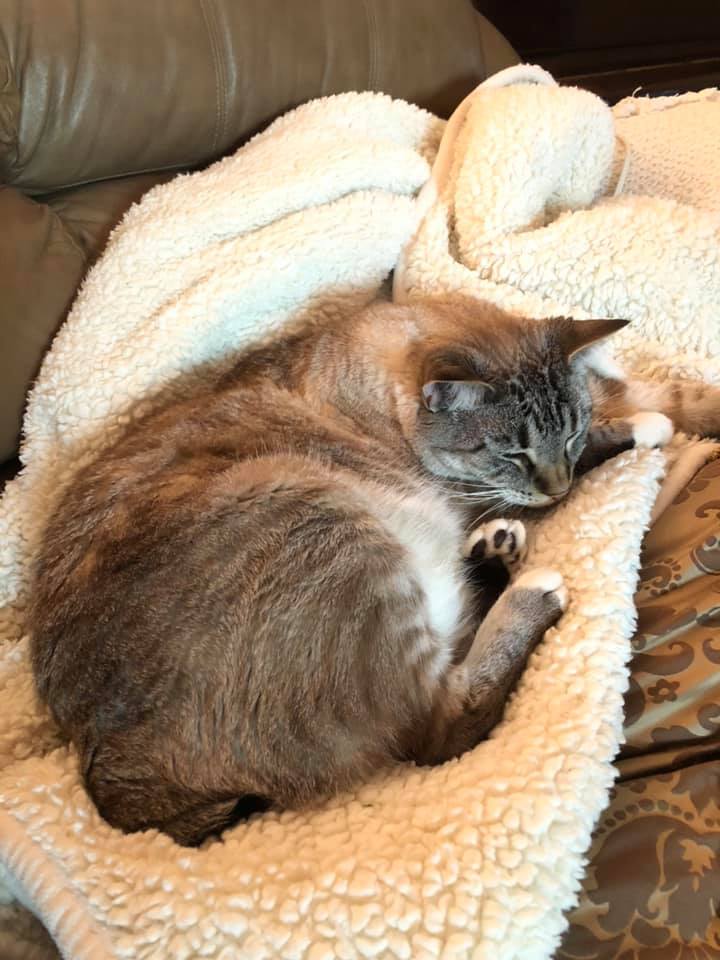 Luna's Story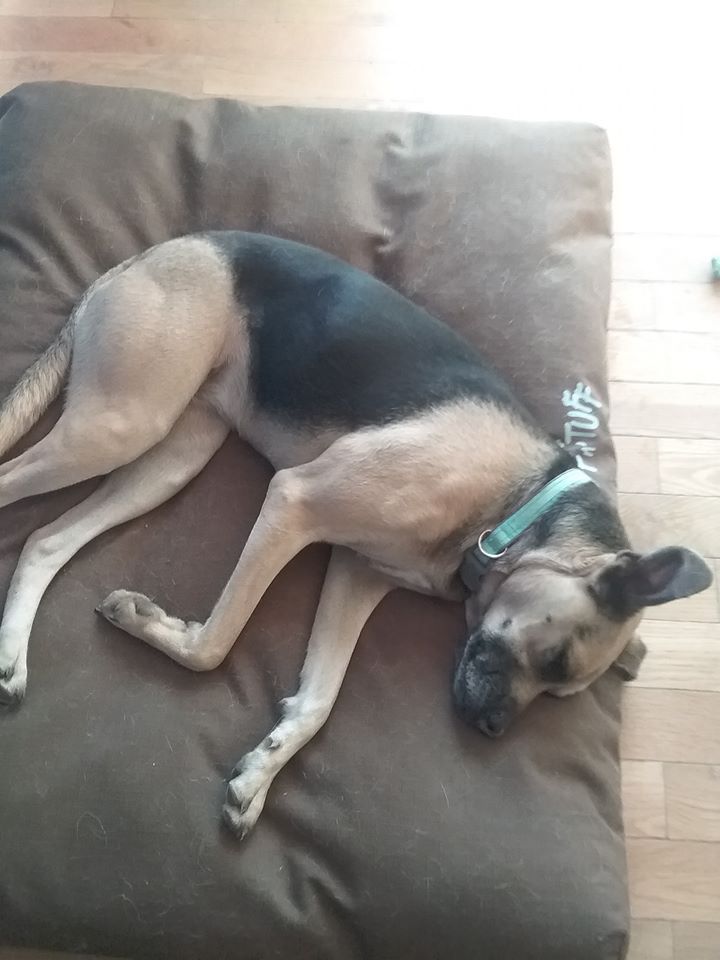 Our Luna we adopted her January of 2017. She is the sweetest baby. She gives the best hugs. Her quarantine life is so hard. She has 2 other fur siblings, and 3 human siblings that love her too.
Eva's Story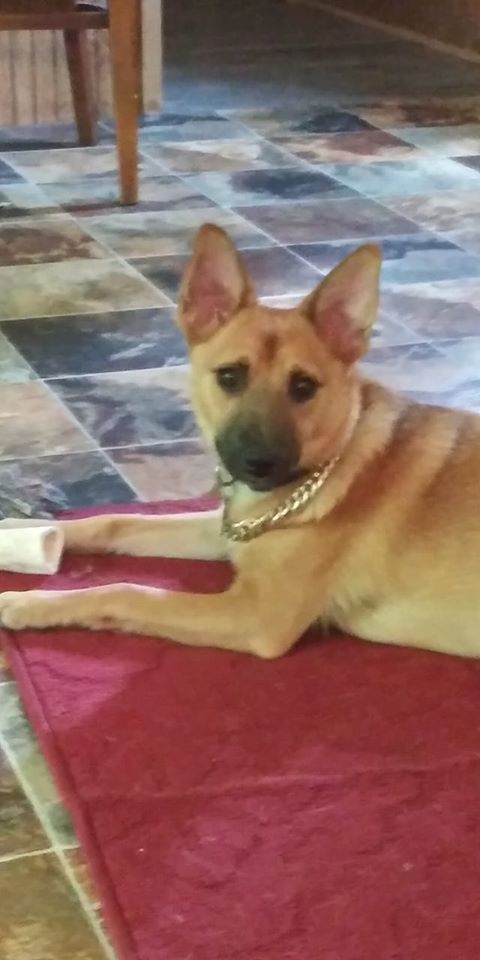 Sky's Story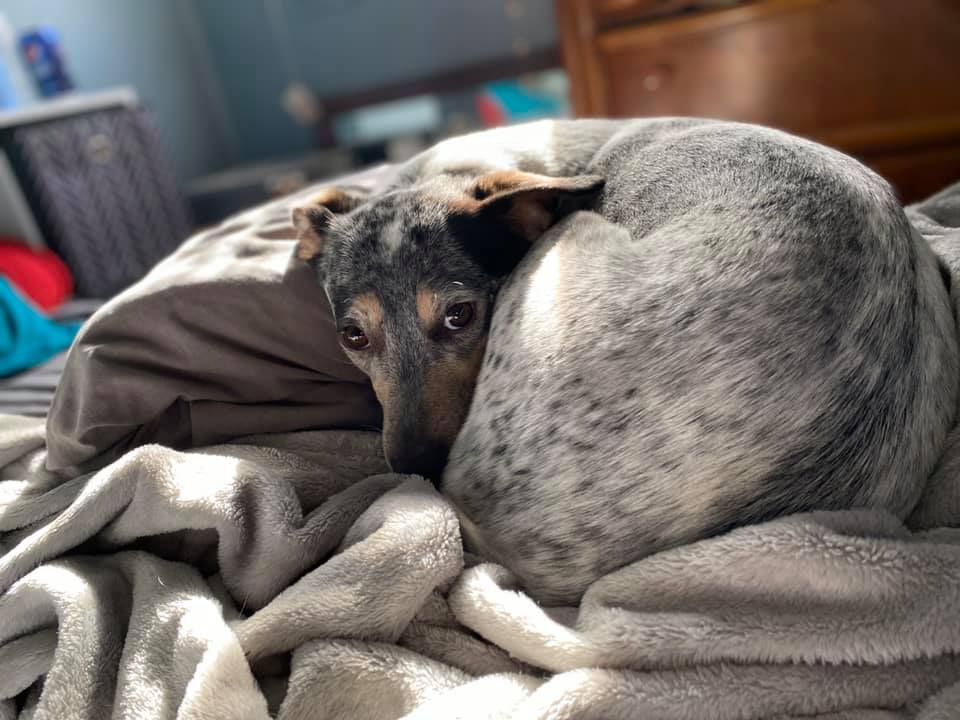 Sky (formerly Samantha/Sammie)… adopted 08/18. She has come a LONG way (still terrified of woman and children she does not know), but is very much a part of the family and pack. ❤️
Gordy's Story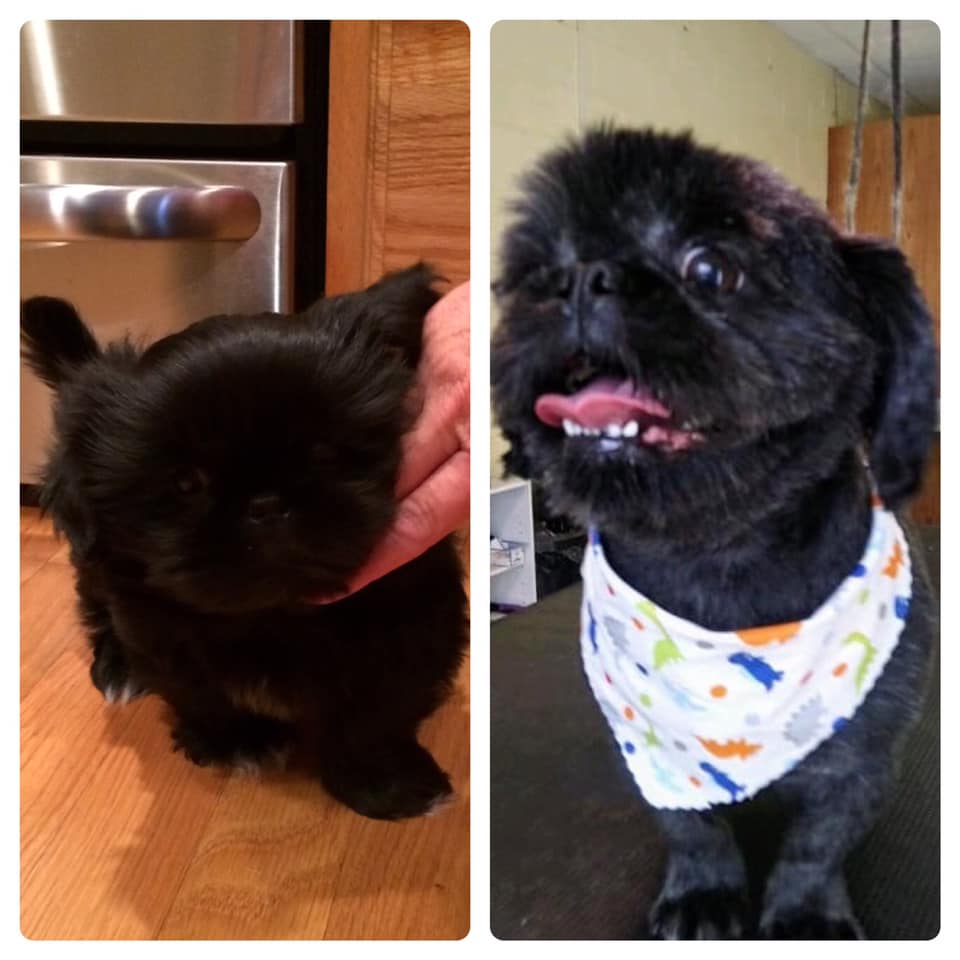 Our Gordy! We adopted him from ARF as a tiny pup in 2014. He has become a big brother to two little girls and we love him to pieces!
Chewie's Story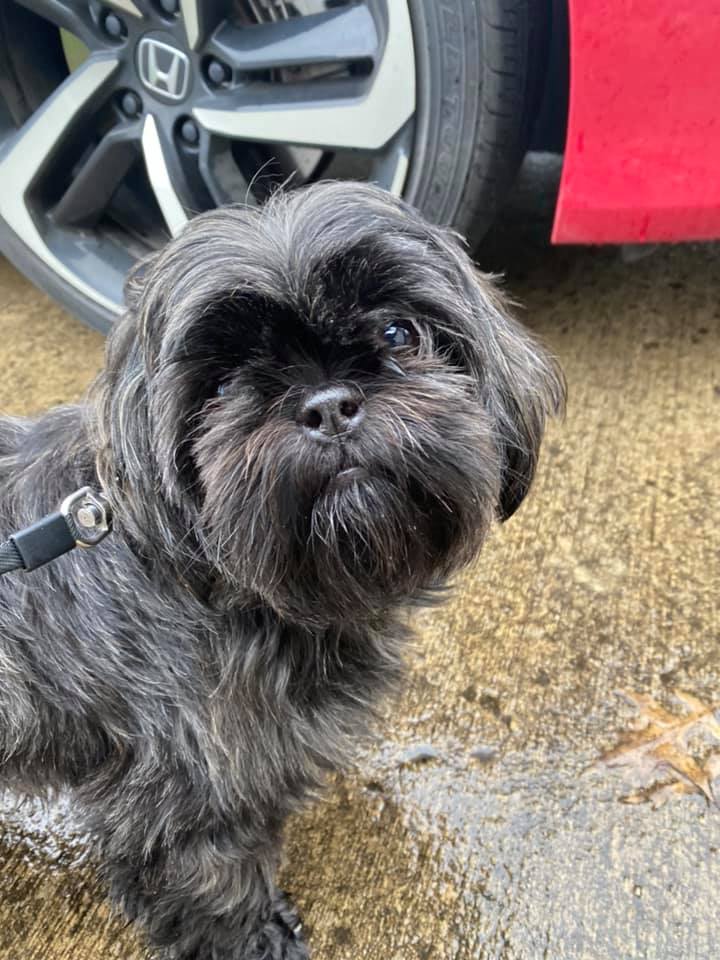 And this one is my baby girl, Chewie. The Tibetan Mauler. Eater or flowers, expert beggar and cuddler. Got her just a couple months after we got Midnight and we almost didn't keep her because we were overwhelmed. So glad we came to our senses. I couldn't imagine life without my little girl.
Sunny's Story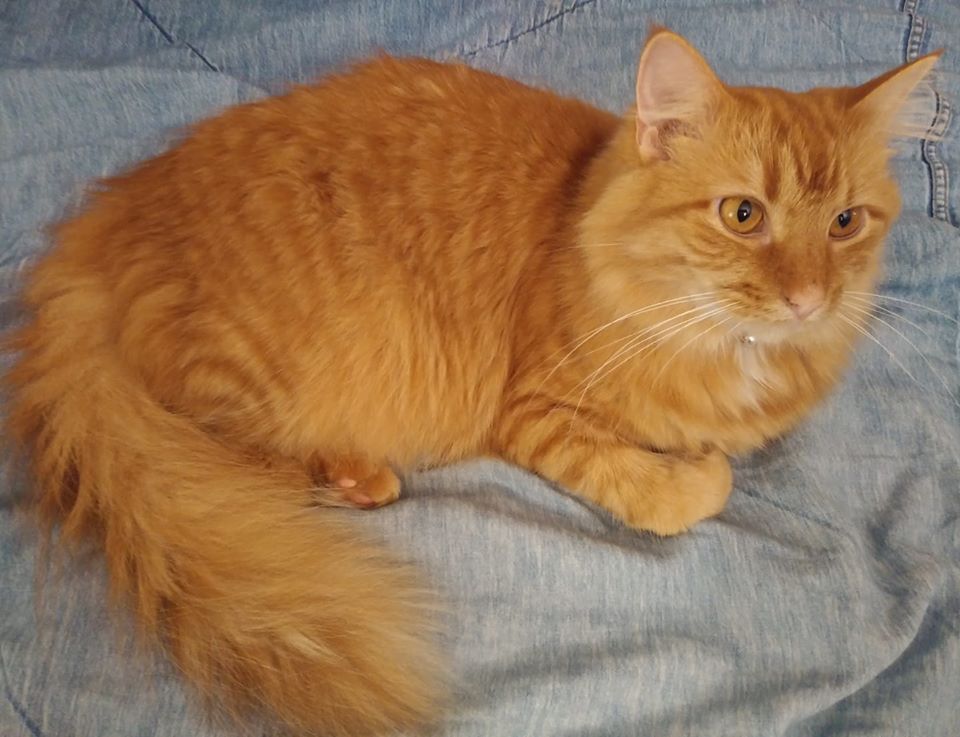 This is Sunny, formerly Penny, adopted at 4 months in September 2018 from ARF through PetSmart. Thank you! She came into our lives at just the right time.
Annie's Story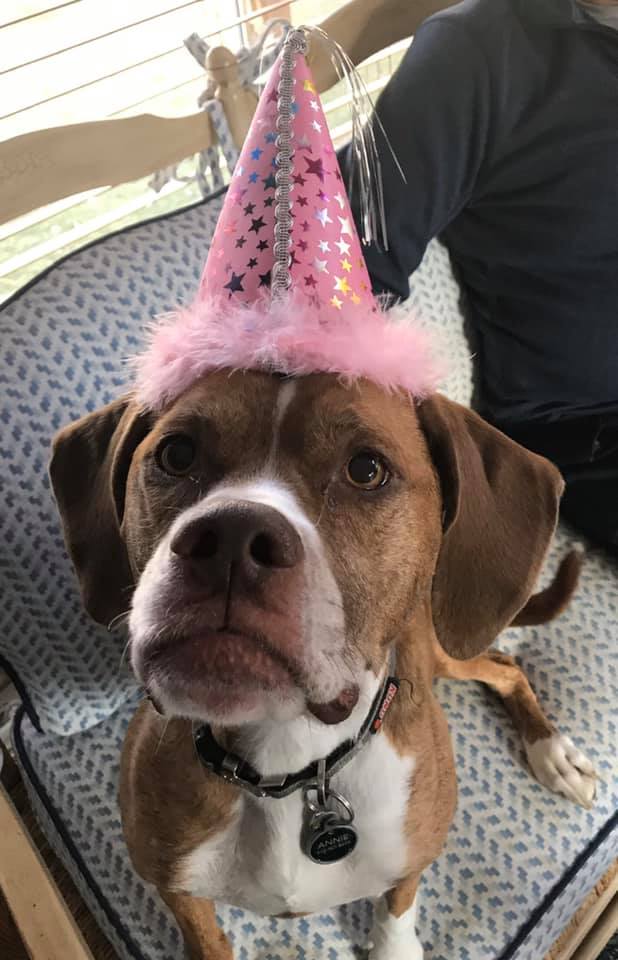 It's been seven years, but we're still in love with our Annie girl…
We adopted her on Mother's Day, 2013. Her ARF name was Katie (boxer mix).
Maggie & Coco's Stories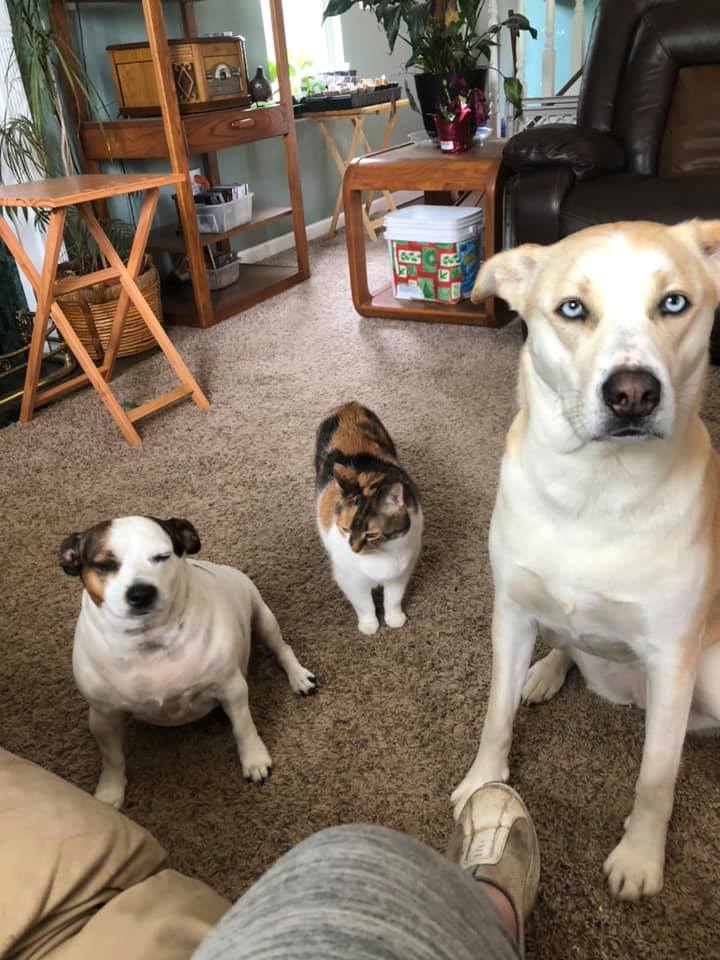 We got our little Maggie from ARF 6-1/2 years ago, Koko 3-1/2 years ago. We absolutely love them, and they love going to the park! Our kitty, Iris, came to us after being dumped in our neighborhood as a tiny kitten! ❤️
Daphne's Story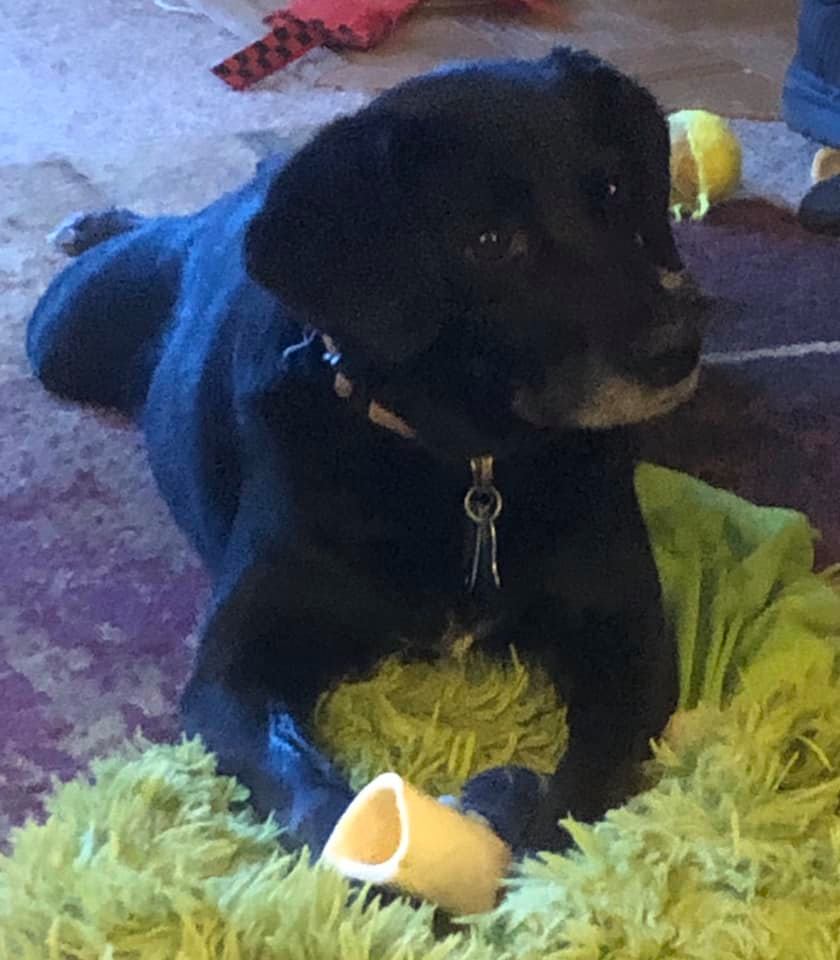 Luna' Story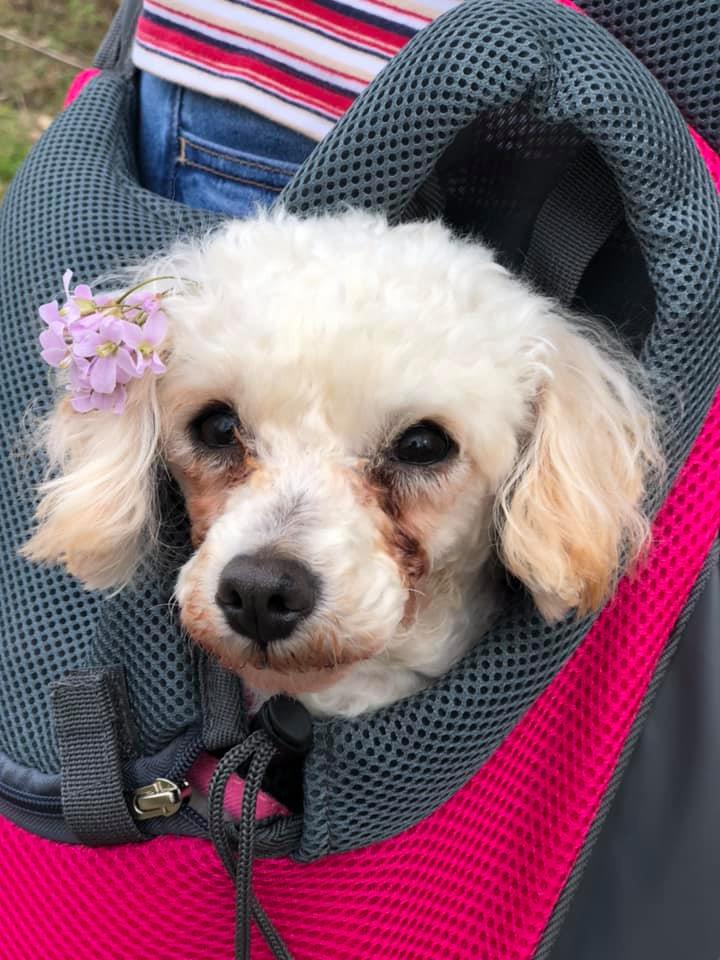 Greta's Story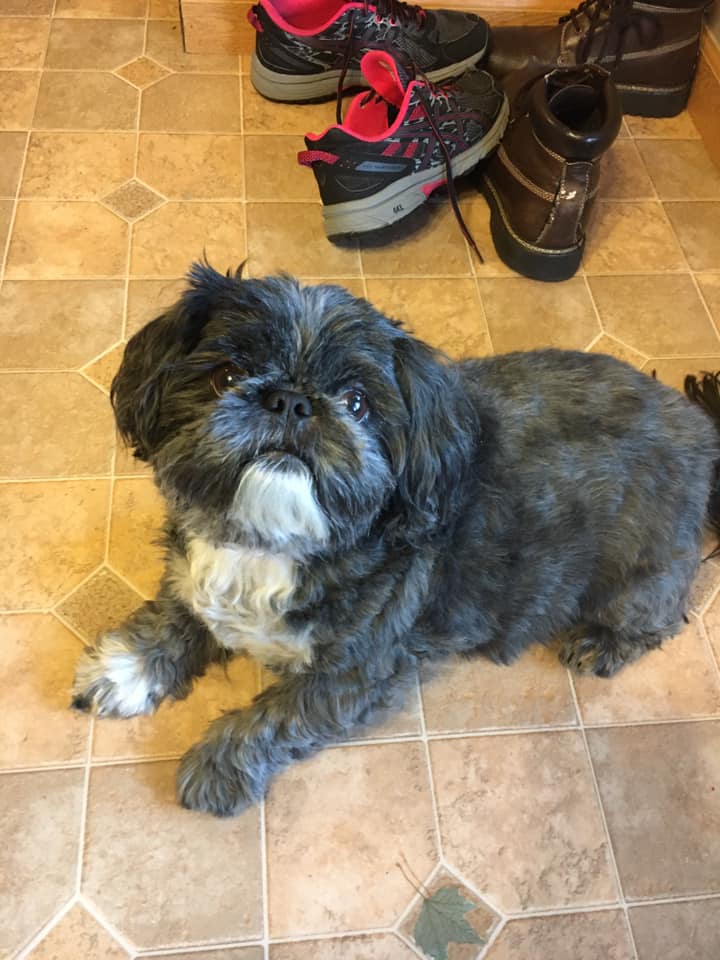 Lacey's Story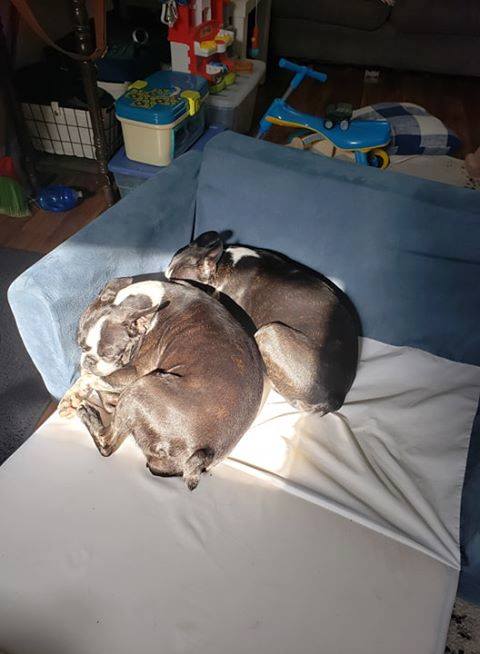 Lacey has settled in nicely with our family!! She and our other Boston, Dexter, have become best buds!
Max's Story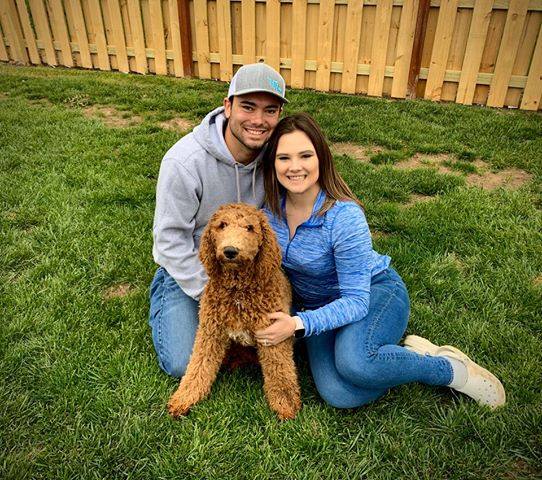 He broke ground on his new house and will be a very spoiled dog! He had been with us for a month and had completely changed and such a well behaved dog!
Jim's Story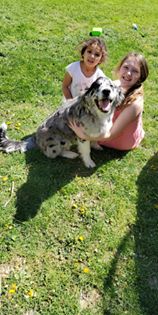 Mataeo.. aka Jim we adopted him Oct 9, 2019!! He loves to be outside with the kids. He was around 12 weeks old when we got him! He is an Australia shepherd and great pyrennees mix.
Celine's Story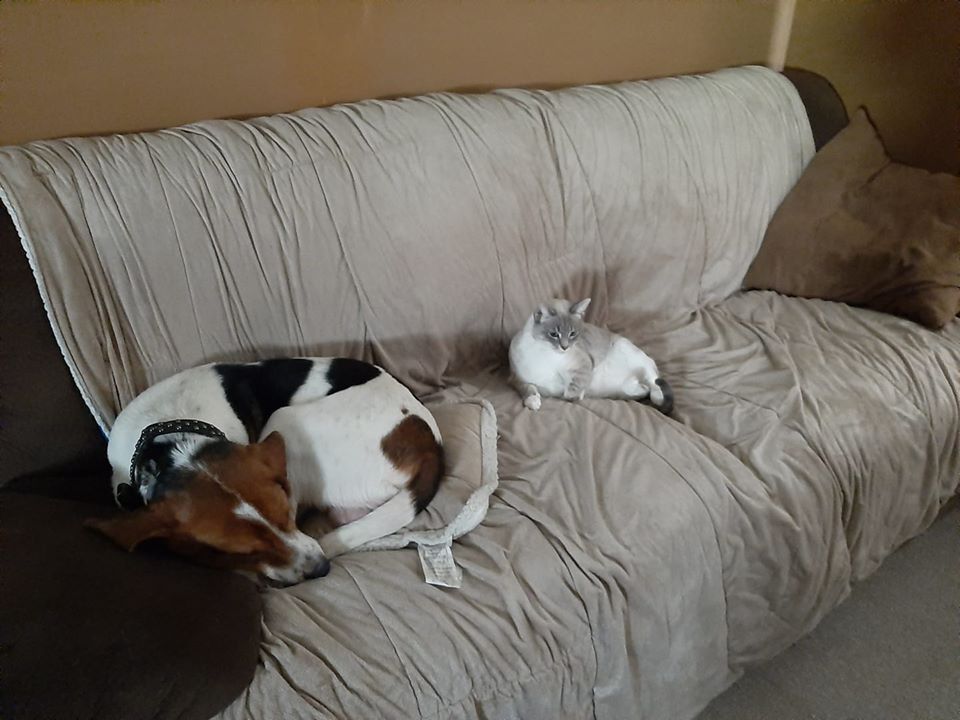 This is Celine we kept her shelter name as she was used to it. She is the cat she is laying next to her foster brother a rescue as well. She has came a long way she didn't like dogs and now her biggest protector is a dog
Holly Belle's Story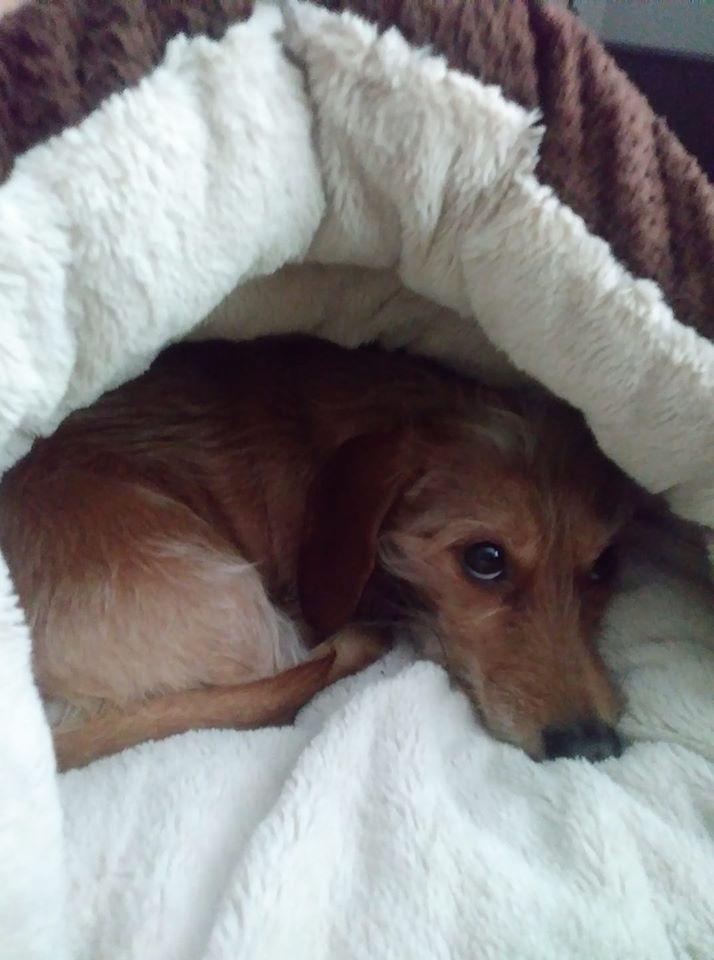 Maggie's Story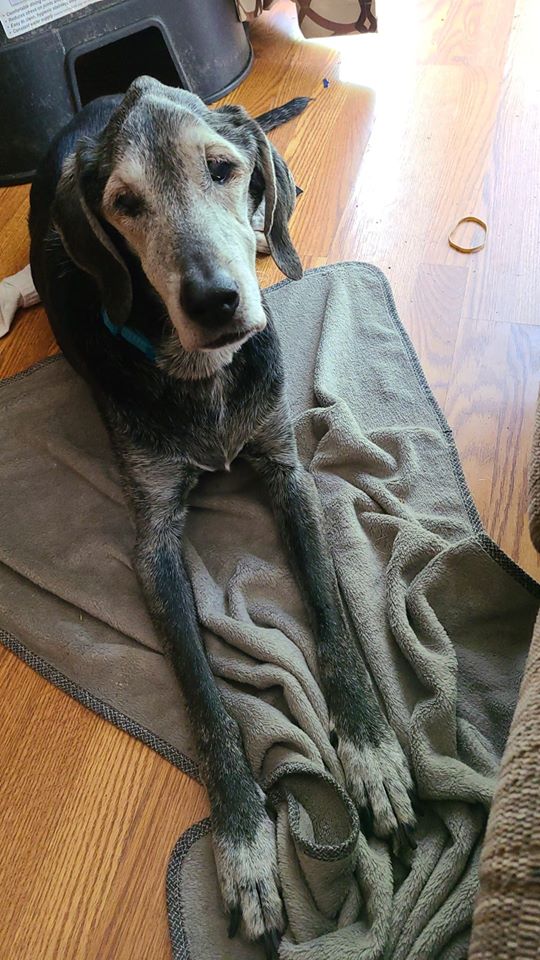 Wilma's Story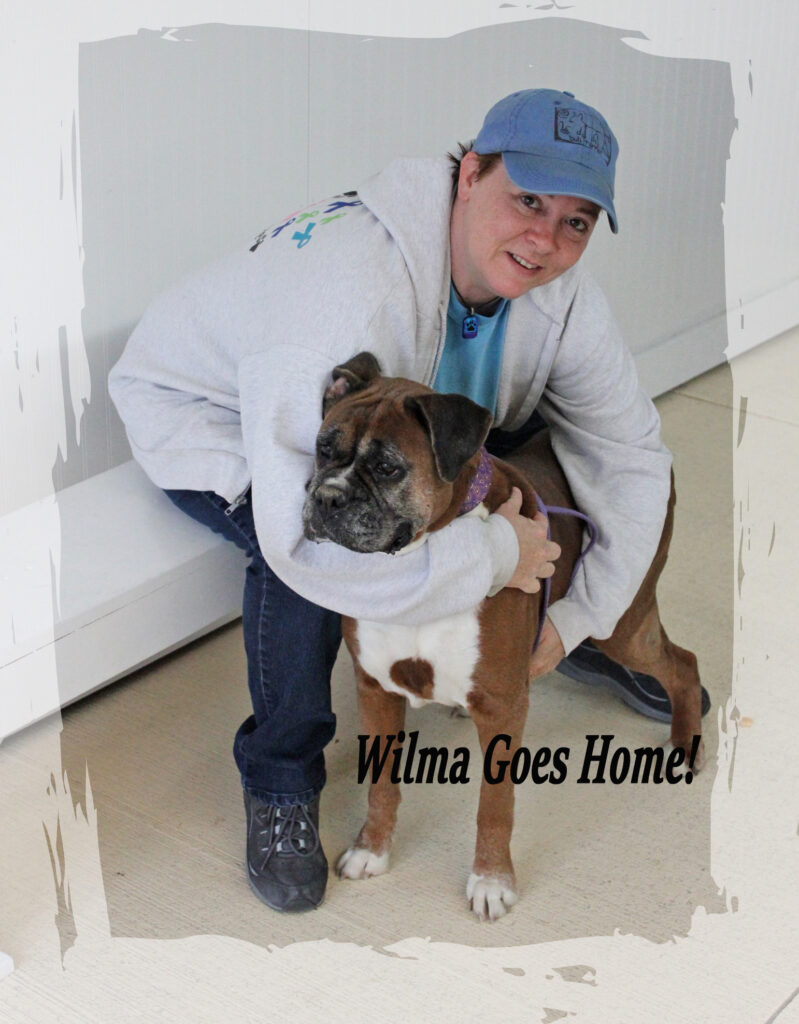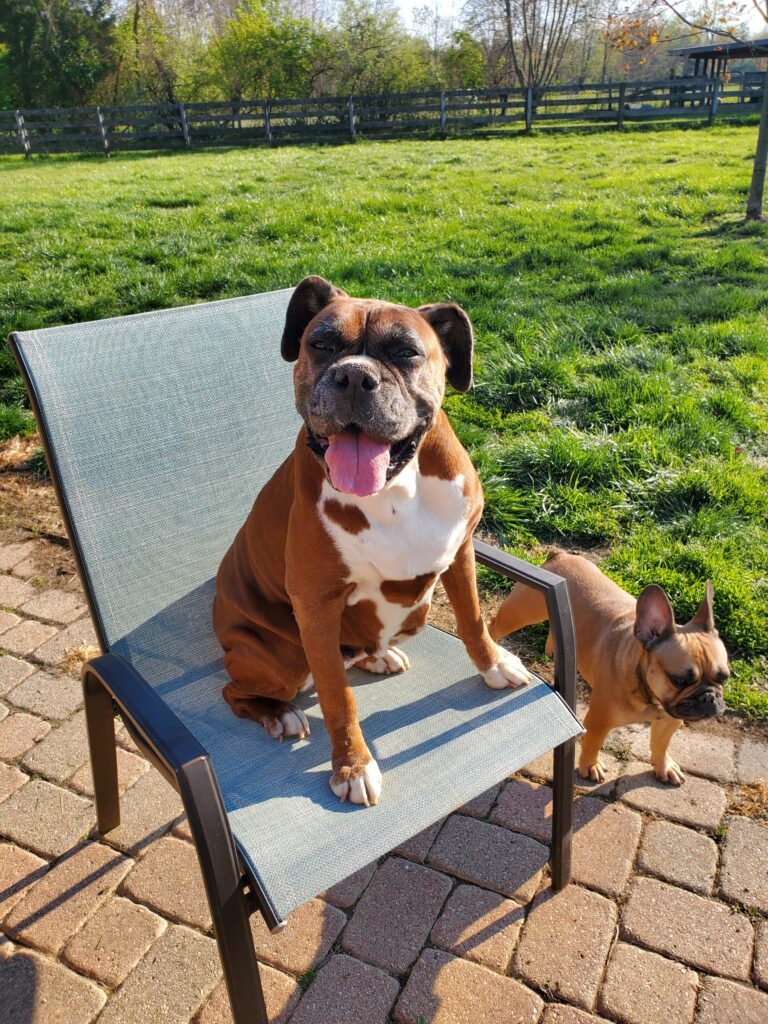 Wilma just landed a wonderful home with the hopes of becoming a therapy dog. She walked across the country from Wyoming to Cincinnati with her previous owner. After arriving in Cincinnati the gentleman became ill and had to be hospitalized so he surrendered Wilma to ARF so she could find another home. Well, she found a great home! Wilma is a wonderful dog and will begin her 2nd life today. Have another wonderful life! As you can see she has made herself right at home.
Rickert & Riley's Story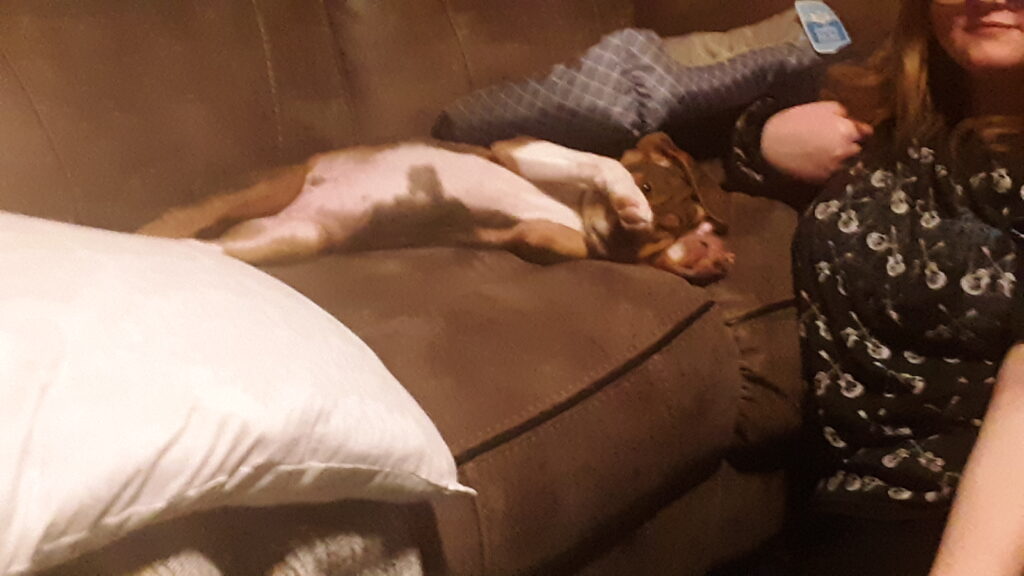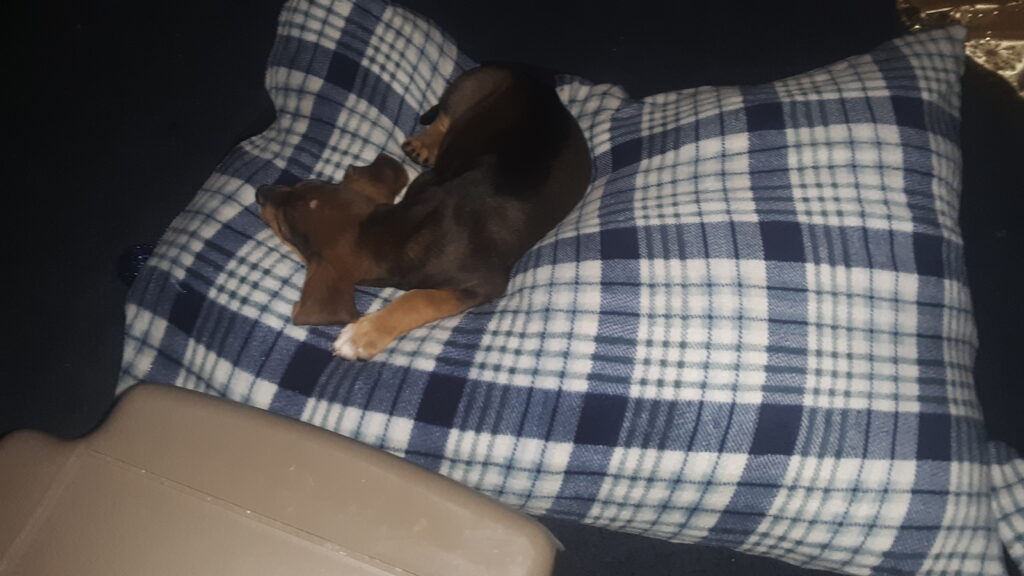 Hello, my name is Ryan Sutter and my family and I went to the
Amelia rescue shelter in January to adopt a dog and when we found the
one we wanted (Dakota) now named Rickert we picked him up and the dog in
the next area over looked over and they two dogs saw each other and
they started whining and it only took a couple seconds to realize they
was from the same litter and where brothers. So long story short we
ended up leaving there with two dogs that day, Montana now (Riley) &
Rickert…
They made the 40 minute drive home with out getting car sick and they
pretty much have had the run of house ever since. Our cat was rather
uncertain of them at first but they get along fine now providing we feed
all three at the same time..lol..
The dogs sleep in a bed with either my wife and I or with of my
daughters every night sometimes they switch in the middle of night of
course and they both hate alarm clocks. There favorite treat is a toss
up between steak bones and ribs… I think they are getting spoiled
because the Gravy train bacon treats use to excite them and now they
leave it on the floor and look at us like you expect me to eat that?
They think they own the couch and heaven forbid you ask or try to make
them move so you can sit down.. all you hear is that moan of being
inconvenienced and a yawn as they take there time moving. So its safe to
say they have a forever home. We still have some house training to do as
far using the restroom but its coming slowly but surely.
Ryan,Angie,Taylor,& Savannah Sutter….
Millie's Story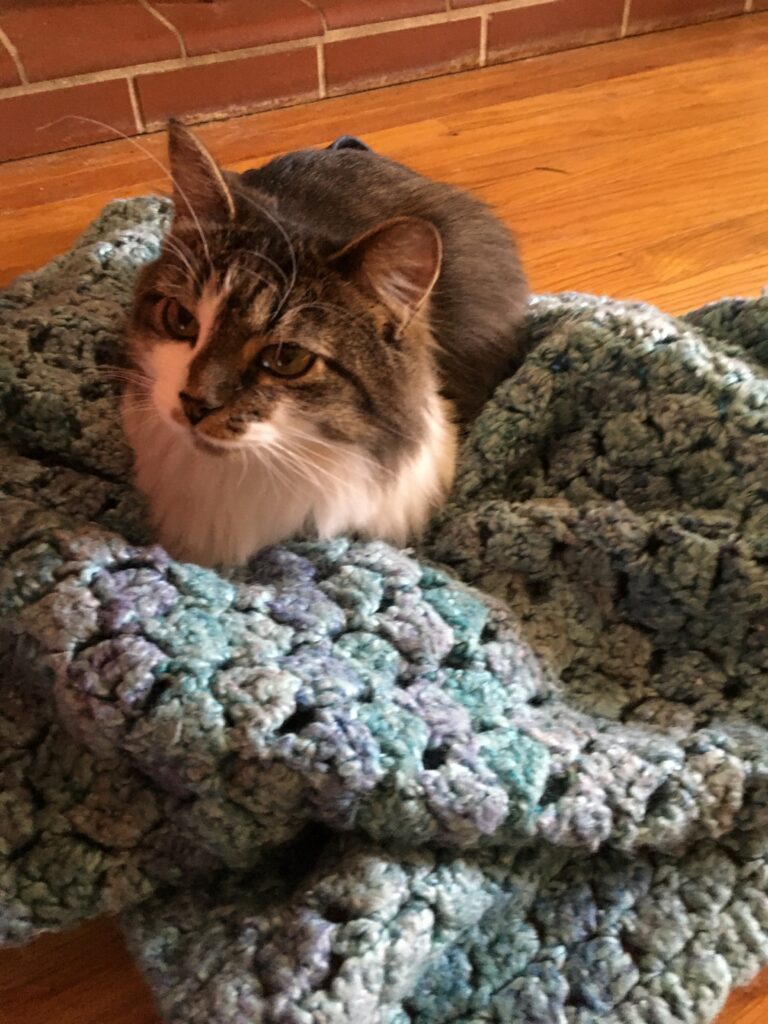 I wanted to let you know about our new best friend. On March 4th, we adopted Selma who had been staying at the Milford Petsmart. What a wonderful decision that was! We are in love with her and her dainty ways, and believe she loves living with us, too. We gave her a new name, Millie, which we believe not only suits her, but is one she likes, too. I have attached a few photos of her in our house. I hope you will enjoy seeing how happy she is.
Bacon & Maggie's Story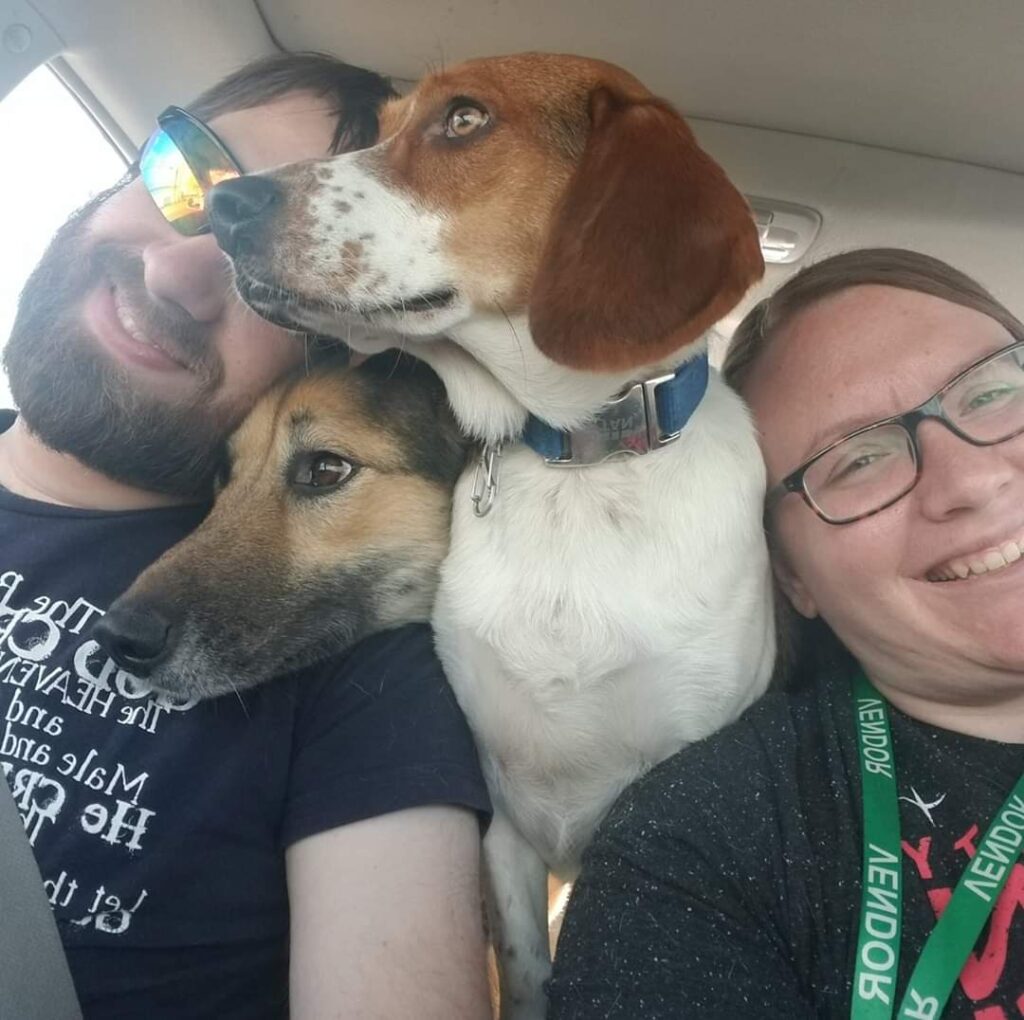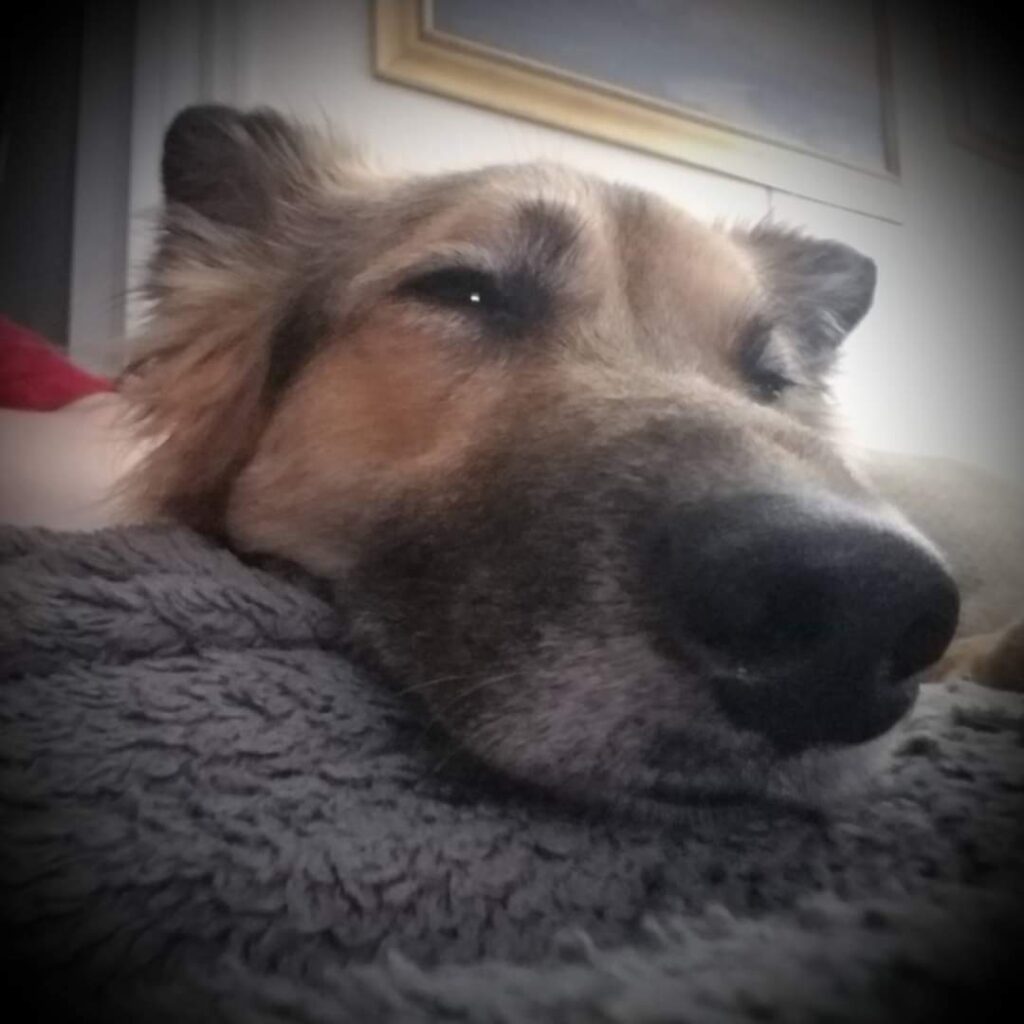 We adopted both of our dogs from ARF, and they have become such special blessings to us. Maggie is our shepherd mix that we adopted 4 years ago. She is a sweet, happy protector who loves her people (but she's definitely a daddy's girl). Bacon is our beagle mix that we adopted just over a year ago. He's a big cuddler (mommy's boy) and has a great nose for mischief and bones.
We are so grateful for our two pups that have brought so much joy to our lives! We love ARF and the work that they do. They will always be our go-to to adopt and add more dogs to our home in the future. Thank you, ARF!
Autumn's Story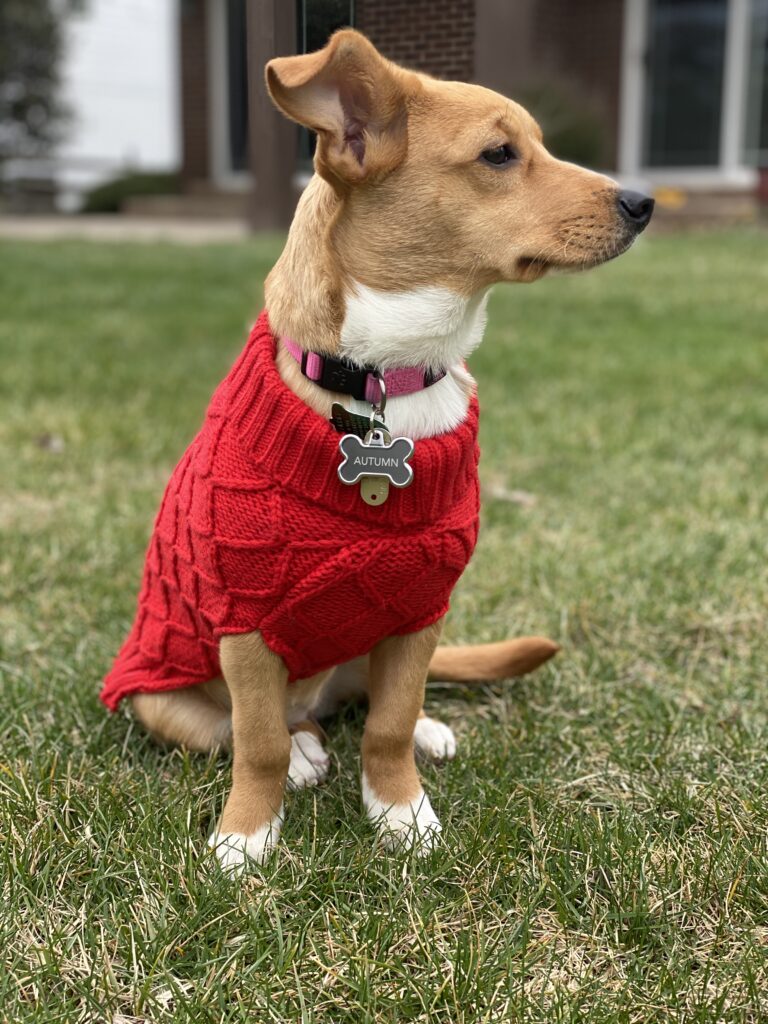 In December of 2019, our family decided to take a trip out to ARF where we then adopted a puppy. Not expecting the addition of a puppy to our family, we were a little skeptical of bringing her home, but upon our first interaction we knew we had to have her. Autumn, formerly Lollipup, was shy when we first brought her home, but that is not the case anymore! At 6 months old, Autumn has all the energy you could expect from a puppy. She chases the cats around the house, attacks bed sheets, and loves to try and shred tissues. She also LOVES to meet new people and go on long walks at the park. She is still a little intimidated by the bigger dogs, but that doesn't stop her! Autumn is truly a great decision for our family and has added so much love and joy to our lives. We can't thank ARF enough for taking care of her, we wouldn't trade her for the world! Janette, Kyra, Weston, and Autumn.
Maverick's Story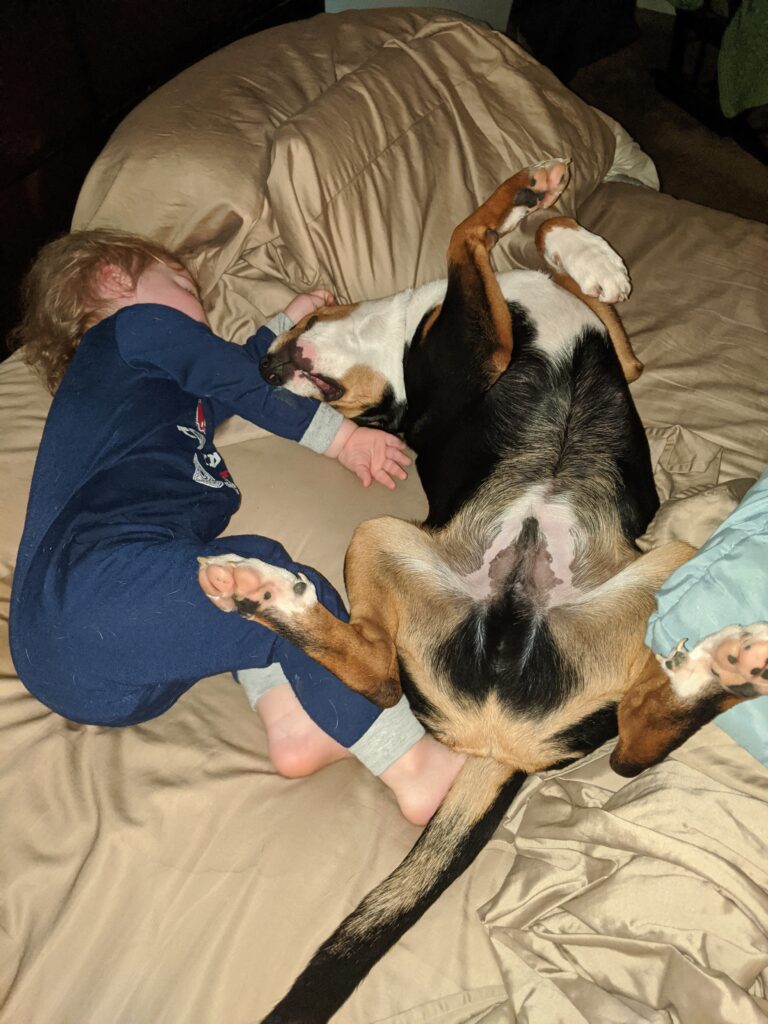 We adopted Maverick (AKA Lance) from ARF 3 months ago. We surprised our 7 year old with him at the bus stop that day and that will probably forever be the best surprise I'll ever give. He was so happy he was crying tears of joy.We lost our 16 year old beagle, Henry in 2018 and he has been asking for a puppy ever since. Henry left behind his 10 year old brother, Murphy. Murphy was mopey and lazy ever since so we knew he needed some motivation to move.Maverick is sweet, cuddling, playful, and keeps Murphy moving which was our goal. He's a handful like any other puppy but we are working on that! Thanks to ARF for making the process easy and giving us the opportunity to give this pup his forever home. The process at other shelters/rescues is extreme and we applied at a couple different places only to find out the puppies were already adopted by the time they looked at our app…we were getting discouraged until we found Maverick at ARF.Thanks again and you don't have to worry about Mav getting the love and attention he deserves because he is definitely already a spoiled little guy!

Diesel and Eva's Stories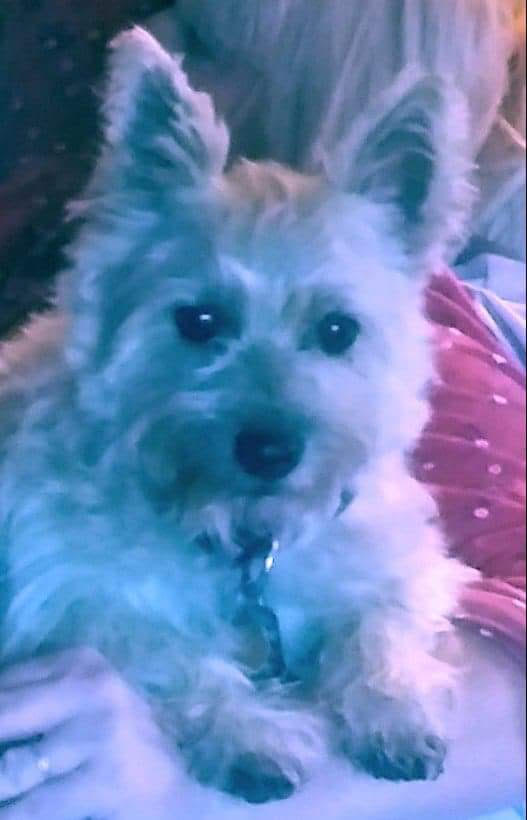 We have 4 dogs, these are the only two from ARF. Eva was known as Lanie, we got her a year ago. She is the brat of the family in a dog family of older dogs. They all baby her, groom her, and let her get away with everything. We got Diesel about 7 years ago to be a friend to our other dog, a Westie named Lucy who was our baby we got from ARF years earlier. They became besties. Lucy died two years ago during a dental procedure. Diesel is still having a hard time with it. He has pancreatitis, epilepsy, and dry eye but remains a trooper through it all. He's a mommy's boy. We wouldn't trade them for the world.
Finnegan's Story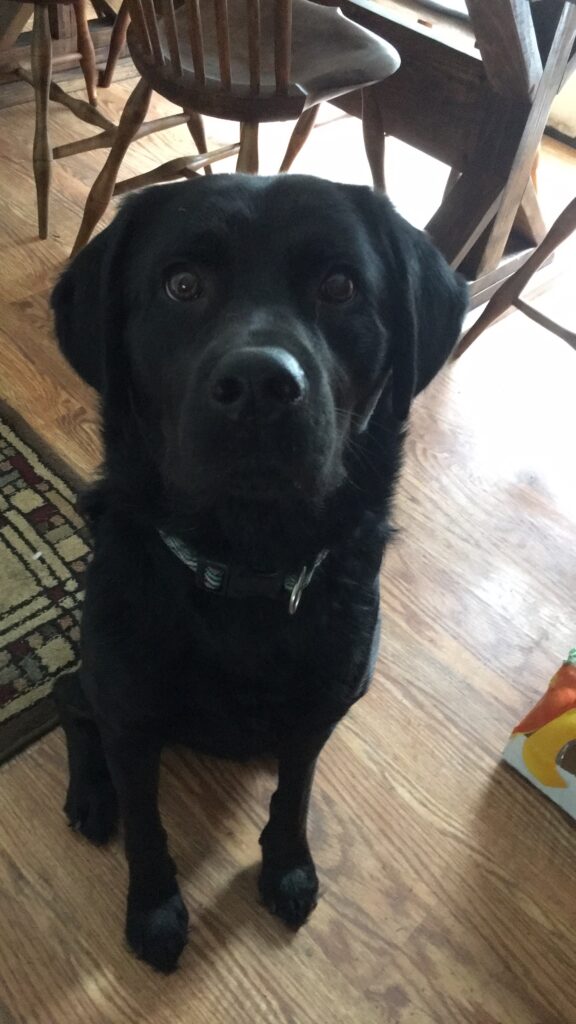 My husband and I adopted Finnegan a little over two years ago from ARF. He was the only black pup in his litter. We wanted to add to our family because our dog Mya was really lonely and needed a playmate. She enjoyed her new little brother. Now he is twice her size but just as loving. He is the biggest cuddle monster who loves socks and will drool until you share your snack. Finn has added so much joy and love to our lives over the past two years. Thank you ARF.

Molly's Story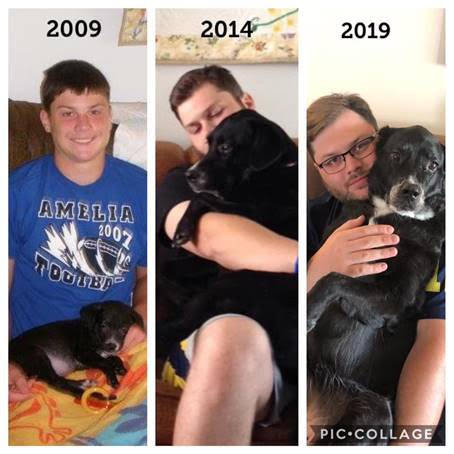 In 2009, my son, Aaron, was celebrating his 15th birthday. His gift was a trip to ARF to adopt a puppy. After a lot of thought and decision making, Aaron decided upon this little black lab cutie that he named "Molly". Ten years later, the boy is now a man and the puppy is now a senior dog – but the love has not dimmed. Adoption means forever, not just for a while! Molly and Aaron look forward to more years as family!
Rest in Peace Molly
Molly left this world on August 28, 2022 at the age of 13. She passed quietly, laying in her favorite spot on the living room floor on a sunny day. She is missed very much. She left her paw prints on our hearts.
Jenny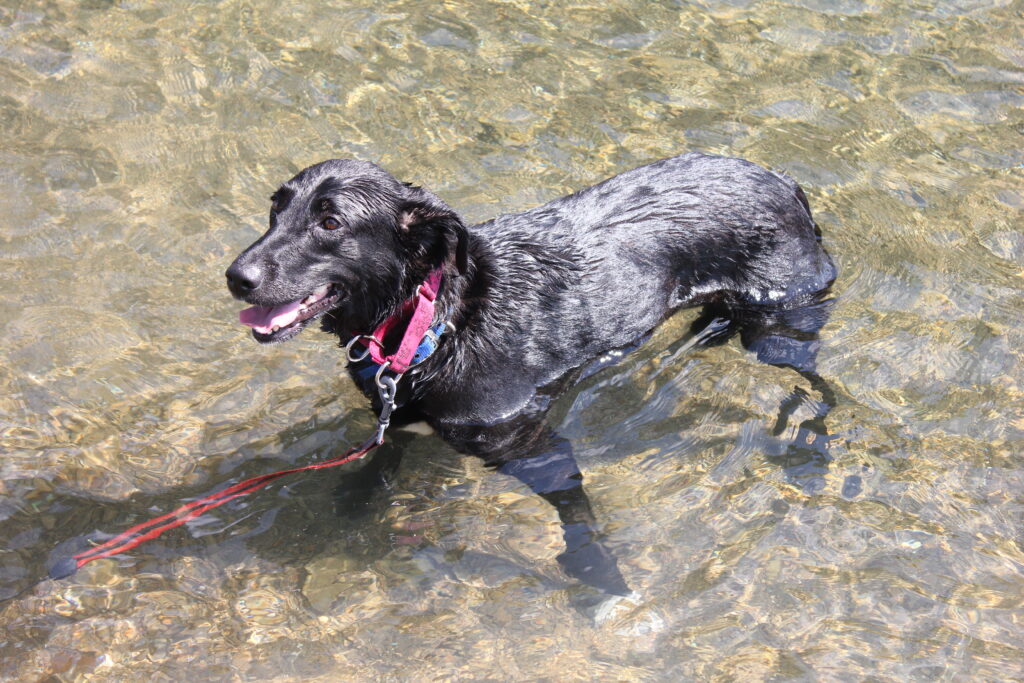 This is my buddy Jenny. Jenny was 2 years old when I rescued her. She was a feral puppy in Felicity for the first 6 months of her life until ARF was able to rescue her from under a shed. She then spent 1 and a half years at the ARF shelter cowering in the back of her run at the shelter afraid of everyone. It only took one night at my house to figure out that sleeping on the bed with her head on my pillow was a pretty great place to be! She is the most athletic dog I've ever had and loves to chase her frisbee. It took a lot of time and patience for her to come out of her shell and to get her to trust me but she slowly came around and is a wonderful loving dog. Thanks to ARF for rescuing her and being patient with her. Jenny & Kathy
Max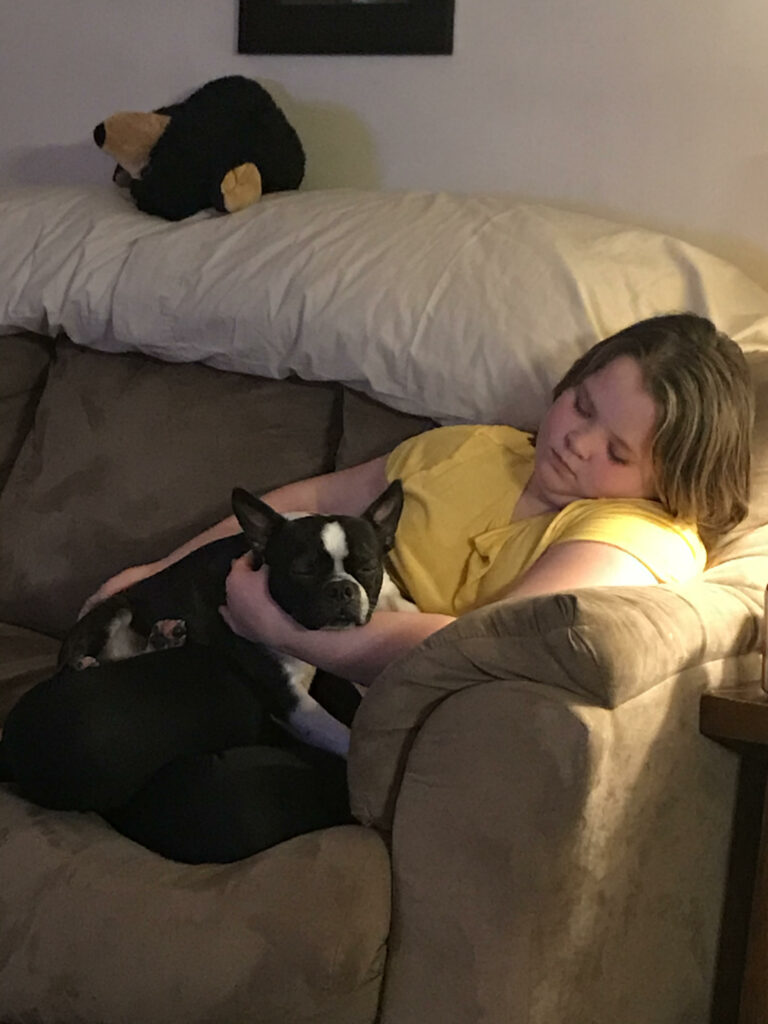 We adopted Max Saturday. We could not have asked for a better dog. He has brought nothing but joy to me, my wife and two kids. I still cannot believe we were able to adopt such a wonderful dog. He is settling in to his new home. He loves to play tug-o-war and chase the ball. We can't thank ARF for making our family complete.
Thanks again!! Mark, Andrea, Ian, Amanda and Max
Flash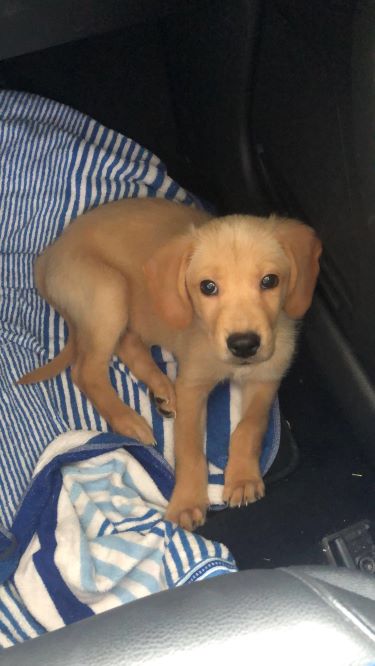 We rescued Flash from ARF in December of 2018. He was known as Yancy. Flash is truly the best dog! He is fun and loving and playful. He knows no stranger! His favorite toys are socks and ropes. He loves his sloth blanket so much that he sleeps with it every night. Flash has brought nothing but joy into our lives. He makes us laugh every day and nothing beats coming home from work to a dog loving on you! We truly don't know what we would do without Flash! Here he is the day we adopted him versus today where we included him in our engagement pictures!

Thank you ARF!!!

Allison, Corbin, and Flash
GusGus & Roscoe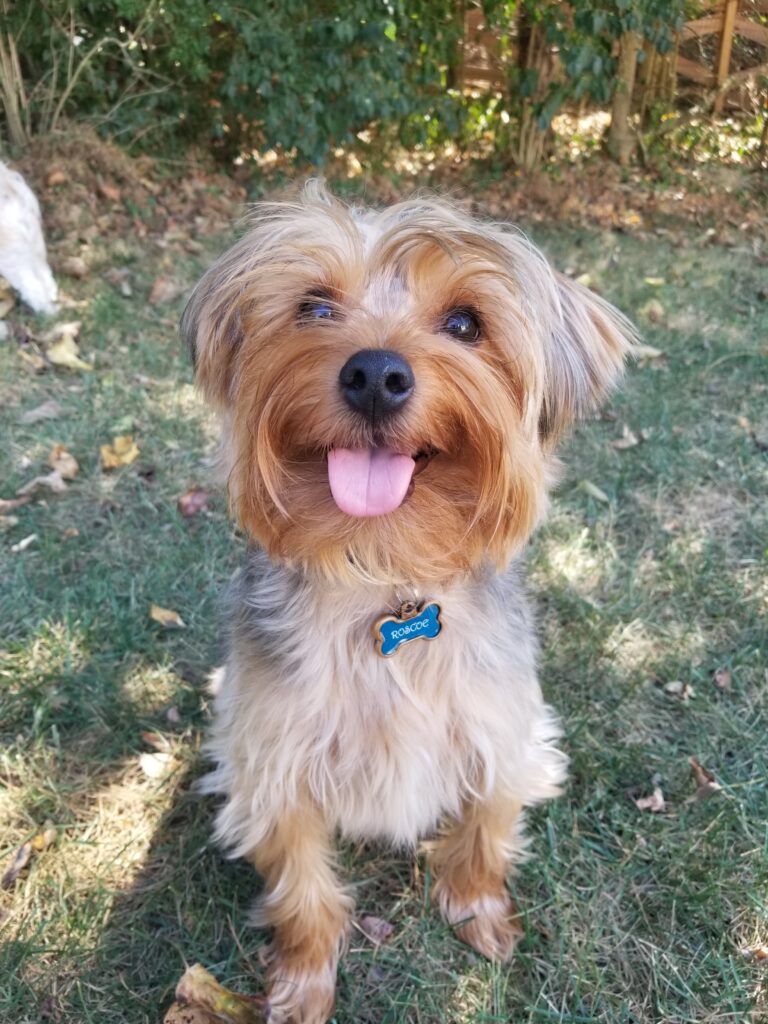 Our family has rescued 2 dogs from ARF, GusGus and Roscoe. They are living their best lives with their other rescued fur siblings, Dixie, Lucy, and Chewy. GussGuss is the Shihtzu and Roscoe is the Yorkie mix. They are the sweetest puppies.
Rascal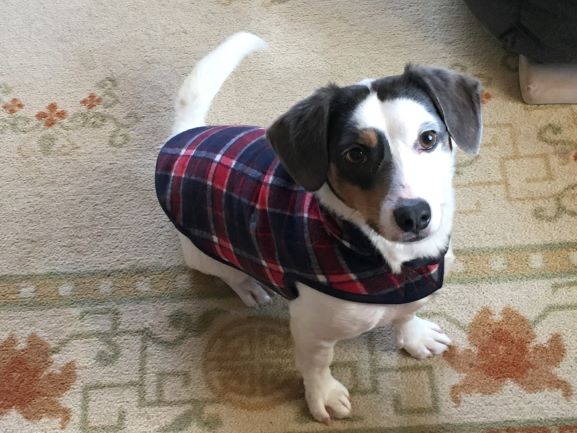 I adopted Rascal in the fall of 2018 after he was at ARF for 7 months. He would sit by his run door and wag his tail and look up at everyone that walked by trying to get their attention but no one got him out to look at him. I was in and out of the shelter several times throughout the summer and kept noticing how nice he was. At the end of the summer I took him home. His name fits his personality. He passed his Level 1 Obedience Class at Queen City Dog Training Club (I think we may have been socially promoted). Not long after that, he passed the TDI test to become a registered therapy dog. He now visits Locust Corner Elementary School where the kindergartners read to him once a week to improve their reading skills. He also visits nursing homes and has visited several relatives in local hospitals. He is a great dog! Thank you ARF for taking such good care of him while he was with you. Kathy & Rascal
Jellybean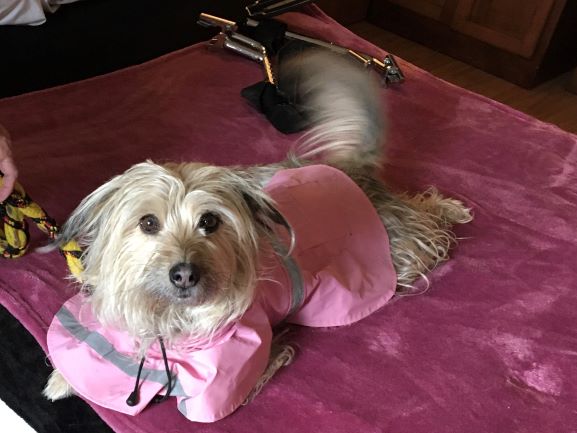 I adopted Jellybean from ARF in 2016. I was looking for a new buddy to add to my pack. She fit right in and became a real snuggler right off the bat. She passed her TDI Therapy Registration last year and gets very excited about her visits to a local nursing home where she makes the ladies smile. She is so gentle when she interacts with the residents. Here she is with her sporting her rain gear during one visit. The ladies at the facility love her and look forward to her visits. We belong to a local dog training club and she loves to go play with her sister and friends chasing frisbees and balls. She went from a stray in Adams County to a wonderful friend and therapy dog via ARF! Thank you ARF.
Pat & Jellybean