How You Can Help
There are several ways you can make a difference in the lives of homeless animals. These include:
Become a Member
Become a member by completing the form at the link below. Your membership dues go to help rescue neglected or abandoned animals and medical care and and daily care of the animals at the shelter. Just click the link below to get started.
Adopt One of Our Wonderful Animals!
Our priority is to get all of our puppies, kittens, cats and dogs safe and happy forever homes with people who will love and appreciate them as much as we do! So, please come in to see the animals and tell everyone you know who may be looking to adopt about us!
Donate Money
Annual membership fees and cash donations are our lifeblood. These funds are used to provide shelter, food and medical care to the animals, including vaccinations and spay/neuter surgeries to help put an end to the homeless animal epidemic and euthanasia as a means to control pet overpopulation. You can download our membership form here (Membership Form) or send a check made payable to Animal Rescue Fund to P.O. Box 464, Amelia, Ohio 45102. All membership fees and cash donations are tax deductible.
Amazon Smile
Sign up for Amazon Smile and choose Animal Rescue Fund Amelia. When you shop at Amazon.com every time you purchase something on Amazon they will donate a portion of the proceeds to ARF!
To date, 6/16/2020, AmazonSmile has donated a total of $1,274.17 to Animal Rescue Fund Inc.!
Here is the link:
https://smile.amazon.com/gp/chpf/homepage?orig=Lz9yZWZfPXBlXzg3MDU1NTBfNDk5MzkwNjgw
Kroger Community Rewards
Kroger Community Rewards allows you to link you Plus Card with a charity. You can link to ARF by using: HPO# 22151
Volunteer at the Shelter
We always need volunteers to help socialize the puppies and kittens, give love and attention to the cats, and give affection, exercise and basic training to our adult dogs. So, please come out and play with the puppies, kittens, and cats and walk our dogs around our beautiful lake (you just have to keep them from chasing the ducks and swans!). We also need volunteers to handle off-site adoption events, marketing and fundraising. Please see our "Volunteers" tab on this website to see all of the different ways you can volunteer and make a difference in the animals lives!
Contribute Items We Always Need
We are always in need of: You can purchase these items online from Walmart or Sam's club and have them delivered right to the shelter.
Bathroom Supplies (cleaner, deoderizer, toilet tissue)
Pee Pads (Small)
Bath Towels
Brooms/Mops/Mop Heads
Cat Litter
Clorox
Copy Paper/Postage Stamps
Dryer Sheets
Dish Soap
Garden Hoses (5′ or 75′)
Gift Cards – Any Kind
Happy Homes!
Litter Pans (Small)
Liquid Laundry Detergent
Paper Towels
Pens
Pet Food/Treats
Squeaky Toys
Steno Pads
Trash Bags (13 Gal. & 39 Gal.)
Windex
Sponsor an Animal in Need
You can sponsor a cat or dog by making a donation to cover the cost to spay/neuter, vaccinate, get a wellness vet visit, and provide basic medical and other care for an animal brought in to the shelter. The cost is $150 for a dog and $75 for a cat. Having these services done greatly increases the chance that the animal will be adopted. You will receive a receipt for your tax-deductible donation, along with a picture and background information on the animal you helped!
Make a Gift Donation
Honor an animal lover you know by making a donation in their name. You can celebrate a special occasion with your friends and family while helping us to continue our mission: to rescue and provide safe and responsible care for homeless, abandoned, and abused animals. We will send a personalized card on your behalf to the person or family you designate, acknowledging your thoughtful contribution in their name. Please allow 2-3 weeks for delivery. You will also receive a tax-deductible receipt for your gift. Please mail a check along with your name and address and the name and address of your gift recipient to: Animal Rescue Fund, P.O. Box 464, Amelia, Ohio 45102.
Attend Bingo
To raise money for operations, we have Bingo games on Thursdays, Fridays, and Saturdays at our facility located at 1785 East Ohio Pike, Amelia, Ohio 45102. Call 513-718-8004 for more information. Doors open at 5:30 and the game starts at 7:00. Grab your friends for a safe, fun night out and come to.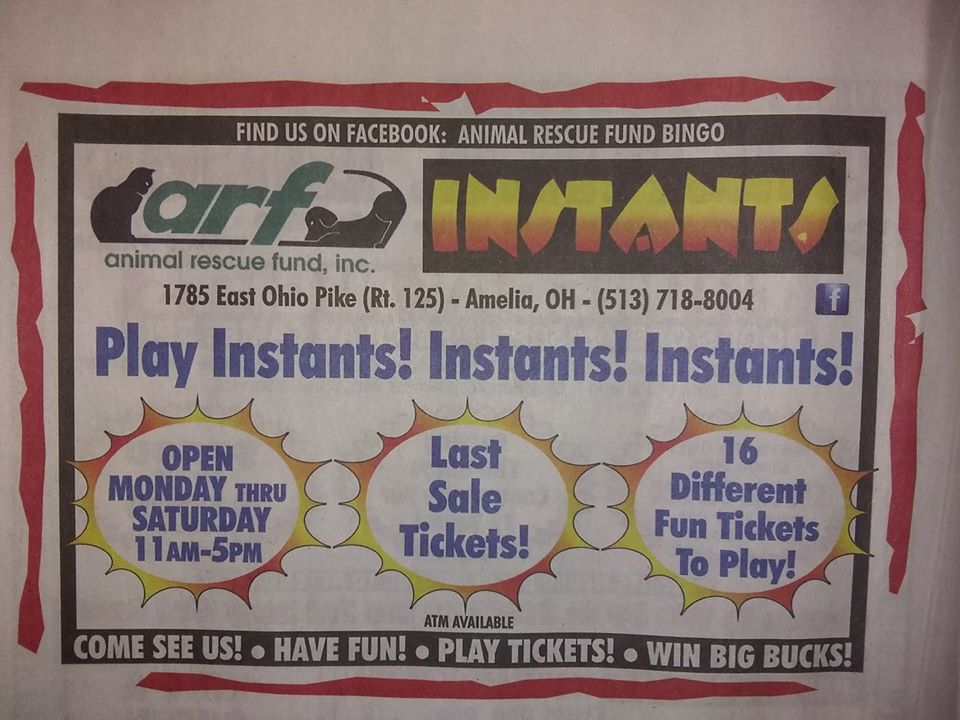 Donate